SocGen, Santander Lead $30 Billion Bond Tenders to Boost Capital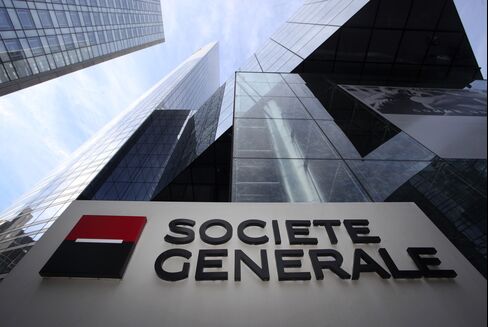 Nov. 18 (Bloomberg) -- Societe Generale SA and Banco Santander SA are among banks offering to buy back or exchange part of about $30 billion of junior debt issuance to boost capital and raise money as borrowing costs rise.
The bond tenders that started in Europe this week allow the banks to repurchase subordinated notes at a discount, booking a capital gain, or swap the securities to raise senior debt. Others pursuing the strategy include BNP Paribas SA, France's biggest bank, and Northern Rock Asset Management Plc, the so-called bad bank spun off from the lender being purchased by Richard Branson's Virgin Money Holdings U.K. Ltd.
"Banks are killing two birds with one stone," said Pilar Gomez-Bravo, a senior adviser at Negentropy Capital in London, which oversees about 200 million euros ($271 million) of securities. They're "generating a capital gain, while at the same time accessing senior funding markets, in some cases significantly below current market rates," she said.
European banks will need to increase their buffer against losses, or capital, by 106 billion euros under tougher rules being introduced by the European Banking Authority to counter the economic crisis. The tenders are also a useful funding tool after the extra yield investors demand to hold senior bank bonds instead of benchmark government debt jumped by 90 percent since mid-year.
Discount Price
SocGen offered to repurchase as much as 900 million euros of a total $8.2 billion of Tier 1 notes today, at prices starting at 56 percent of face value. Banco Santander, the biggest Spanish lender, asked holders of 6.8 billion euros of subordinated bonds to swap their securities for new senior notes on Nov. 15.
BNP Paribas, France's largest bank, offered to exchange or repurchase part of about $10 billion of subordinated bond issuance yesterday for as little as 72.5 cents on the dollar, according to a series of statements. SNS Bank BV of the Netherlands announced a tender of Lower Tier 2 notes yesterday, while nationalized U.K. bank Bradford & Bingley Plc is also tendering for debt.
Senior European bank bond spreads widened to 365 basis points more than German bunds, from 192 basis points on June 17, according to Bank of America Merrill Lynch's EUR Corporates, Banking index. A basis point is 0.01 percentage point.
"Banks are currently taking advantage of poor liquidity in the market to buy back, or more often exchange, redundant capital instruments on very attractive terms for the issuer," said Mark Harmer, an analyst at ING Groep NV in Amsterdam. "It's definitely a growing trend, especially where traditional access to senior funding channels is limited."
To contact the reporter on this story: Esteban Duarte in Madrid at eduarterubia@bloomberg.net
To contact the editor responsible for this story: Paul Armstrong at Parmstrong10@bloomberg.net