Petrobras Has 'Many' Offers for $13.6 Billion of Assets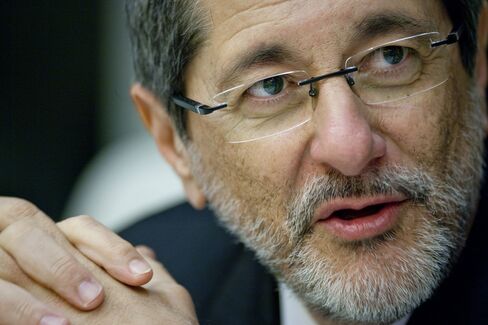 Petroleo Brasileiro SA, the fifth-biggest oil company by value, has "many, many, many" offers for the $13.6 billion of assets it plans to sell, including fields in the Gulf of Mexico, its chief executive officer said.
While Brazil's state oil producer has yet to decide which assets to sell, the company known as Petrobras has received dozens of proposals, Chief Executive Officer Jose Sergio Gabrielli said in an interview at Bloomberg's headquarters in New York yesterday.
Petrobras is seeking ways to help finance its $224.7 billion five-year investment plan that includes the development of deep-water projects in the so-called pre-salt area of the Santos Basin, where the largest oil discovery in Brazil's history is located. The company may farm out stakes in 186 exploratory blocks in the Gulf of Mexico, said Gabrielli, 62.
"We are very well-positioned in the Lower Tertiary in the Gulf of Mexico," he said. "In the ultra-deep waters, we have several exploratory activities going on right now. And some companies are interested in buying things from us."
The company, based in Rio de Janeiro, won approval from the U.S. Bureau of Ocean Energy Management, Regulation and Enforcement to begin oil and natural-gas production at its Chinook-Cascade project in the Gulf of Mexico in March. The project has the capacity to produce 80,000 barrels of oil daily and 16 million cubic feet of gas a day.
Petrobras Partners
Petrobras and its partners including BG Group Plc are planning to use as many as 13 floating production, storage and offloading vessels, known as FPSOs, to pump oil and gas in deep waters off the Brazilian coast.
"We are going to bring the first FPSO ever to the Gulf of Mexico I hope soon," Gabrielli said. "It is taking more time than we thought. But this year or beginning of next year we are going to be increasing our production."
Petrobras found traces of oil in an offshore well in the BM-S-9 block of the Santos Basin, according to a posting today on the website of Brazil's National Petroleum Agency.
The company also said Nov. 3 it found oil in the Logan Well in deep waters in the Gulf of Mexico. The well was drilled at the WR 969 block, operated by Statoil ASA and located 250 miles (402 kilometers) Southwest of New Orleans and 7,750 feet (2,362 meters) deep, according to the Brazilian explorer.
Shares Rise
Petrobras rose 1.1 percent to 21.75 reais at the close in Sao Paulo. The stock has slumped 16 percent in the last 12 months, compared with a 20 percent drop for Brazil's Bovespa index.
The company's credit rating was raised yesterday to BBB from BBB- by Standard & Poor's.
Petrobras is going to end 2011 with daily production above its target, even as platform shutdowns and delays in drilling-rig deliveries constrain development of the Carioca and Lula fields in the Santos Basin, Gabrielli said.
Output may reach 2.2 million barrels a day by the end of the year, he said. On average domestic production may miss this year's target of 2.1 million barrels a day, Gabrielli said.
Petrobras should get the flow-rate data for its pre-salt wells off the coast by the middle of next year, when it completes 18 months of pilot projects in the area, he said.
Pre-Salt Finds
The company paid the government $42.5 billion in shares for the rights in September last year to produce 5 billion barrels of oil from Franco and six other fields including Lula, in the Santos Basin. The pre-salt fields in the basin, the largest crude discovery in the Americas since Mexico's Cantarell field in 1976, lie four miles beneath the seabed.
"We began 2008 estimating 15,000 barrels a day" of output at the pre-salt fields, Gabrielli said. "Today, Lula is producing 36,900 barrels a day."
The executive also said while 2012 will be a better year for the U.S. than Europe, developed nations will continue to have flat economic growth or may enter a recession.
"The main reason why the U.S. is going to be better is that the main street is alive," Gabrielli said. "We are going to continue to see growth in China, India, South America and Africa."
Petrobras is studying the sale of three different types of assets: exploratory blocks, stocks in companies that aren't their core businesses or receivables in their balance sheet, Gabrielli said.
"We don't know which one is going to be first," Gabrielli said. "We have two and a half years to do that. We are not in a rush."