Papademos Gains Cabinet Approval for Final Greek 2012 Budget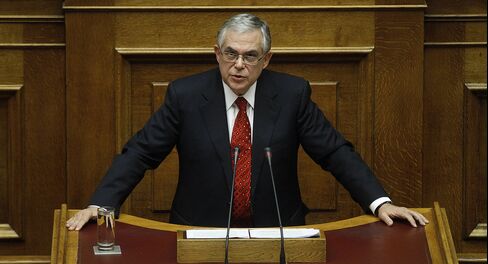 Nov. 18 (Bloomberg) -- Greece's new government unveiled a budget for 2012 with a deficit shortfall dropping by almost half, thanks to pension and wage cuts and a Greek debt swap that will slash interest costs.
Greece's budget deficit will narrow to 5.4 percent of gross domestic product next year, or 11.4 billion euros ($15.5 billion), from 9 percent this year, or 19.7 billion euros, according to the budget sent by e-mail from the Athens-based Finance Ministry today.
"The benefit isn't theoretical," Finance Minister Evangelos Venizelos told reporters. "There is a specific practical benefit to our fiscal goals."
The fiscal plan, which will be approved by the Greek Parliament before a meeting of European Union leaders in December, is designed to regain the confidence of creditors and secure resumption of international financing. Prime Minister Lucas Papademos, appointed last week, is racing against a three-month deadline until elections to secure international loans and avert a collapse of the economy.
Troika Return
Representatives of Greece's international creditors began a review in Athens today of the government's progress and will meet with Venizelos and Papademos, the minister said. The heads of the mission from the European Union, European Central Bank and International Monetary Fund will meet with the leaders of the parties backing the Papademos government tomorrow, he said.
The new premier's immediate priority is to secure the release of an 8 billion-euro loan under an earlier bailout by the middle of next month. Disbursement was halted by German Chancellor Angela Merkel and French President Nicolas Sarkozy after former Prime Minister George Papandreou said he planned a referendum on the terms of the second bailout, roiling markets.
Papademos, a former European Central Bank vice president, heads an interim government that's backed by three of the five Greek parliamentary parties and won a mandate to secure a second financing package for Greece that was agreed to with euro partners on Oct. 26. Part of that deal will be to arrange a debt swap with private bondholders.
Debt Swap
The budget includes a debt-swap scenario that sees interest repayments at 12.8 billion euros in 2012, compared with 16.4 billion euros this year, or falling to 6 percent of GDP from 7.5 percent this year. The debt-swap plan aims to slice 100 billion euros off the 2011 debt burden of 350 billion euros.
Greece plans to pay lenders 50 cents for each euro the government borrowed under the terms of the bailout plan agreed to at the Oct. 26 summit. Its 4 percent notes due in August 2013 now trade at 33.6 cents. Fitch Ratings says the agreement with creditors would amount to a "default event" if implemented, while the International Swaps and Derivatives Association says it won't trigger credit-default swaps.
Greece's debt as a proportion of GDP will fall to 145.5 percent in 2012 from 161.7 percent this year. Gross domestic product will shrink 2.8 percent next year after contracting 5.5 percent in 2011.
Unemployment will average 17.1 percent in 2012, up from 15.4 percent this year, according to the budget. Inflation will average 0.6 percent next year, compared with 2.8 percent in 2011.
To contact the reporters on this story: Marcus Bensasson in Athens at mbensasson@bloomberg.net; Maria Petrakis in Athens at mpetrakis@bloomberg.net
To contact the editor responsible for this story: Craig Stirling at cstirling1@bloomberg.net