Oklahoma State Women's Basketball Coaches Killed in Air Crash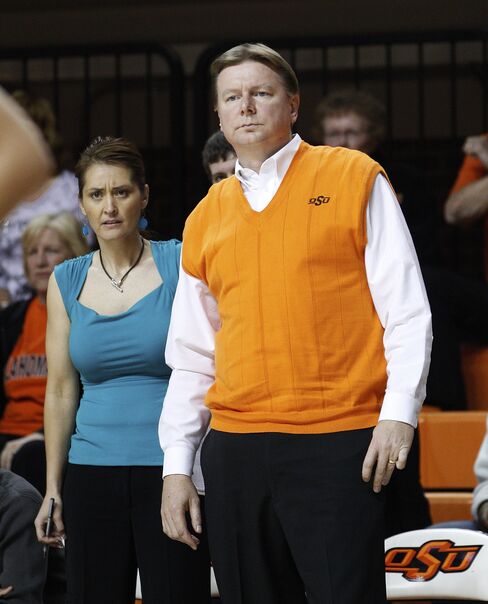 Oklahoma State University women's basketball coach Kurt Budke and assistant Miranda Serna died last night in a plane crash in Perry County, Arkansas, the second fatal plane crash for the university's basketball programs in the past 11 years.
Budke, 50, and Serna were on a recruiting trip to Arkansas, the university's athletics department said in an e-mailed statement. Two others not affiliated with the school, including a pilot, were killed, and there were no survivors, according to the release.
"The Oklahoma State family is devastated by this tragedy," university President Burns Hargis said in the statement. "Our hearts and prayers go out to the families of Kurt Budke, Miranda Serna and the other victims."
On Jan. 27, 2001, following a game against the University of Colorado, a plane crash killed 10 men associated with the Oklahoma State men's basketball program, including players Daniel Lawson and Nate Fleming. A memorial to the victims sits inside the lobby at the team's Gallagher-Iba Arena.
Budke was in his seventh season at Oklahoma State, where he was 112-83. During the 2009-10 season he led the Cowgirls to the school's first-ever top-10 national ranking, according to the release. He is survived by his wife, Shelley, and three children.
Serna, the program's recruiting coordinator, was also in her seventh season as an assistant coach at the Stillwater, Oklahoma, school. She worked in the same capacity under Budke at Louisiana Tech University before coming to Stillwater.
"Kurt Budke was an incredibly positive influence on his players and was a tremendous coach," university Vice President for Athletics Mike Holder said. "He quickly turned our program around and put Cowgirl basketball on the map. Miranda was a tireless worker and great recruiter."
The university has canceled the team's games for Nov. 19 and Nov. 20, according to the release. Jim Littell, the team's associate head coach, has been named interim coach.
Before it's here, it's on the Bloomberg Terminal.
LEARN MORE