New York City Police Arrested 252 in Yesterday's Protests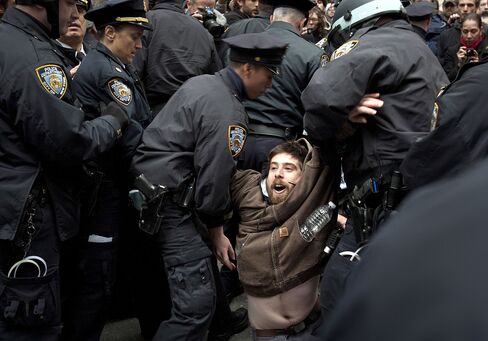 The New York City Police Department arrested 252 people in connection with yesterday's Occupy Wall Street protests, mostly for resisting arrest and disorderly conduct, police said.
Thousands of people took part in yesterday's demonstrations, which began with unsuccessful attempts to disrupt the New York Stock Exchange and ended with a peaceful march across the Brooklyn Bridge. More than 1,400 people have been arrested since the protest began in Lower Manhattan on Sept. 17, said Paul Browne, an NYPD spokesman.
Some of the people who took part in yesterday's protests tried to provoke law enforcement, New York City Police Commissioner Raymond Kelly said.
"There is no question about it there was a group of people bent on confronting the police," Kelly told reporters today after a press conference in Manhattan District Attorney Cyrus Vance's office. "They were taunting them."
One demonstrator was charged with assault after throwing a liquid believed to be vinegar on five officers, Kelly said. Another was charged with attempted assault after throwing a battery and pieces of a pen at officers, pushing a barrier into them and removing a deputy inspector's hat, he said.
Resisting Arrest
A group of 65 people who were arrested on Centre Street at the foot of the Brooklyn Bridge had arranged their arrests in advance and didn't resist, Browne said.
Photos of Brandon Watts, the protester arrested after taking the inspector's hat, show him with blood on his face, Browne said. Watts, 20, whose address is unknown, struck his head when he was "brought down" while resisting arrest and was treated at Bellevue Hospital for the injury, which wasn't serious enough to require admission to the hospital, Browne said.
Watts, arrested for the fifth time since the protests began, was in custody this afternoon, Browne said.
"Clearly that individual was intent on being arrested," Kelly said. "They certainly showed restraint, he threw the pen, he threw a battery, he took their hat, he pushed a barrier into them. He was obviously looking to start trouble. There were other people bent on similar confrontations with the police. This was the day that they decided to do it."
$750 Bail
Watts was arraigned and is being held on $750 bail, said Martin Stolar, a lawyer for the National Lawyers Guild. The group is representing 30 to 40 of the people arrested yesterday, Stolar said.
The Occupy Wall Street protests, which began in New York, have spread to cities on four continents, including London, Sydney, Toronto, Rome and Tokyo. The demonstrators refer to themselves as "the 99 percent," a reference to Nobel Prize-winning economist Joseph Stiglitz's study showing the richest 1 percent control 40 percent of U.S. wealth.
The city has spent about $6 million in connection with the protests, Kelly said. That doesn't cover the Nov. 15 ouster of the demonstrators at Zuccotti Park and yesterday's deployment of thousands of officers, many of them getting overtime pay.
Stock Exchange
Protesters marched towards the New York Stock Exchange from different directions in an attempt to stop people from arriving on time and delaying the opening bell, Kelly said. Police seized 14 devices called "sleeping dragons," which are used to lock demonstrators' arms together, from a truck on the Manhattan side of the Queens-Midtown Tunnel, he said.
"They did a lot of advertising," Kelly said. "This was going to be a big event with shutting down Wall Street and penetrating into the stock exchange. They talked about activities on the subway. We don't know exactly what they're going to carry out. It may be puffing, it may be exaggerating and it may not be. We deployed significant resources to see to it that those sorts of things were not going to happen."
Vance's office is processing about 1,000 arrests and "devoting considerable resources" and manpower to make sure the cases are handled fairly, he said. Most of the arrested protesters who have appeared in court have rejected deals from prosecutors to have the charges dismissed in six months for good behavior, choosing instead to go to trial.
"The system that we have, our judicial system is going to respond appropriately to having these cases adjudicated fairly whether the number is 200 or 1,000 and we're doing the best we can under difficult circumstances under restricted budgets," Vance said.