Italy's Monti Wins Final Confidence Vote in New Government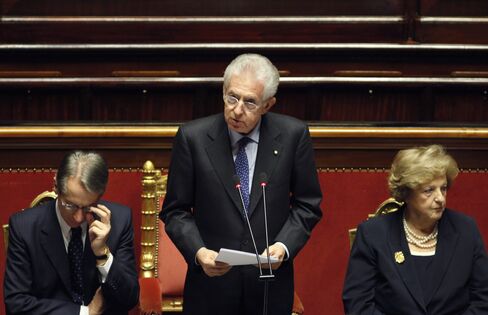 Nov. 18 (Bloomberg) -- Italian Prime Minister Mario Monti won a final parliamentary confidence vote, granting full power to his new government after pledging to spur growth and reduce debt in the euro-region's third-largest economy.
The 630-seat Chamber of Deputies voted 556 to 61 in favor of Monti's new administration of technocrats, following the Senate's approval yesterday. Monti said today he wanted his government to last until elections scheduled in 2013, though that depended on retaining the support of parties. The Northern League's lawmakers 59 voted against him today.
"I know that the economic, social and political crisis is due to the serious malfunction of the financial situation and the markets, but I believe that the first thing to do, and I say this particularly to the Italians, is to stop being so comfortable with saying that others are responsible," the former European Union commissioner told lawmakers in Rome.
The government will first focus on implementing austerity measures passed by former Prime Minister Silvio Berlusconi's administration that aimed to balance the budget in 2013, he said yesterday. It will then take additional steps that may include reinstating property taxes, overhauling the tax system, changing pension rules, trimming the size of the government and modifying labor laws, Monti told the Senate.
Bundling Measures
At a news briefing after today's vote, Monti said he will seek to bundle austerity measures and structural reforms "in one package" to boost the chances of their approval by "different sectors" of society and parliament. "I'll do everything I can to obtain a social consensus," he said.
Italian bonds gained for a third day with the yield on the 10-year note declining 20 basis points to 6.63 percent as of 5:26 p.m. in Rome. When Monti was sworn in on Nov. 16, the 10-year yield topped the 7 percent threshold that led Greece, Portugal and Ireland to seek EU aid.
Monti's government will seek to reduce Italy's $2.6 trillion debt pile, equivalent to about 120 percent of gross domestic product. While that's the second-biggest burden in the euro region after Greece, it's sustainable even amid rising borrowing costs, according to Gustavo Bagattini, an economist at RBC Capital Markets in London.
7 Percent 'Myth'
The "relatively long-term nature" of Italian debt "makes it very resilient to interest-rate shocks in the short term," Bagattini said in a report published yesterday. "From a pure fiscal sustainability point of view, the message is clear that even 10-year borrowing costs of 8 percent, although undesirable, would not send Italian debt spiraling out of control."
The European Central Bank started buying Italian and Spanish bonds on Aug. 8 in a bid to stem surging borrowing costs. Monti told the briefing that "the ECB's decisions, as we know, are taken according to current rules, which I don't feel need to be changed" even as the decisions are "certainly the subject of commentary and evaluation."
Monti defended himself from criticism by some lawmakers that he represented the interest of bankers and other "strong powers," calling it offensive. As EU competition commissioner, when he took on Microsoft Corp. and General Electric Co., Monti said the Economist magazine dubbed him the "Saddam Hussein of business."
The new prime minister said he'll meet in Brussels with EU President Herman Van Rompuy and European Commission President Jose Barroso on Nov. 22. Monti will hold "informal talks" with French President Nicolas Sarkozy and German Chancellor Angela Merkel on Nov. 24 in Strasbourg, France, he said.
To contact the reporter on this story: Lorenzo Totaro in Rome at ltotaro@bloomberg.net.
To contact the editor responsible for this story: Craig Stirling at cstirling1@bloomberg.net.