Molycorp Says Rare Earth Price Plunge May Crimp Mine Funding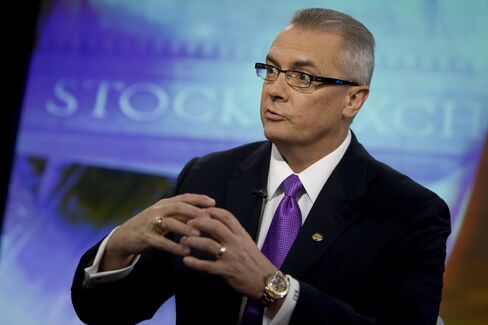 Molycorp Inc., owner of the largest rare-earth mine outside China, said new developers may face difficulty funding new operations after prices plunged.
"The pricing environment today really is not going to help them utilize sales contracts as collateral for financing purposes," Mark Smith, chief executive officer of the Greenwood Village, Colorado-based company, said in an interview.
Prices of rare-earth minerals have dropped 27 percent from their peak this year as Chinese exports increased, boosting inventories, according to analysis from Bloomberg Industries. China cut its export quotas in 2009, prompting prices and shares of rare-earth mining companies to rise.
"The debt market is going to be difficult because banks are not going to let the companies use the higher prices we all saw in July and August," Smith said. Equity will also be hard to sell as investors "are not going to jump at opportunities to throw money at the rare earth space anymore," he said.
Rare-earth carbonate in China is trading at 75,000 yuan ($11,800) a metric ton, down from a record in August, according to Shanghai Steelhome Information. Some proposed mines have been delayed because of technical, financing and environmental concerns, Bloomberg Industries analysts said in August.
Molycorp resumed mining at Mountain Pass, the mine that accounted for most of the world's output between 1965 and 1985, in October. It cut its production forecast for 2011 by as much as 22 percent on Nov. 11 because of equipment outages.
Potential M&A
Shares of Molycorp fell 6.6 percent to $28.36 in New York. They have fallen 43 percent this year.
Molycorp is also looking to acquire downstream companies that can process rare-earth oxides and produce magnets in Japan, Europe, the U.S. or Canada, Smith said in Hong Kong. He said he's considering some companies listed on the Toronto Stock Exchange and declined to name them.
Neo Material Technolgies Inc., a Canadian rare-earths processor, jumped 10 percent in Toronto.
Neo "is not a magnet manufacturer but it's certainly a key cog in the rare-earth value chain," Matt Gowing, an analyst at Toronto-based Mackie Research Capital Corp., said today by telephone.
Mining companies including Molycorp and Lynas Corp. are spending at least $6 billion developing mines to meet demand for the elements used in applications ranging from electric cars to missiles.
Australian Mine
Arafura Resources Ltd., which is developing the Nolans Bore mine in Australia's Northern Territory, plans to raise A$1 billion ($1 billion) by the end of 2012 through supply agreements, strategic alliances, debt and equity. It plans to produce 20,000 tons of rare-earth oxide annually by 2014.
"It's a lot of money but it's all very achievable," Gavin Lockyer, Arafura's chief financial officer, said in an interview in Hong Kong. The company may form strategic alliances with companies that can help it access sovereign funding in Japan, South Korea, Europe, and the U.S., he said.
China accounts for about 70 percent of global demand, Roskill Information Services Ltd., an industry research group, said in a statement today. Chinese demand may increase 8 percent a year through to 2015 to 145,000 tons of rare-earth oxide, it forecast. Global demand may grow at between 7 and 9 percent in the same period, it said.
"It'd be rather foolish of our company to solely focus on the rest of the world and not to focus on China," Molycorp's Smith said.
'Structural Deficit'
There continues to be "a structural deficit in the market," especially for the elements used in the magnet market, such as neodymium, Lynas CEO Nick Curtis said in an interview this week.
Cerium, the rare-earth element that occurs most abundantly, peaked in July at $158 a kilogram and was $59 a kilogram on Nov. 8, according to Arafura's website, citing Metal Pages. Cerium is the most likely of the rare-earth elements to turn to oversupply, Curtis and Smith said.