Lone Star Faces Fight to Keep Gains on Korean Bank Holding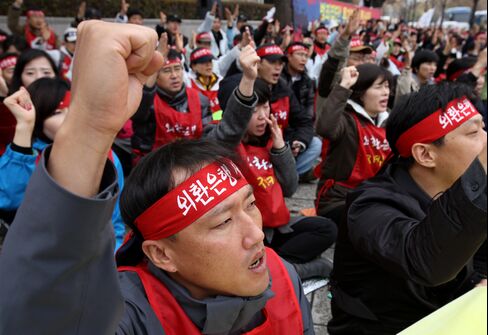 Lone Star Funds, clearing its last regulatory hurdle for exiting an eight-year investment in Korea Exchange Bank, faces a fight to protect its profit as Hana Financial Group Inc. seeks a price cut for the second time.
Hana Chairman Kim Seung Yu said yesterday there is "great pressure" to pay Lone Star less for the Seoul-based bank. He spoke in an interview minutes after the local financial regulator ruled that the Dallas-based buyout fund should sell at least a 41 percent stake by May 18, without dictating terms.
Lone Star, set to reap more than $6 billion on its investment, was ordered to sell the holding after being convicted by a Seoul court last month of stock-price manipulation. The ruling allows the fund to proceed with the proposed 4.4 trillion won ($3.9 billion) sale to Seoul-based Hana in what would be South Korea's biggest banking takeover.
"There's some public criticism about Lone Star making such a large profit, but there's no legal basis for the government to penalize the company by ordering a public sale," said Yoo Sang Ho, an analyst at Seoul-based HI Investment & Securities Co. Still, "Lone Star and Hana will face pressure to renegotiate the July contract price."
Wrangling with courts, regulators and lawmakers as well as a public backlash over profits from the investment has already derailed Lone Star's two earlier attempts starting in 2006 to sell the stake.
Pressure to Renegotiate
South Korea's Financial Services Commission will ask Hana to resubmit its documents to win approval for the Korea Exchange Bank purchase, according to the statement yesterday from the financial regulator. Lone Star isn't qualified to own more than 10 percent of a Korean bank, it said.
Jed Repko, a spokesman for Lone Star, declined to comment.
Hana's Kim said he aims to complete the purchase by the end of the month. The two sides had agreed in July to extend the deadline for the sale of the fund's entire 51 percent stake to Nov. 30 and cut the price by 6 percent. Hana President Kim Jong Yeol told investors on Oct. 21 that the company plans to seek a lower price.
Shares of Korea Exchange Bank, which dropped 1.7 percent to 7,900 won yesterday, have plunged 33 percent this year as third-quarter profit plummeted 63 percent and it set aside more funds for bad debt. The benchmark Kospi index has dropped 10 percent in 2011.
"A lot of people are demanding a price renegotiation," Chairman Kim said by telephone yesterday. "I'll try my utmost to reach an agreement" with Lone Star.
Recouped Investments
Shares of Hana, which has fallen 18 percent this year, declined 1 percent to 35,600 won at the close of trading in Seoul ahead of the ruling.
Lone Star has already recouped 2.53 trillion won in after-tax profit on its 2.15 trillion won investment in the bank, also known as KEB, through a sale of shares to institutional investors and dividends, according to data from the Seoul-based lender.
In February 2006, South Korea's then ruling Uri Party asked prosecutors to probe allegations that Korea Exchange Bank was sold to Lone Star hastily and at an artificially low price. Lone Star in November of that year gave up on a plan to sell its holding to Kookmin Bank for $7.2 billion, citing investigations by prosecutors.
HSBC Holdings Plc dropped a $6 billion bid in September 2008 after authorities left a proposed transaction in limbo for more than a year because of legal disputes.
Standard Chartered Plc's purchase of Korea First Bank in 2005 for $3.2 billion and Citigroup Inc.'s acquisition of KorAm Bank for $2.7 billion in 2004 are the biggest banking takeovers so far in South Korea.
Before it's here, it's on the Bloomberg Terminal.
LEARN MORE