Cattrall Slinks Through 'Private Lives'; Lewd 'Silence': Review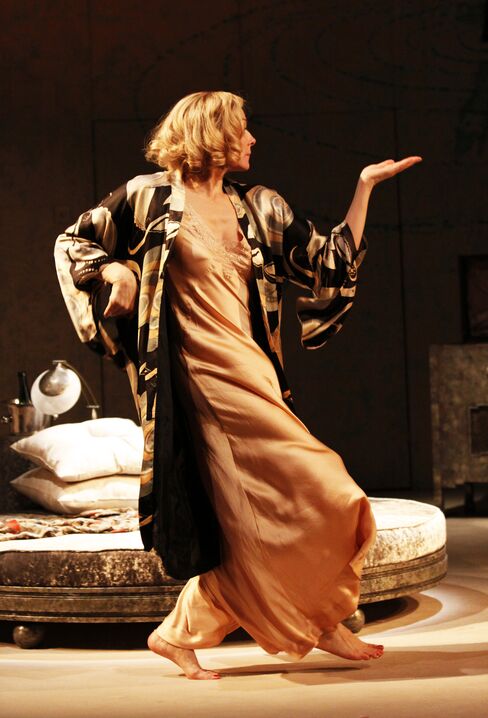 Kim Cattrall displays serious acting chops in "Private Lives," the Noel Coward revival that arrives on Broadway just in time for holiday gift giving.
The adventuress of "Sex and the City" plays a free spirit of a more cultured order in this 1930 comedy of exceedingly bad manners, wherein a divorced couple find themselves honeymooning with new spouses in adjacent suites whose balconies overlook the sea in the Calvados-scented French resort of Deauville.
So primed were her fans at a critics' preview that when the lights came up on a perky blonde in the opening scene, the audience broke out in applause -- before realizing she was not Cattrall, but the much younger Anna Madeley, playing Sybil, newly married to suave, sophisticated Elyot (Paul Gross).
Cattrall gets her due when Amanda emerges, next door, dripping and wrapped in a white towel. Fresh from her bath, she reduces her stuffy new spouse, Victor (Simon Paisley Day), to puppyish expressions of love. He still can't believe his luck.
That luck runs out pretty much the moment the exes discover the trick that fate has played on them. No sooner have Elyot and Amanda expressed righteous shock than they're draining the martini glasses and locking lips. (Younger patrons will be reminded of Alec Baldwin and Meryl Streep in "It's Complicated." Some tropes never grow old.)
Amanda and Elyot are catnip to stars of a certain age, which is unfortunate, because the randy couple is meant to be young, even five years after their divorce.
Cattrall, an experienced stage actress, is easier to admire than adore as Amanda. She looks sensational in Rob Howell's rippling gowns and her accents -- English and French -- are impeccable.
Until, that is, she starts to bellow like a shrew, which is all too often, given the explosive nature of Amanda and Elyot's love. The sophistication yields to coarseness.
Quite the same is true of Gross, who never manages the suavity Elyot must wear like a dinner jacket if his easy brutishness is to be at all tolerable. (As when he says: "Certain women should be struck regularly, like gongs.")
Director Richard Eyre sets his actors loose with pratfalls, smirks and other physical business that weakens the comedy. Howell's sets are hideous, but you probably won't be looking at them anyway.
Through Feb. 5, 2012 at the Music Box Theatre, 239 W. 45th St. Information: +1-212-239-6200; http://www.telecharge.com. Rating: **
'Silence! The Musical'
On opening night of "Silence! The Musical," Jenn Harris ad libbed a very funny reference to the number of opening nights this modest musical spoof has enjoyed since its premiere at the 2005 FringeNYC festival.
Harris plays lisping FBI trainee Clarice Starling, who must secure the aid of jailed maniac psychiatrist Dr. Hannibal Lecter (wait, I haven't gotten to the spoof part yet) to track down another murderous nut job. Clarice was played by Jodie Foster in the 1991 film, which also starred Anthony Hopkins as Hannibal the Cannibal, the villain with a taste for chianti, fava beans and flesh.
"Silence," written by Jon and Al Kaplan and Hunter Bell, is cockily obscene (the title of the best known song is unprintable even on the internet) and sung as a male dancer keeps his nose midpoint between the legs of a female dancer doing more splits than a hot stock.
The estimable musical-theater veteran David Garrison is now playing Hannibal, and he's an asset, spooky and spectral, an antidote to the gleefully shticky, over-the-top Harris. The ingenious, compressed staging and choreography are by Christopher Gattelli, whose bolder dances will be on display this spring in the Broadway-bound "Newsies."
The producers have smartly protected the show's adolescent raffishness, putting it up in very downtown P.S. 122 and keeping ticket prices modest. At 90 minutes, "Silence" is a good joke that just avoids wearing out its welcome.
At P.S. 122, 150 First Ave. Information: +1-212-352-3101; http://www.silencethemusical.com. Rating: **
What the Stars Mean:
****        Do Not Miss
***         Excellent
**          Good
*           So-So
(No stars)  Avoid
(Jeremy Gerard is chief drama critic for Muse, the arts and leisure section of Bloomberg News. The opinions expressed are his own.)
Before it's here, it's on the Bloomberg Terminal.
LEARN MORE