Italian Lawmakers Back Monti to Keep Pensions, Critics Say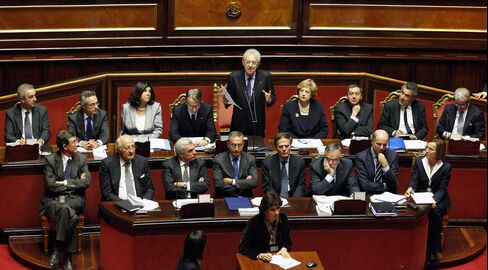 As Italy's politicians came together this week to back a technical government, calling it the only way to rescue the country from financial ruin, critics say their main goal was really saving their own pensions.
"Half the guys in there are worried about getting their pensions or increasing them by staying in office longer," said Luca Barbareschi, a lawmaker in Italy's lower house of parliament, the Chamber of Deputies. "It's definitely a motivation," said Barbareschi, who entered parliament in 2008 as a member of Silvio Berlusconi's People of Liberty party and switched to independent status this year.
As politicians plot the country's future, ordinary Italians are being asked to postpone retirement under proposed austerity legislation that calls for raising the pensionable age to 67 from 65, as the country tries to cut its 1.9 trillion-euro ($2.6 trillion) debt, which amounts to 120 percent of gross domestic product. To underscore the urgency of the issue, Italy's new Prime Minister Mario Monti appointed Elsa Fornero, an expert on the pension system, as welfare minister to work on reforms.
"We have to work a lifetime to get half or even less, of what they do, it's simply unfair," said Orsola Faraone, a retired teacher who receives 1,400 euros a month in pension payments. The retirement funds going to politicians "is money they are taking away from ordinary citizens," she said.
Confidence Vote
The Chamber of Deputies will decide in a confidence vote at 2 p.m. today in Rome whether to support the new government after the 321-seat Senate voted in favor yesterday by a margin of 281 to 25. In the lower house, Monti is expected to have at least 560 votes out of 630.
In the Chamber, 247 members still need to complete at least one full five-year term to be eligible for a special pension which kicks in when legislators reach the age of 65. More than 100 Senators are in the same position, according to data collected from the websites of both chambers.
"It may well be the case that some of the lawmakers have no noble reason to back this government and getting the pension is certainly one," said Elio Lannutti, a senator and member of the opposition Italian Values party. "I actually look forward to seeing privileges like this cut by Monti."
Until 1997, Italian lawmakers could retire as early as 50, and until 2007 they could earn the right to a payout after just 2.5 years in parliament. Even today, parliamentarians with 10 years of service can bring their retirement age forward by five years and start receiving lifetime pension checks at 60.
Porn Star
In a country that's averaged almost a government a year since World War II, that means there are more than 2,300 pensions being paid to ex-lawmakers, according to a report in weekly l'Espresso.
Ilona Staller, who was better known as the porn star Cicciolina, retired recently at the age of 60 after having earlier served a five-year term in the lower house, and told newspapers including Corriere della Sera that she receives a pension of 3,000 euros a month before taxes. Staller said she'd give it all to charity if other members of parliament did the same, according to Corriere.
"The system was created in the days when many workers didn't even have pensions," as a way to repay deputies in their old age for serving the country, said Roberto Pessi, professor of labor law at Rome's LUISS Guido Carli University. "Today, it would make more sense to simply have the time served in parliament form part of an overall tally of years worked toward a pension."
Lawmakers' Independence
The pension system for lawmakers is necessary to guarantee independence for parliament members, who may have given up their regular jobs to serve in government, the Italian Senate said on its website. The payout has been cut to between 20 percent and 60 percent of gross salary from 25 percent to 80 percent.
Members of parliament earn between 5,487 euros and 5,613 euros a month after taxes, plus about 3,500 euros a month for living expenses, according to the Chamber of Deputies and Senate websites. The country's 951 members of parliament also enjoy perks like free air and rail travel.
By contrast, the average monthly gross paycheck for an Italian worker is 2,033 euros, according to data from national statistics institute ISTAT.
Eugenio Scalfari, the 87-year-old founder of newspaper la Repubblica who's criticized lifetime payments, wrote in an editorial that he was rebuffed in attempts to return the 2,400-euro pension he gets for a four-year stint in the Chamber of Deputies beginning in 1968.
"I sincerely hope the new prime minister takes a nice broom in hand and cleans out the house," said Franca Rame, a writer and actress who's married to Nobel prize-winning author Dario Fo. Rame, 83, served in the Senate, where she was known for her crusades against waste and privileges for politicians.