Goldman's Cohn May Face Questions From Gupta Lawyers in SEC Suit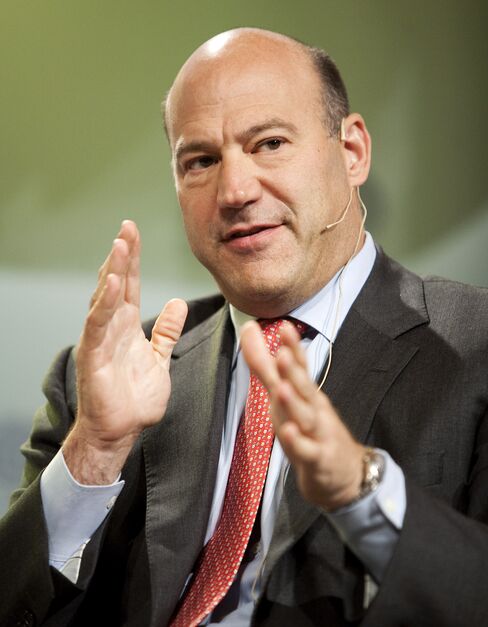 Goldman Sachs Group Inc. President Gary Cohn may be questioned by lawyers defending former company director Rajat Gupta and Galleon Group LLC co-founder Raj Rajaratnam against insider-trading claims by federal regulators.
Former Galleon Group trader Ian Horowitz and Goldman Sachs managing director David Loeb were also identified by lawyers as witnesses who may be called to give pretrial testimony.
U.S. District Judge Jed Rakoff in Manhattan is considering whether the parties may take depositions in the Securities and Exchange Commission lawsuit before completion of a parallel criminal case against Gupta.
Gupta was charged in an indictment unsealed on Oct. 26 with five counts of securities fraud and one count of conspiracy to commit securities fraud. The U.S. Securities and Exchange Commission filed the civil lawsuit the same day accusing Gupta of engaging in an "extensive insider-trading scheme" with Rajaratnam.
In the SEC complaint, Gupta is accused of passing tips about Berkshire Hathaway Inc.'s $5 billion investment in Goldman Sachs before it was publicly announced on Sept. 23, 2008, and about Procter & Gamble Co.'s earnings while he was a board member.
$23 Million Profits
The tips generated "illicit profits and loss avoidance" of more than $23 million, the SEC alleged in its complaint.
Rakoff, who is presiding over both cases, has set trial dates of April 9, 2012 for Gupta's criminal case and Oct. 1, 2012, for the SEC case.
"I don't want to change these trial dates under any set of circumstances," Rakoff told the lawyers at yesterday's hearing.
Lawyers for the SEC and U.S. Attorney's office asked Rakoff to postpone the depositions, to prevent Gupta's lawyers from using them to get an unfair advantage in the criminal trial. Lawyers for Gupta and Rajaratnam asked to be permitted to take depositions sooner. Rakoff said he will decide no later than Nov. 29.
Rakoff said he had asked the SEC, Gupta and Rajaratnam to submit lists of the most important 10 witnesses they plan to depose. Cohn, Loeb and Horowitz were disclosed as possible witnesses during the hearing. Rakoff said he will release the rest of the names publicly on Nov. 21.
Rajaratnam Conviction
Rajaratnam was convicted in May of being at the center of the biggest insider-trading scheme in U.S. history and was sentenced last month to 11 years in prison.
In Rajaratnam's criminal trial, defense lawyers showed jurors evidence that their client had met with Cohn and Loeb in July 2008 in an attempt to explain Rajaratnam's trades in Goldman Sachs stock in September and October of 2008.
Jurors in Rajaratnam's trial also heard a telephone conversation, secretly wiretapped on Sept. 24, 2008, in which Rajaratnam tells Horowitz he had gotten a phone call saying "something good may happen to Goldman." Prosecutors said Rajaratnam was referring to a tip from Gupta that Warren Buffett's Berkshire Hathaway Inc. would invest $5 billion in Goldman Sachs.
Kevin McGrath, a lawyer for the SEC, told Rakoff at a Nov. 8 hearing that the agency wanted to question under oath a "long list of witnesses," including Gupta, Rajaratnam's two brothers as well as Goldman Sachs and Procter & Gamble board members and current and former employees of both companies.
'Don't Bill Rajaratnam'
During the hearing, Gupta's lawyer, Gary Naftalis, mistakenly said his is the only law firm representing Rajaratnam. After he was prompted by a partner sitting next to him, Naftalis corrected himself, telling Rakoff he meant to say his firm represents Gupta.
"I wouldn't send the bill to Mr. Rajaratnam," Rakoff said. "I don't think he'll pay -- at least not these days."
Rakoff is the judge who on Nov. 8 ordered Rajaratnam to pay a record $92.8 million penalty in an earlier case filed against him by the SEC. The fine, which was the largest ever imposed by the agency on an individual in an insider-trading case, came on top of an order that he pay a $10 million fine and forfeit $53.8 million as part of his criminal sentence.
The cases are U.S. v. Gupta, 11-cr-00907, and SEC v. Gupta, 11-cv-07566, U.S. District Court, Southern District of New York (Manhattan).