Ex-FrontPoint Fund Manager Skowron Looks to Prison for 'Healing'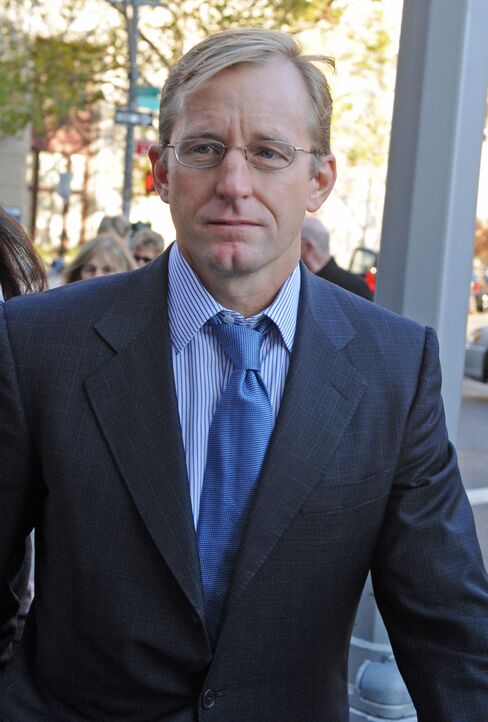 Former FrontPoint Partners LLC fund manager Joseph F. "Chip" Skowron said his five-year prison term for leading an insider-trading scheme is an opportunity for "healing and rehabilitation."
Skowron, 42, pleaded guilty in August to getting illegal tips from a former adviser for Human Genome Sciences Inc. that trials of the company's hepatitis C drug were being halted. FrontPoint sold its stock before the announcement was made public, avoiding $30 million in losses, the U.S. said.
Galleon Group LLC, the defunct hedge fund at the center of the biggest insider-trading scheme in U.S. history, was among Skowron's five investor victims that won court approval yesterday for restitution.
Before he was sentenced yesterday in federal court in Manhattan, Skowron a Yale University-educated physician from Greenwich, Connecticut, described how he came to commit his crimes, referring to himself as a "disaster."
"I was not aware of the changes that were happening in me that blurred the lines between right and wrong," Skowron told a courtroom packed with his supporters, which included his wife, Cheryl, and 18 men identified by his lawyer, James Benjamin, as members of the New Canaan Society, a Christian group that Skowron is now affiliated with.
'World of Relativism'
"I allowed myself to slip into the world of relativism where the ends justify the means," he said.
Skowron told U.S. District Judge Denise Cote that since his crimes came to light last year, "I have had the opportunity to redo my life and I've taken the opportunity to turn my life over to Christ. I'm terribly sorry for the mistakes I've made. I'm looking forward to healing and rehabilitation."
Before sentencing, Cote noted that prosecutors and defense lawyers had agreed on a five-year maximum prison term for Skowron's two crimes, conspiracy to commit securities fraud and obstruction of a federal probe. Some of Skowron's supporters, including his wife, had asked for leniency from the court.
"I think this term is an appropriate punishment for what Dr. Skowron did," she said, adding that he engaged in a pattern of deceit and illegality that spanned months.
"You bribed and corrupted another physician, you orchestrated a campaign that included deceiving Morgan Stanley and obstructing an SEC investigation and another investigation, you committed perjury before the SEC," she told Skowron.
Cote also disputed Benjamin's assertion that Skowron hadn't personally gained from the scheme.
"Only perhaps in the narrowest sense, but not in the realistic sense of what drove this conduct," the judge said.
January Surrender
Cote directed Skowron to surrender to U.S. Bureau of Prisons officials by Jan. 6 and granted a request by his lawyer that he be assigned to a facility "as close to Pennsylvania as possible." She said the bureau makes final decisions on assignments.
The judge said she would order that he enter an alcohol and substance abuse program while in prison and that he serve three years of supervised release when his term ends.
Skowron, who left court clutching a Bible, was repeatedly embraced by friends and family in the hallway outside the courtroom. He declined to comment on the sentence, as did his lawyer.
"Chip Skowron's medical training and expertise, along with his knowledge of the health care industry, undoubtedly gave him a legitimate trading edge," Manhattan U.S. Attorney Preet Bharara said yesterday in a statement. "But that wasn't enough -- he still took a corrupt path to protect his hedge fund and himself from sustaining a multimillion dollar loss and then corruptly tried to obstruct the government's investigation."
$5 Million Forfeiture
Skowron agreed to forfeit $5 million to the U.S. in the criminal case, Cote said yesterday. She also made a legal finding yesterday that Skowron's personal net worth is at $22.2 million.
U.S. District Judge Deborah Batts in New York, who is presiding over the SEC suit against Skowron, ordered Skowron to pay $38.2 million, which includes disgorgement, interest and civil penalties. She signed the order on Nov. 16, the SEC said in a statement.
Cote also ruled yesterday that five investors who purchased HGSI stock in block trades, including Galleon and Deutsche Bank AG, Germany's biggest lender, were victims of Skowron's crimes and entitled to collect restitution.
Galleon's Loss
Galleon said it lost more than $1.5 million and Deutsche Bank claims losses of $2.4 million as a direct result of Skowron's inside trades of HGSI stock in January 2008.
The judge said she will determine at a later date how much restitution Skowron must pay to other firms which could be perceived as having been harmed by Skowron's crimes, including Morgan Stanley, the sixth-biggest U.S. bank.
Morgan Stanley, which acquired FrontPoint in 2006 and spun it off in February, submitted the largest restitution request, saying it should be paid $37.4 million after sustaining "very substantial damages" as a result of Skowron's criminal conduct.
This includes at least $32 million New York-based Morgan Stanley paid to Skowron in compensation during a four-year period it said he was committing his crimes.
When he pleaded guilty in August, Skowron said his illegal tips came from Yves Benhamou, an expert in hepatitis drugs who acted as a paid consultant to hedge funds. During the time he passed the tips, Benhamou was advising HGSI and serving on its steering committee for trials of Albuferon, the hepatitis C treatment.
'Encouraged' Benhamou
Prosecutors said Skowron gave Benhamou more than $14,600 in cash and paid for hotel rooms and expenses and that he "encouraged" Benhamou to lie to federal regulators during their investigation.
Benhamou, who pleaded guilty in April, is scheduled to be sentenced in December.
U.S. probation officials had estimated that Skowron could have faced 87 to 108 months in prison based on sentencing guidelines.
The case is U.S. v. Skowron, 11-cr-699, U.S. District Court, Southern District of New York (Manhattan).