Commodity ETF Assets May Triple in Asia, S&P's Steadman Says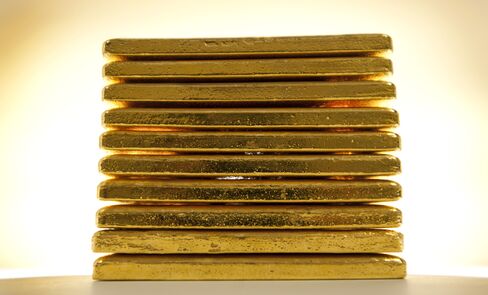 Nov. 18 (Bloomberg) -- Assets in exchange-traded funds backed by commodities may almost triple in Asia over the next five to seven years, according to S&P Indices.
Assets may grow to about $10 billion in the Asia-Pacific region from about $3.5 billion, Reid Steadman, global head of ETF licensing, said yesterday in an interview in Seoul.
Assets in exchange-traded products linked to commodities rose to a record $178.2 billion last quarter as funds flowing into gold outweighed reductions in energy and agriculture, ETF Securities LLC said in a report on Oct. 28. Commodities measured by the S&P GSCI Spot Index jumped 26 percent in the past two years, while the MSCI All-Country World Index dipped 1.5 percent.
"ETF physically backed by commodities should grow in Asia, with a lot of interest already in gold and silver," said Natalie Robertson, an analyst with Australia & New Zealand Banking Group Ltd. in Melbourne. "The outlook for precious metal prices is positive, in part, due to the likely large inflows of investment expected in this sector."
Commodities account for 3.6 percent of ETF assets in Asia, compared with 19 percent in Europe and 10.4 percent in the U.S., he said, citing Deutsche Bank data. ETFs enable buyers to invest in commodities without taking physical delivery.
'Room for Growth'
"Commodity ETFs are set for growth in Asia, as they have grown in other regions," said Steadman, who is based in Hong Kong. "Asian ETF markets are generally five to 10 years behind the U.S. and Europe. There's definitely room for growth."
Gold held in ETPs reached a record 2,330 metric tons on Aug. 18 worldwide as investors sought a haven amid Europe's debt crisis and falling currencies. Holdings rose 0.4 percent to 2,324 tons as of Nov. 16, show Bloomberg data compiled from 10 providers.
Bullion for immediate delivery has risen 21 percent this year in an 11th year of bull market, reaching an all-time high of $1,921.15 an ounce on Sept. 6, and Brent oil on the London-based ICE Futures Europe exchange gained 15 percent.
"Asian investors are more skilled than any other investors elsewhere reaching outside the region to invest in products listed elsewhere," said Steadman. "There is room to grow in terms of locally listed products."
Asset managers in China, the world's biggest gold producer, are seeking additional funds to invest in gold and precious metals as rising inflation spurs interest in alternative assets. Lion Fund Management Co. was the first to place money in foreign gold ETFs, raising more than 3.2 billion yuan ($500 million).
Hiring
Mirae Asset Global Investments Co., South Korea's biggest mutual fund manager, plans to hire more employees for its ETF business in Hong Kong this year.
Assets invested against the S&P GSCI index of commodities were estimated between $100 billion and $110 billion, Michael McGlone, senior director of commodities at S&P Indices, said in the same interview yesterday. Assets were about $100 billion as of end-August, McGlone said in September.
The S&P GSCI spot index rose 3.5 percent this year, after surging 20 percent in 2010. S&P, a unit of New-York based McGraw-Hill Cos., agreed to buy the GSCI gauge from Goldman Sachs Group Inc. in February 2007.
To contact the reporter on this story: Sungwoo Park in Seoul at spark47@bloomberg.net.
To contact the editor responsible for this story: Richard Dobson at rdobson4@bloomberg.net