Bangkok Residents Clash as Anger Over Thai Flood Intensifies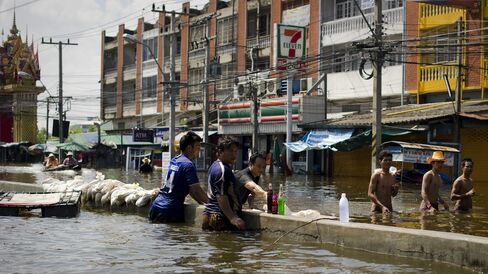 Residents on Bangkok's outskirts tore down levees protecting the inner city from floodwaters as anger at the Thai government's response to the four-month-long crisis intensified.
About 2,000 people from Pathum Thani province north of Bangkok destroyed 70 meters (230 feet) of a sandbag wall in Sai Mai, allowing water to seep in, and later clashed with residents of the northern district who tried to rebuild the barrier, Jate Sopitpongstorn, an adviser to Bangkok's governor, said today.
"It's a big concern because there is such a large amount of water yet to come in," Jate said by phone. "They have suffered for a month and they see that Bangkok has a better drainage system and think the city should take more water."
Efforts to save Bangkok from floods that swamped thousands of factories north of the capital are trapping polluted water in districts outside the levees, stoking tension between residents. Prime Minister Yingluck Shinawatra's government also faced criticism this week for pushing for a royal pardon that may benefit her brother, exiled former premier Thaksin Shinawatra, rather than focusing on flood-relief.
The government is discussing an amnesty that may apply to Thaksin, deposed in a military coup five years ago and convicted in absentia in 2008 to two years in jail. Details of the decree aren't finalized and won't be made public until it's approved, Deputy Prime Minister Chalerm Yoobamrung said yesterday.
'Gross Mismanagement'
"The attempt to actually try to come back in this manner is going to destabilize what has been an improving political climate in Thailand, notwithstanding the gross mismanagement of the recent floods by the government," Korn Chatikavanij, deputy leader of the opposition Democrat Party, said yesterday.
Representatives from the People's Alliance for Democracy plan to submit a letter to the Council of State on Nov. 21 opposing the amnesty bill, spokesman Parnthep Pourpongpan said by phone today. The group mobilized tens of thousands of people when it seized Bangkok's airports for eight days in 2008 in an effort to drive Thaksin's brother-in-law from power.
The military has received greater public approval in handling the floods than the government, according to an Assumption University poll that surveyed 1,478 people in Bangkok and its outskirts from Nov. 1 to Nov. 5. Three-quarters of respondents in an Oct. 30 poll of Bangkokians by the same organization said the administration's relief efforts were inadequate.
Death Toll
In Bangkok, authorities are maintaining a network of levees, canals and sandbag barriers to protect the city from floods that have already killed at least 594 people since late July. Water is still more than 2 meters deep around some factories in Ayutthaya province, 78 kilometers (48 miles) from Bangkok, Industry Minister Wannarat Charnnukul said earlier this week. Yingluck has said parts of the capital may be flooded until January.
The construction of new flood levees on Bangkok's northern outskirts has caused water levels to recede in parts of the city, including around the Chatuchak weekend market and the Central Plaza Ladprao shopping mall, which reopened today after a three-week shutdown because of flooding.
Bangkok authorities have asked the police to help prevent further clashes between residents near the flood barriers.
"The situation is risky because some people have gone to try to fix the dike to protect themselves," Bangkok Governor Sukhumbhand Paribatra said late yesterday on his official Facebook page. "I don't want it to create clashes between Bangkok and Pathum Thani residents."
Any flow of water into the Sai Mai district may threaten the Bang Chan industrial estate in eastern Bangkok, Jate said. Bang Chan, 15 kilometers north of Suvarnabhumi International Airport, contains 91 factories, including an ice-cream plant operated by Nestle SA.
"If the barrier in Sai Mai has a problem, it will affect Bang Chan right away," Jate said. "The amount of water has already increased."
Before it's here, it's on the Bloomberg Terminal.
LEARN MORE