Yum's Campaign to Allow Food Stamps at KFC Runs Afoul of USDA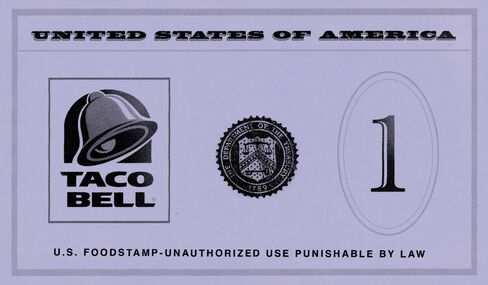 Health advocates howled when they learned that fast-food giant Yum! Brands Inc. wants to let low-income Americans use food stamps at its Taco Bell and KFC restaurants.
Now the U.S. Department of Agriculture., which funds the food stamp program, has also voiced its opposition and is encouraging states not to give Yum a green light, Bloomberg Businessweek reports in its Nov. 21 issue.
"For us to be indifferent to the quality of the food is just a serious mistake," Kevin Concannon, the Under Secretary for Food, Nutrition, and Consumer Services, said in a phone interview. "We should promote access to healthy foods."
Yum has lobbied government officials in Ohio, Pennsylvania, Florida, and Kentucky to allow its restaurants to participate in the Supplemental Nutrition Assistance Program (SNAP), which is administered by the states. The nearly five-decade-old program distributed a record $64.4 billion in the 2010 fiscal year.
"Everybody wants to get a piece of that action," said Marion Nestle, a New York University professor of nutrition and public health. "Right now it's going to grocery stores; restaurants think that's not fair."
Demand for food stamps has exploded since the Great Recession that began in December 2007. A record 45.8 million Americans used the program in August, up 8.1 percent from the previous year, according to the USDA. Though the term "food stamps" has stuck, paper coupons were retired starting in the 1990s in favor of an electronic debit-card system.
Forbidden List
The program places some restrictions on what types of products beneficiaries can buy: alcohol, cigarettes, pet food, vitamins and hot food are on the forbidden list.
While about 85 percent of food stamps are redeemed at large grocery stores and supermarkets, in the last decade a handful of states including California, Arizona, Michigan, Rhode Island, and Florida have begun allowing people who can't cook for themselves -- the homeless, elderly, or disabled -- to buy hot meals at authorized fast-food establishments.
Last year restaurants, including those operated by McDonald's Corp., Wendy's Co., Taco Bell and KFC, collected about $21 million in food stamp redemptions.
Officials from Kentucky, Ohio, Pennsylvania, and Florida say Yum is the only fast-food company that has contacted them seeking to use food stamps as payment in its restaurants.
"It makes perfect sense to expand a program that's working well in California, Arizona, and Michigan, enabling the homeless, elderly, and disabled to purchase prepared meals with SNAP benefits in a restaurant environment just as they can purchase ingredients in a supermarket," said Jonathan Blum, a spokesman for the company.
Intensified Competition
Yum could use a lift: U.S. revenue fell 7.9 percent last year, to $4.12 billion, as high unemployment crimped disposable income and competition intensified in the fast-food business.
While Yum "may have some profit motive in this, there's some merit to doing this if it is well-regulated and focused on healthy foods," said Kentucky state Representative Jim Wayne, a Democrat whose district includes part of Louisville, where Yum is based.
The states that are the target of Yum's lobbying campaign are less enthusiastic.
"Fast food is not really a healthy way to get food," says Carey Miller, a spokeswoman for Pennsylvania's Welfare Department. "And it's not always the best choice financially."
Yum didn't have any better luck in its home state of Kentucky. Florida also took a pass. Ohio says it will not make a determination until at least 2013, according to spokesman Benjamin Johnson.
While it's a lot more convenient to grab a meal at the drive-through window than to make a trip to the supermarket, allowing restaurants to take food stamps would hurt the needy in the long run, said Representative Jim DeCesare, a Kentucky Republican.
"They're going to get less food for their food stamps," he says. "It's bad policy."
Before it's here, it's on the Bloomberg Terminal.
LEARN MORE