U.S. Rear-View Camera Rule May Cost $18 Million Per Life Saved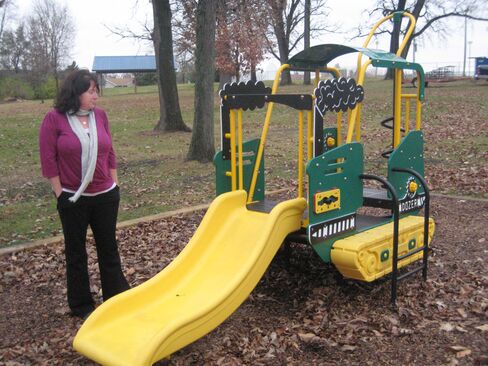 Karen Pauly had just buckled her 3-year-old daughter, Lily, in her GMC Acadia sport-utility vehicle. It was an early Sunday morning last April, and Pauly needed to run errands.
She didn't know when she backed out of the garage that her 19-month-old son, Jack, had for the first time just escaped out the door of their farmhouse. Seconds later, she felt a bump. When she stopped to look outside, she saw Jack's limp body. He died a few hours later.
"It's a nightmare," said Pauly, a 33-year-old special education teacher in DeWitt, Iowa, a town of about 5,000 located 90 miles east of Iowa City. "I'll never forget any of those moments."
Pauly doesn't want others to forget, either. She's writing letters to public officials, urging final approval of a rule proposed by President Barack Obama that would require all vehicles sold in the U.S. by 2014 to have backup cameras, a device she thinks might have prevented Jack's death.
The backup camera rule, estimated by the administration to cost as much as $2.7 billion, is now part of the national debate about federal regulations, public safety and jobs.
Lives Versus Costs
An average of 292 people die each year from back-over accidents, most of them the elderly and children. Rear-view cameras would cut that number of deaths in half, according to the National Highway Traffic Safety Administration.
That means the regulation would cost as much as $18.5 million per life saved.
Critics of the regulation argue that its cost is too high in both dollars spent and jobs lost. The backup camera mandate, which the administration said it will issue by the end of next month, is one of the five most expensive rules under consideration, according to an Aug. 30 letter the president sent to House Republican leaders.
"Congress built flexibility into this law to balance safety and cost, and unfortunately NHTSA has ignored Congress by mandating an expensive, one-size-fits-all solution for rear-view cameras," Gloria Bergquist, an Alliance of Automobile Manufacturers spokeswoman, said in an e-mail. "Automakers still believe that we can have safer roads and affordable cars at the same time."
'Emotional Issue'
Individual automakers such as Ford Motor Co., which has said it would have rear-view cameras available in almost all Ford and Lincoln models by the end of 2011, have not spoken out against the rule, even though it would add cost for car buyers.
The backup cameras would add from $58 to $203 to the cost of a vehicle, depending on the model and whether the vehicle already has a video screen, NHTSA has said.
"It is an incredibly emotional issue," said Jeremy Anwyl, the chief executive officer of auto-market researcher Edmunds.com. "And to stand up and start complaining about costs, as they say in Washington, the optics on that are terrible."
While many automotive vehicle safety technologies provide benefits, there's a cost that has to be considered, Anwyl said.
"No matter how heartless it sounds, you do have to step back a little and say, 'How much do you need?'" he said in a telephone interview. "It's really what you're trading off here is safety versus employment. If the price goes up, people buy fewer cars. There are trade-offs."
Safety of Children
Business groups and lawmakers, including House Speaker John Boehner, have criticized the Obama administration for issuing too many regulations that they say harm economic growth and curtail jobs. Boehner has not publicly opposed the backup camera rule.
The administration points out that the rule was ordered by Congress in a 2008 law signed by President George W. Bush, and that it's working to make the regulation "as cost-effective as possible."
David Strickland, NHTSA administrator and the top U.S. auto-safety regulator, helped write the law when he was a staff member for the U.S. Senate Commerce Committee. It was named for Cameron Gulbransen, a New York 2-year-old who died in 2002 when his father backed over him with an SUV in their driveway.
"Society values children in a much different way than probably any other human impact," Strickland said.
'Make It Mandatory'
Pauly has now traded her 2008 Acadia, which didn't have a backup camera, for a new GMC sport utility vehicle with one. She said there's no way to put a value on Jack's life.
"Now that it's happened to me, I think there's no other way than to make it mandatory," Pauly said in an interview at a park where community members are building a memorial play area for Jack.
An average of 50 children are backed over each week, and two are killed, according to KidsAndCars.org, a Leawood, Kansas-based advocacy group. Seventy percent are backed over by a parent or other close relative, with 1-year-olds being the predominant age, according to the group's data.
Pauly's accident fits the profile. On April 17, Jack was in the house with his dad, Patrick, who didn't know the child had let himself out.
Pauly said she checked her rear-view mirror as she backed out of her detached garage. Her old SUV had a feature in which it beeped when it was in reverse, and it warned the driver if the vehicle was too close to an object.
No Alert
No alert sounded in this case, Pauly said. She didn't see Jack until after she got out of the vehicle.
She recalls screaming and taking a couple steps toward her house, and then moving toward her nearby in-laws' house before someone heard her. She felt "out of body" looking at her injured son, she said. Jack didn't feel alive when she picked him up.
Pauly's mother-in-law, a nurse, gave the boy cardiopulmonary resuscitation on her dining room table until an ambulance arrived. He was taken to the town's medical center and then airlifted to a hospital in Iowa City, where he died after family members had a chance to say goodbye.
"We were home by 2 o'clock without him," Pauly said.
After the accident, the family learned about the pending backup camera rule from a local news report about Jack's death.
"I wanted to do something," Pauly said. "I couldn't let this happen and do nothing."
4,000-Pound Weapon
Janette Fennell, president of KidsAndCars.org, has been advocating for this regulation for years.
"We're talking about children's lives here," Fennell said in an interview. "We should be able to see when we're backing up a 4,000-pound lethal weapon. Would you buy a car when you couldn't see 20-to-30 feet forward?"
Fennell said she's worried by the anti-regulation push of Boehner and others who are criticizing the cost of new rules.
"When you hear people trying to undo everything, it's a little scary," she said.
U.S. Chamber of Commerce Chief Executive Officer Tom Donohue in September called on Congress and Obama to halt issuing regulations that would have a "substantial economic impact" until the economy and employment improves.
"Small and large businesses alike have cited regulatory burdens, the excessive litigation that regulations spawn, and fears about what government regulators will do to them next as among the most significant obstacles to new hiring," Donohue wrote in a Sept. 5 letter.
Standard Equipment Already
The Washington-based chamber declined to comment on the backup camera rule beyond the letter, deferring to the Auto Alliance, whose members include Ford Motor Co., General Motors Co. and Toyota Motor Corp.
Backup cameras already come standard on 38 percent of 2011 models of passenger vehicles sold in the U.S. and 45 percent of 2012 models, according to data compiled by Edmunds.com, based in Santa Monica, California.
That means the administration's cost estimate is too high given that some new vehicles already are equipped with the cameras, Fennell said.
The rule may benefit makers of cameras and technology with which to view their images. Gentex Corp., which makes camera-based automotive safety systems including rear-view mirror displays, rose 18 percent in Nasdaq Stock Market composite trading, its biggest gain in more than a year, the day the rule was announced.
"The way that the rule is written right now, we have the primary technology that meets all of the different points within the rule, in terms of the brightness, the time to on, the fact that the display turns on and the driver can't turn it off," Connie Hamblin, vice president of investor relations for the Zeeland, Michigan-based company, said in an interview.
Blind Spots
Gentex hasn't said how much revenue it expects to gain from the rule, she said.
Consumer Reports, whose parent organization Consumers Union supported the 2008 law, finds all cars have blind areas behind them.
It has been testing vehicles to determine the size of their blind zones since 2003, said David Champion, auto-testing chief for the Yonkers, New York-based magazine.
"It was surprising with some of the cars how big some of the blind spot or blind zone is," he said in an interview.
Champion cited as an example the blind spot of an average-height woman driving a large pickup truck.
"You can't see anything for 51-feet behind," he said. "If you look at the blind spot behind the vehicle, you could put a whole classroom of school kids behind that and you wouldn't see any of them."
Pauly has a poster showing a group of kids in a vehicle's blind spot that she uses now for educational purposes. She said she hopes that Lily, now 4, will grow up to be a child-safety advocate, too, in memory of her brother.
"How many more kids have to die?" she asked.
Before it's here, it's on the Bloomberg Terminal.
LEARN MORE