Builders in U.S. Probably Started Work on Fewer Homes in October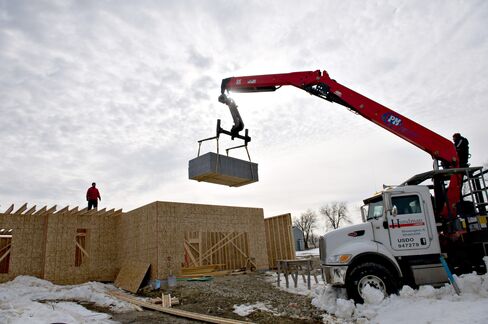 Builders probably began work on fewer homes in October, a sign housing will remain a laggard in the third year of the U.S. recovery, economists said before a report today.
Starts fell 7.3 percent to a 610,000 annual rate in October, according to the median estimate of 82 economists surveyed by Bloomberg News. Manufacturing in the Philadelphia area expanded for a second month, other data may show.
Builders like D.R. Horton Inc. and Beazer Homes USA Inc. may be hesitant to begin projects as foreclosures push down property values. Unemployment at 9 percent and falling home prices have also kept buyers on the sidelines, helping explain why the Federal Reserve and Obama administration are looking for ways to jumpstart housing.
"We're still seeing tough issues throughout the housing market," said Scott Brown, chief economist at Raymond James & Associates Inc. in St. Petersburg, Florida. "Foreclosures remain a challenge. There will be a very gradual improvement. The industry still needs help from policy makers."
The homebuilding report is due from the Commerce Department at 8:30 a.m. in Washington. Estimates in the Bloomberg survey ranged from 575,000 to 640,000. In September, demand for apartments and condominiums helped boost starts to a 658,000 pace, the fastest since April 2010.
The median projection for October compares with last year's tally of 587,000 starts, the second-fewest on record. Home construction totaled 554,000 units in 2009, the lowest since record-keeping began in 1959.
Building Permits
Permits may have climbed to a 603,000 annual rate, from 589,000 the prior month, according to the Bloomberg survey median.
The Federal Reserve Bank of Philadelphia may report at 10 a.m. that its general economic index was little changed at 9 in November from 8.7 the previous month, according to the Bloomberg survey median. Readings greater than zero indicate expansion.
The report may add to evidence that factories are helping the world's largest economy weather financial-market disruption caused by the debt crisis in Europe. Figures from the Fed yesterday showed industrial production climbed 0.7 percent in October, more than forecast, boosted by demand for cars and business equipment.
Builders, in contrast, have less incentive to start projects as demand remains uneven. Purchases of new houses rose 5.7 percent in September as discounted prices lured buyers in some regions. Sales of previously owned homes, which make up about 94 percent of the market, fell 3 percent.
D.R. Horton
D.R. Horton, the second-largest homebuilder by revenue, reported quarterly earnings that missed analyst estimates. The Fort Worth, Texas-based company has been lowering costs and shifting its focus to move-up buyers as demand remains weak.
"We're still a bit cautious about the overall environment," Chief Financial Officer William Wheat said on a conference call with investors on Nov. 11. "It is still a challenging homebuilding environment out there."
Beazer Homes, an Atlanta-based homebuilder, this week reported a loss in the quarter ended Sept. 30, and cited "many challenges facing the industry."
Even as concerns about Europe weigh on the U.S. economy, investors are more concerned about prospects for homebuilders. The Standard & Poor's Supercomposite Homebuilder Index has slumped 12 percent since the end of 2010 through yesterday, compared with a 1.6 percent drop in the broader S&P 500 Index.
President Barack Obama has been promoting an initiative by the Federal Housing Finance Agency to let qualified homeowners refinance mortgages regardless of how much their houses have lost in value. The Home Affordable Refinance Program, or HARP, will eliminate some fees, trim others and waive some risk for lenders.
Until 2013
The Fed's efforts include a commitment to keep the benchmark interest rate near zero until at least 2013. The central bank in September decided to reinvest maturing housing debt into new mortgage-backed securities instead of Treasuries.
Some policy efforts may be starting to bear fruit. A report yesterday showed the National Association of Home Builders/Wells Fargo index of builder confidence rose to 20 in November, the highest level since May 2010. Readings below 50 mean more respondents said conditions were poor.
Also today at 8:30 a.m., Labor Department figures may show initial claims for jobless benefits rose to 395,000 last week from 390,000 the prior week, according to the Bloomberg survey median.
                      Bloomberg Survey

================================================================
                           Housing Building  Initial   Philly
                            Starts  Permits   Claims      Fed
                            ,000's   ,000's   ,000's    Index
================================================================

Date of Release              11/17    11/17    11/17    11/17
Observation Period            Oct.     Oct.   12-Nov     Nov.
----------------------------------------------------------------
Median                         610      603      395      9.0
Average                        609      603      395      7.9
High Forecast                  640      630      405     15.0
Low Forecast                   575      577      382     -1.0
Number of Participants          82       55       44       59
Previous                       658      589      390      8.7
----------------------------------------------------------------
4CAST                          610      600      402      8.0
ABN Amro                       618     ---       395      9.0
Action Economics               605      605      395      4.0
Aletti Gestielle               600      600     ---       2.5
Ameriprise Financial           615      595     ---      10.0
Banca Aletti                   593      603      390      8.0
Banesto                        620      600     ---       9.7
Bank of Tokyo- Mitsubishi      640      610      400     10.0
Barclays Capital               615     ---       390     10.0
Bayerische Landesbank         ---      ---      ---       9.0
BBVA                           630      590      395      5.0
BMO Capital Markets            600      600     ---      ---
BNP Paribas                    590     ---       395      6.0
BofA Merrill Lynch             605      600      395     11.0
Briefing.com                   575      600      400      5.0
Capital Economics              600     ---      ---      10.0
CIBC World Markets             620      590     ---      ---
Citi                           625      595      390      6.0
ClearView Economics            610      610     ---       2.0
Comerica                       615     ---      ---      ---
Commerzbank AG                 600      600      385     10.0
Credit Agricole CIB            610      605     ---      10.0
Credit Suisse                  580      580      385     ---
Daiwa Securities America       620     ---      ---      ---
Danske Bank                    600     ---      ---       8.0
DekaBank                       600      600     ---       6.0
Desjardins Group               590      600      395      6.0
Deutsche Bank Securities       625      600      390     15.0
Deutsche Postbank AG           610     ---      ---      ---
DZ Bank                        632      600     ---       9.5
Exane                          610     ---      ---       5.0
Fact & Opinion Economics       630     ---       393     11.0
First Trust Advisors           605     ---       397     11.1
FTN Financial                  624      577     ---      ---
Goldman, Sachs & Co.           606     ---      ---       5.0
Helaba                         620      590      400      6.0
High Frequency Economics       630      600      400      8.7
HSBC Markets                   620      610      395      8.0
Hugh Johnson Advisors          635     ---      ---      10.0
IDEAglobal                     635      600      395     10.0
IHS Global Insight             612      615     ---      ---
Informa Global Markets         610      595      400      9.0
ING Financial Markets          606      605      395     11.5
Insight Economics              600     ---       400      7.5
Intesa-SanPaulo                610      605     ---       5.0
J.P. Morgan Chase              605      610      395     10.0
Janney Montgomery Scott        604      577     ---      ---
Jefferies & Co.                600      605     ---      ---
Landesbank Berlin              610      620      405      5.0
Landesbank BW                  610      620     ---      12.0
Maria Fiorini Ramirez          595     ---       395     ---
Market Securities              598     ---      ---      ---
MET Capital Advisors           575     ---      ---      ---
Mizuho Securities              592     ---       400      9.0
Moody's Analytics              605      610      400     -1.0
Morgan Keegan & Co.            619      606     ---      ---
Morgan Stanley & Co.           625     ---       390     ---
National Bank Financial        615      605     ---      ---
Natixis                        630     ---      ---      ---
Nomura Securities              601      590     ---       5.6
Nord/LB                        610      600     ---      10.0
OSK Group/DMG                  600     ---      ---      ---
Parthenon Group                623      613     ---       0.0
Pierpont Securities            600     ---       399     ---
PineBridge Investments         579     ---       400     11.0
PNC Bank                       605     ---      ---      ---
Prestige Economics             605      625     ---      ---
Raiffeisenbank International   610      610     ---      ---
Raymond James                  600      605      395      8.0
RBC Capital Markets            596     ---       398      5.0
Scotia Capital                 600      600      390      9.0
Societe Generale               640      630      382     14.3
Standard Chartered             605      603      385     10.0
State Street Global Markets    602      603      394      9.6
Stone & McCarthy Research      582      600      388      2.2
TD Securities                  625      610      390     10.0
UBS                            615     ---       400     10.0
Union Investment               620      600     ---      ---
University of Maryland         615      605      400      7.0
Wells Fargo & Co.              603     ---      ---      ---
WestLB AG                      610      605     ---      11.0
Westpac Banking Co.            586      604      400      2.0
Wrightson ICAP                 605      610      395     10.0
================================================================