Suntech Forecasts Solar Rebound in Year as Subsidy Cuts Wane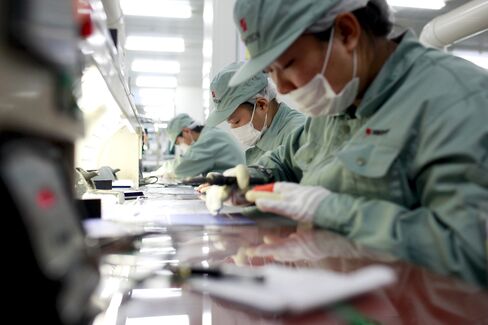 Suntech Power Holdings Co., the biggest maker of silicon-based solar panels, sees a recovery in demand in a year when the effect of European subsidy cuts wanes, while supply will tighten as lower prices force rivals to shut.
"You have seasonal demand lows in the first quarter always, and additionally you have Italy and France pushing way down because they are changing their tariffs," Chief Commercial Officer Andrew Beebe said yesterday in an interview at the company's main offices in Wuxi, west of Shanghai. "We're ready to go through that very, very difficult time."
Suntech alone among Chinese solar makers has affirmed its forecasts for shipments and margins this year amid slumping world prices, growing production capacity and cuts by European governments in subsidized tariffs they pay for renewable power. Rivals including Yingli Green Energy Holding Co., Renesola Ltd. and China Sunergy Co. have reduced their estimates.
"There will be a revival or a resurgence of demand in the third quarter of next year," Beebe said. "By the third quarter, you're back to the state we're basically at in the third quarter this year and you continue on this growth pattern." Italy and France will begin to recover, he said, and other countries will maintain their goals for renewable power.
Prices for polysilicon, used to make solar panels, may stabilize, he said, after tumbling 62 percent this year.
Supply Glut
They weakened as producers such as Hemlock Semiconductor Corp. and Wacker Chemie AG raised capacity, while subsidy cuts and credit concerns in Europe stalled generation projects. The combination has gutted margins for solar manufacturers, with a supply glut that spreads from the wafers used to make cells, the finished cells and the modules installed in power plants.
"Those companies and those sections of the market that weren't preparing for last year are going to be in trouble," Beebe said. "Our prices will go up when the available capacity really goes down because companies will take capacities off line. Silicon is finally finding its bottom."
Suntech on Nov. 9 forecast shipments will rise more than 15 percent in the third quarter compared with the second, in step with its Aug. 22 guidance. Its gross margin will be 13 percent, at the high end of the range it announced previously.
"The reason prices have fallen so low is not that demand is less than last year's 18.2 gigawatts but that module supply is at least 30 gigawatts, with at least 35 gigawatts of wafer, cell and module manufacturing capacity," Jenny Chase, lead solar analyst at Bloomberg New Energy Finance, said by e-mail.
Diversifying Markets
BNEF expects demand in 2012 to rise about 10 percent to as much as 31.6 gigawatts from a year earlier on new markets with lower incentives, while module prices stabilize next year.
Suntech is diversifying away from Europe, Beebe said.
"Challenges in Europe have a real impact on the industry and in particular it makes it difficult for large projects to get financed," the executive said. "We have turned away from a lot of businesses because of credit issues that we didn't feel comfortable with."
While agreement hasn't been reached, Suntech is seeking to supply modules to at least 1 gigawatt worth of projects in Africa, he said. "We won't be lead developer, we'll do it as minority joint venture partner with our customers."
China "growth will surprise a lot of people," with the country expected to add as much as 4 gigawatts in 2012, double the forecast for this year, Beebe said.
Germany, the world's biggest solar-panel market, will cut subsidies for photovoltaic power by a record next year as the government tries to control the pace of installations and wean the industry off support, the Bundesnetzagentur, the federal grid regulator, said in a statement on its website on Oct. 27.