French, Italian Bonds Rise on Debt Optimism; Spanish Notes Sink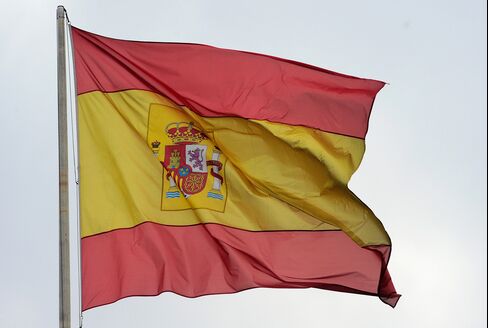 Italian government bonds climbed after the European Central Bank was said to buy the securities and German Chancellor Angela Merkel called for political action to stem the debt crisis.
Ten-year Italian yields fell a second day as new leader Mario Monti pledged urgent action to curb the nation's deficit. French bonds rallied after the nation sold close to the maximum amount on offer at an auction of notes. Spanish bonds sank, driving 10-year yields to the highest since before the euro was introduced in 1999, as borrowing costs climbed to the most in at least seven years at an auction of securities.
"On the back of the French auction, things improved slightly," said Patrick Jacq, a senior fixed-income strategist at BNP Paribas SA in Paris. The comments from Merkel "were interpreted as a good signal," he said. "The movements we had today were positive, but in a couple of seconds this could be reversed."
The yield on 10-year Italian bonds fell 17 basis points, or 0.17 percentage point, to 6.84 percent at 4:55 p.m. London time. The 4.75 percent securities maturing in September 2021 rose 1.03, or 10.3 euros per 1,000-euro ($1,352) face amount, to 86.0.
While Merkel rejected French calls to deploy the ECB as a crisis backstop, she also said in a speech in Berlin today that Europe must flesh out the details on leveraging the region's rescue fund. The euro area needs a vision for "political action" to stem the crisis, with "limited' EU treaty change to enforce budget control and reassure markets, she said.
Euro's Future
''The future of the euro also depends on what Italy does," Monti said in an address to the Senate in Rome presenting his government's plans. "We have to show that we have taken the path to reducing the relationship between debt and GDP," or gross domestic product, he said.
Italian five-year notes rallied, pushing yields 23 basis points lower to 6.70 percent after the ECB was said by four people with knowledge of the transactions to have bought the nation's debt today. A spokesman for the central bank in Frankfurt declined to comment when contacted by phone.
"It seems the ECB has been in the markets and that's turned around the fortunes for Italy today," said Nick Stamenkovic, a fixed-income strategist at RIA Capital Markets Ltd. in Edinburgh. "It just shows in these illiquid conditions how quickly the market can move. The question going forward is how much is the ECB is going to intervene, because clearly it's the only buyer in town."
French-German Spread
The difference in yield, or spread, between French and German 10-year bonds narrowed 16 basis points to 174 basis points, reversing an earlier move that pushed the gap to as much as 204 basis points. Ten-year bund yields rose eight basis points to 1.89 percent.
France sold 6.98 billion euros of securities maturing between 2013 and 2016 today, approaching the 7 billion euro target. The 10-year Spanish yield climbed seven basis points to 6.48 percent, after reaching a euro-era record 6.78 percent.
At today's sale, Spain agreed to a yield of 6.975 percent, up from 5.433 percent when it sold 10-year bonds on Oct. 20. That's the highest rate since at least September 2004. The auction attracted bids worth 1.54 times the securities offered, down from a bid-to-cover ratio of 1.76. The government sold 3.56 billion euros of debt today, compared with a maximum target of 4 billion euros.
Spanish Plea
"There's no doubt it was a bad auction," said Padhraic Garvey, head of developed-market debt strategy at ING Groep NV in Amsterdam, referring to the sale of the Spanish January 2022 securities. "This week has been the worst week of the crisis so far, given where yields are."
Spanish Prime Minister Jose Luis Rodriguez Zapatero called on the European Commission and European Central Bank to act "immediately" to stem the crisis. "That's why we transferred to them a great part of the powers of each central bank," Zapatero said in comments televised today from Soria, Spain.
The Greek government started talks with banks on the terms of the voluntary debt swap that is part of the country's international bailout agreement, the Finance Ministry in Athens said. The debt-swap "transaction will be designed to place Greece on a path to achieve a debt-to-GDP ratio of no more than 120 percent by 2020," the ministry said.
The yield on the benchmark Greek bond due October 2022 climbed 25 basis points to 28.91 percent, with the price falling to 25.335 percent of face value. The yield on two-year Greek notes tumbled 268 basis points to 110.78 percent after reaching a record 115.49 percent yesterday. The price of the securities increased to 29.62.
German bunds returned 8.9 percent this year, according to indexes compiled by Bloomberg and the European Federation of Financial Analysts Societies, while French debt handed investors a 0.5 percent loss. Spanish bonds fell 1.2 percent, Italian securities lost 9.8 percent, Belgian bonds dropped 2.3 percent and Greek debt lost 55 percent, the indexes show.