Southeast Asia Growth Slowdown Looms on Thai Floods, Europe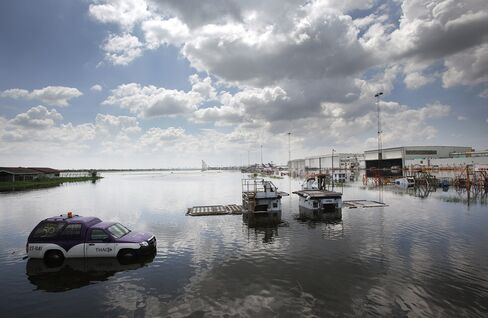 Growth in Southeast Asian economies including Malaysia and Thailand may have peaked last quarter as the European debt crisis and Thai floods hurt the outlook for exports, adding pressure on policy makers to cut interest rates.
Malaysia's gross domestic product increased 4.8 percent in the three months through September from a year earlier, after a 4 percent expansion the previous quarter, according to the median of 25 estimates in a Bloomberg News survey. Thailand's growth probably quickened to 4.5 percent from 2.6 percent, according to a survey of 11 economists.
"Exports will likely soften in the coming months as Europe slides into a recession," said Chua Hak Bin, a Singapore-based economist at Bank of America Merrill Lynch. "Both Bank Negara Malaysia and Bank of Thailand will keep their options open and ease if growth readings turn ugly in coming months."
Authorities in Singapore and Indonesia have cut growth forecasts in recent weeks and the Asian Development Bank said economies in the region may expand at a slower pace than earlier estimated. Most Asian currencies fell in the past three months on concern the nations that led the recovery from the 2009 global recession will falter, and United Overseas Bank Ltd. said policy makers may allow more weakening to support exports.
"It's part of monetary easing if they let their currencies weaken," said Ho Woei Chen, an economist at United Overseas Bank in Singapore who expects Malaysia and Thailand to highlight the risks to growth going forward. "Probably they are not cutting interest rates that aggressively but letting their currency depreciate."
Ringgit Falls
Malaysia's central bank will release GDP data at 6 p.m. today. Thailand will give its economic report for the third quarter on Nov. 21.
The Malaysian ringgit has fallen more than 5 percent in the past three months and the Thai baht has weakened 3.6 percent. Neither Malaysia nor Thailand have cut rates even as Indonesia and Australia lowered borrowing costs this quarter. The ringgit fell 0.2 percent to 3.1648 a dollar at 1:19 p.m. in Kuala Lumpur, and the baht slid 0.6 percent to 31.03 a dollar.
Singapore, which uses the island's dollar as its main tool to manage inflation, said in October it will reduce the pace at which the currency strengthens. The nation's exports fell the most in more than two years in October as electronics shipments by companies such as contract manufacturer Venture Corp. dropped 31.2 percent, a report showed yesterday.
Revised third-quarter GDP data due Nov. 21 may show Singapore's economy grew faster than the government estimated earlier, a Bloomberg survey showed.
Major Risks
Exports and domestic demand probably helped Thailand and Malaysia expand faster last quarter, before the deepening European sovereign-debt crisis and the worst Thai floods in almost 70 years threatened global growth and regional trade.
"Strong domestic demand continued to drive growth" in Malaysia, said Daniel Wilson, an analyst at Australia & New Zealand Banking Group Ltd. in Singapore. "Looking ahead, one of the major risks to growth is a slowdown in the external sector spilling over into the domestic economy. Supply chain disruptions stemming from Thai floods may depress industrial production in the short run."
Investment has accelerated in Southeast Asia's third-largest economy since Prime Minister Najib Razak's government last year identified $444 billion worth of private sector-led projects to spur growth.
International Business Machines Corp., Toshiba Corp. and Agilent Technologies Inc. are among companies pledging new investments in Malaysia. Exports grew at the fastest pace in more than a year in September as companies shipped abroad more electronics and commodities.
Thai Floods
"Most of the emerging economies like ours are still experiencing growth even though we may experience a moderation in growth because of the challenging global environment," Bank Negara Malaysia Governor Zeti Akhtar Aziz said this week.
Thai leader Yingluck Shinawatra is struggling to rescue the nation from floods that have claimed at least 567 lives, swamped thousands of factories and threatened the homes of 20 percent of the country's 67 million people since late July. Yingluck was sworn in as the nation's first female prime minister in early August.
Thai Signal
The Bank of Thailand has signaled it may consider cutting rates as the disaster curbs growth. It kept rates unchanged in October for the first time in 2011.
The flood damage could cost as much as 400 billion baht ($13 billion), or 4 percent of GDP, Rahul Bajoria, a Singapore-based regional economist at Barclays Plc said in a research note yesterday. He revised down his forecast for Thai economic growth this year to 2.4 percent and predicted the central bank will cut the benchmark rate by 50 basis points to "shore up consumer and business confidence."
"The strong growth we've seen in all GDP components in the third quarter will turn opposite this quarter," said Kampon Adireksombat, an economist at Tisco Securities Co. in Bangkok. "The flooding is far worse than what we had expected as the water spread through most of our capital. We expect the central bank to come up with a drastic move of a 50 basis-point cut at the upcoming meeting if they want to rescue the economy."
Malaysia's benchmark rate stands at 3 percent, and Thailand's is 3.5 percent.