Resona to Add Female Bank Managers, Narrow Japan Gender Gap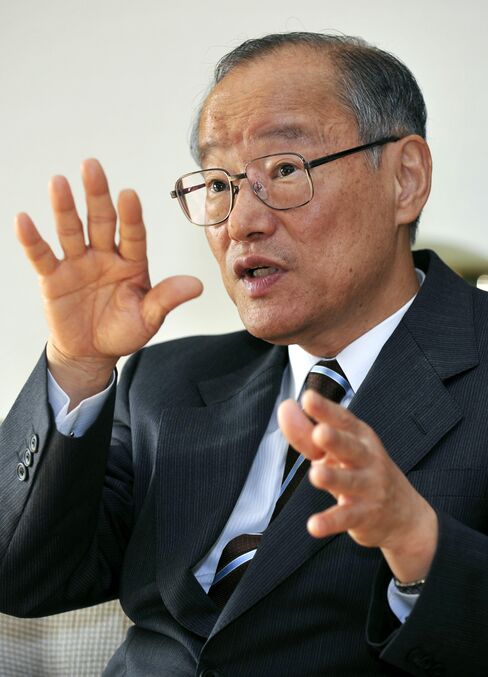 Resona Holdings Inc., Japan's fourth-biggest commercial bank by market value, aims to help narrow the country's gender gap by adding female managers and appointing a woman as an executive for the first time.
The lender plans to increase the portion of female managers to 30 percent from the current 4 percent by 2020, and select a woman as an operating officer in the "near future," Chairman Eiji Hosoya, 66, said in an interview in Tokyo. "Companies that don't give women leading roles will be left behind."
Hosoya, who took the helm in 2003, aims to revitalize management as he considers handing off some of his duties next year after the lender started repaying a government bailout. Japan trails China, the U.S. and 95 other countries in gender equality, according to the World Economic Forum. More needs to be done to encourage Japanese women to stay in the workforce, said Naoko Nemoto, a managing director at Standard & Poor's.
"Company executives in Japan should take decisive measures to help female employees achieve their career ambitions without disruption, especially after taking maternity leave," Nemoto, a mother of two children, said in Tokyo.
Since 2003, the lender has increased the number of female department heads and branch managers to about 120, or 4 percent of all senior management posts, Hosoya said in a Nov. 16 interview. Previously fewer than 10 managers were women, the chairman said.
Resona would join Nomura Holdings Inc., which appointed Junko Nakagawa in March as the first female chief financial officer at Japan's biggest brokerage.
Larger Role
"Women will play a larger role at Resona, particularly in the loan and audit departments, where men have traditionally dominated," said Hosoya. Women accounted for 41 percent of Resona's 15,240 full-time workers as of March 2011, according to bank figures.
Some 74 percent of highly qualified women in Japan voluntarily quit their jobs, compared with 31 percent in the U.S. and 35 percent in Germany, according to a study by the Center for Work-Life Policy, a New York-based non-profit research group.
Japan ranked No.98 in the World Economic Forum's global gender gap index in 2011, trailing the U.S. at 17 and China at 61. Iceland topped the list, which measures national disparity between men and women on economic, political, education and health-based criteria.
Timely disclosure of corporate information is another area where Japan must improve, Hosoya said, adding that concealment of losses by Olympus Corp. damaged the country's reputation.
Loss of Trust
Olympus "should deeply reflect on this incident, which led to a loss of trust in Japan overall," Hosoya said, after the camera and endoscope maker last week admitted hiding investment losses from the 1990s using inflated fees paid to advisers. "This is an exceptional case, given that many other Japanese companies have improved their corporate governance."
Hosoya said he may step down from his position as representative executive officer next year, while maintaining the chairman post "for the time being." He will discuss his intentions with the board around March.
Resona raised about 550 billion yen from share sales in January to pay back some of the taxpayer funds injected in 2003 after its capital fell below minimum requirements. The bank may be able to craft a clearer plan next year on how to repay the remaining 872 billion yen, Hosoya said.
The stock has sunk 31 percent this year and fell 1.5 percent to 337 yen at the 3 p.m. close of Tokyo Stock Exchange trading. The Topix Banks Index declined 1.5 percent.
Resona has six outside directors on its 10-member board, including a woman, Emi Osono, an international business professor at Hitotsubashi University in Tokyo, according to the bank's website.
"Corporate governance and human resource development are the areas where I want to contribute to Resona next year, rather than as leader of the group," Hosoya said.
Before it's here, it's on the Bloomberg Terminal.
LEARN MORE