Penn State Girds for Backlash as Students Seek Jobs Amid Scandal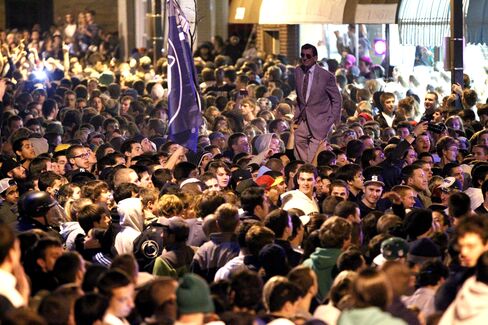 Zach Polovchik, a senior at Pennsylvania State University, returned to campus after a job-hunting trip and was dismayed when he opened the student newspaper.
"No one from Penn State will ever be hired by any company I run in the future," read a letter from Gregory White of Austin, Texas, to the Daily Collegian. "I am sickened beyond belief by the disgusting support of pedophilia shown by Penn State students." Some students rioted after learning that longtime football coach Joe Paterno had been fired in a scandal.
Penn State officials are concerned about a backlash from employers as students begin their search for jobs and summer internships. They posted a letter on the school's website last week imploring recruiters to maintain an open mind about Penn State job-seekers. They also plan to send letters to employers encouraging them to keep the scandal involving allegations of child molestation by former assistant football coach Jerry Sandusky out of the hiring process.
"This week's events are not a result of our student body, Penn State's academic community or Career Services," Jeff Garis, senior director of the placement office, wrote in the open letter on the website. "We are exceptionally proud of our students' professional preparation as well as personal and professional ethics."
Garis said he investigated rumors that a company, which he declined to name, canceled an internship, and he found no "hard evidence." A career fair scheduled for February has more company representatives signed up to appear than the same event did a year ago, he said.
No Comment
If potential employers or internship interviewers ask about the scandal, Garis said he recommends that students not comment on it as part of a job interview.
"My counsel would be to acknowledge the event, and note feeling concern for the victims as we all do," said Garis, who is a Penn State alumnus. "Students need to focus on themselves and the preparation that they've received."
The Princeton Review Inc., a student information and college test-preparation company, ranked Penn State third in career services among U.S. colleges this year, after the University of Florida and Northeastern University. About 8,750 students earned degrees from Penn State last year, Garis said. The university is located in State College, Pennsylvania.
Global Experiences, a company that places students in internships, is working to find spots for several Penn State students. Among universities, Penn State is Global's second-biggest recruitment source, said Stephen Reilly, founder of the Annapolis, Maryland-based company.
'Business as Usual'
The recruiter's staff met recently to discuss how to address the Penn State football scandal with potential employers, Reilly said.
"We decided it's business as usual," he said. "We are going to keep pushing Penn State candidates."
Polovchik, a senior majoring in architectural engineering, said the scandal came up only once during his job-seeking trip, in an interview with two people who were themselves Penn State alumni. He said he's still concerned.
"When it comes to jobs and graduates from Penn State, you shouldn't associate the scandal or the riot with them," Polovchik said.
Jackie Giraldo, a Penn State business major, said she applied for a summer internship with Johnson & Johnson to build on her managerial experience. She said she expects students entering the job market to face questions about the scandal.
"Everyone correlates you to your brand," Giraldo said. "I think it's unfair. It wasn't 40,000 students that committed the crime."
'Outstanding Students'
Johnson & Johnson has "a long history of recruiting outstanding students from Penn State University, and we look forward to continuing that in the future," said Bill Price, a spokesman for the New Brunswick, New Jersey-based company. "That's true today and it'll be true tomorrow."
Concern about a backlash has also spilled into preparations for some future events of Thon, Penn State's student-run charity that raised $9.6 million for childhood cancer patients and research last year. It's the biggest student-run charity in the world, according to the organization's website, with more than 15,000 volunteers.
On the weekend of Dec. 2, thousands of those student volunteers will spread out across the East Coast to go "canning" in support of Thon, collecting dollars and coins in containers with a slot on top. Students often go to their own hometowns or those of their friends, with groups of five to 10 sleeping in the homes of host families. Volunteers arrange with the owners of stores and businesses beforehand to fundraise on their property.
Fundraising Trip
Julie Ressalam, a senior, is preparing to head to New Jersey in two weeks with her roommate where they'll carry Penn State signs, wear their college regalia and ask other students to support the fund, as they've been doing for years.
"We're really nervous about it," said Ashley Martin, Ressalam's roommate, who's also going on the canning trip, as the two sat in Penn State's HUB student union.
Thon is preparing information for students to deal with questions about the scandal, said Kirsten Quisenberry, a senior in graphic design who is public relations chairman for the charity. The group always distributes information to students before they depart on canning trips.
"We understand that students are scared," she said. "We'll do our utmost to reassure them and make sure they're prepared and confident and have the knowledge to deal with any situation that may arise."
Emotional Support
The charity doesn't release information about how much money is raised on canning weekends, Quisenberry said. If fundraising numbers drop, the emotional support that students give cancer patients and their families is an even more important part of the charity's work, she said.
Ressalam, from Beltsville, Maryland, said she's standing by Paterno until it becomes clearer what he knew about Sandusky, and when and what he did about it. She and Martin, from Bensalem, Pennsylvania, called Paterno a "surrogate father" and can't believe he would have helped cover up Sandusky's alleged crimes.
Martin said she brought flowers to Paterno's house after they heard about his dismissal. She joined other students in football-related chants and songs outside his home, and left before the rioting started, she said.
"The rest of the world thinks we're being hypocritical and naive," she said.
Board's 'Quick Action'
The anger that provoked the riot was misinterpreted as blind support for Paterno and the football program, said James Metz, a junior majoring in business.
"It was the way he was fired and the quick action of the board," Metz said.
Sandusky, Paterno's former defensive coordinator, is charged with 40 criminal counts involving the alleged sexual molestation of eight boys from 1994 to 2009.
The revelations led to the dismissal of Paterno and President Graham B. Spanier. Athletic Director Tim Curley and former Senior Vice President Gary Schultz were charged with perjury and failure to report allegations involving Sandusky in 2002.
Sandusky, 67, denied the charges in a Nov. 14 interview with Bob Costas on NBC News' "Rock Center."
Before it's here, it's on the Bloomberg Terminal.
LEARN MORE