Penn State Football's Halo Effect Made Program Too Big to Fail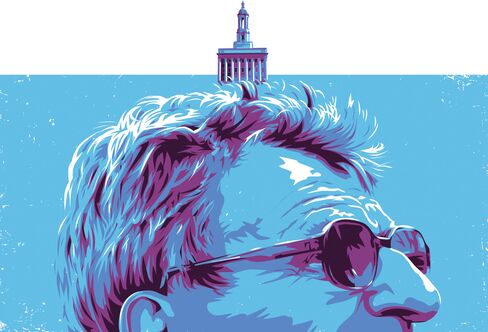 American International Group Inc.'s derivatives trading unit in London was a money spinner, which is one reason the bosses in New York were willing to look the other way until it racked up losses. The athletics program at Penn State University, dominated by its now-scandal-tainted football program, isn't a profit machine unto itself.
Sports generated $106.6 million of revenue in the State College, Pennsylvania, school's 2010 fiscal year, according to a report from the National Collegiate Athletic Association, Bloomberg Businessweek reports in its Nov. 21 edition. That's 2.5 percent of the university's approximately $4 billion in operating revenue. Subtract expenses for marketing, recruiting and salaries -- including former football coach Joe Paterno's $1 million-a-year compensation -- and Penn State is left with about $18.6 million.
That's "chump change" in the overall budget of big state schools, says James Duderstadt, a former University of Michigan president. Only 22 of 120 programs in college football's biggest division reported a profit last year, the NCAA says. So why could an athletic department take risks that would damage the image of the whole university? The answer is the halo effect -- the force a winning sports team exerts on a university's brand and student recruiting power.
Penn State's motto, "success with honor," became a punch line after Jerry Sandusky, the former assistant coach whose defenses helped the school become known as "Linebacker U," was charged with 40 criminal counts tied to alleged sexual molestation of eight boys from 1994 to 2009. Sandusky, 67, has denied the charges against him.
Charged With Perjury
Athletic Director Timothy Curley, 57, and Gary Schultz, 62, a senior vice president who oversaw university police, are charged with perjury and failing to report the allegations. Curley and Schultz denied the charges through their attorneys.
At AIG, the U.S. government in 2008 lent the firm as much as $85 billion in exchange for a 79.9 percent stake after the insurer racked up losses of more than $18 billion in a year and neared collapse after posting more than $25 billion in writedowns on swaps.
Paterno, 84, and university President Graham B. Spanier, 63, who weren't charged, were fired last week as criticism over the football program's and the school's handling of the case mounted.
The Nittany Lions still played football last weekend, losing to Nebraska 17-14 in front of about 107,000 fans at Beaver Stadium.
Flutie's Hail Mary
Football success often becomes a windfall for an entire school. The success of Boston College quarterback Doug Flutie -- including his 1984 Hail Mary touchdown pass to defeat the University of Miami -- helped transform a regional college into an internationally known, highly selective institution. Annual applications jumped 12 percent in 1985, to 16,163, and have since doubled. Annual giving has risen to more than $100 million today from $20 million in the 1980s, according to Boston College spokesman Jack Dunn.
Similarly, Boise State University credits its Broncos football team with giving the school a boost after the team won the Fiesta Bowl in both 2007 and 2010. One donor from California specifically cited an article about the team when he sent a $250,000 pledge in support of a new business building, says spokesman Frank Zang. Applications soared 9 percent after the 2007 victory and 4 percent after 2010. The percentage of out-of-state students, who pay almost three times the tuition of in-state students, now stands at 19 percent.
Freshman Applications Jumped
George Mason University's Patriots basketball team made it to the 2006 NCAA Final Four after defeating the University of Connecticut. The team's 22 hours and 50 minutes of airtime on national television would have been worth $550 million at prevailing advertising rates, according to a report by the school's Center for Sports Management. Freshman applications jumped 21 percent, to 13,350, the following year, with out-of-state applications up 54 percent. The school exceeded the goal of its capital campaign by $32 million.
Penn State's Paterno, the coach with a record 409 victories for the most in major college football history, was a magnet for donors. The football program helped the university's endowment more than quintuple to a record $1.83 billion since 1995. When an athletic program puts those kinds of numbers up on the board, university administrators face a big temptation to look the other way when scandal surfaces.
Before it's here, it's on the Bloomberg Terminal.
LEARN MORE