Olympus Ex-Director Petitions Employees to Restore Fired CEO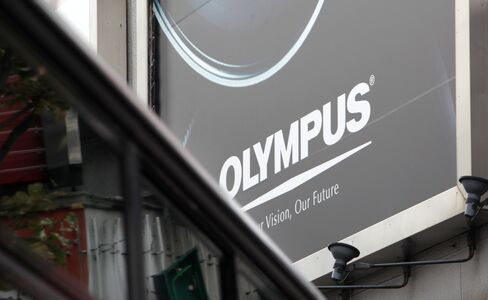 Olympus Corp. should reinstate Michael C. Woodford as head to rebuild trust after the camera and endoscope maker admitted to hiding losses, a retired company director said.
Koji Miyata, 70, set up the website "Olympus Grassroots" on Nov. 11, and it now has at least 356 people registered as supporters including some existing employees, he said. Miyata, who was a director at Olympus between 1995 and 2006 and has known Woodford for 25 years, said he didn't contact the former chief executive officer about the website.
Woodford was fired as president and CEO on Oct. 14 after he confronted the board about over-sized payments made to advisers in the acquisition of Gyrus Group Plc in 2008. Olympus revealed last week it used the purchase of Gyrus and three other takeovers to cover up decades-old investment losses.
"I want support from employees so that management will reinstate Woodford," Miyata said in an interview in Tokyo yesterday. "He was the only one who acted right as a director when all the allegations emerged."
Olympus has lost about 75 percent of its market value since Woodford was ousted. The stock fell today for the first time in five days, declining 16 percent to 625 yen at the 3 p.m. close in Tokyo trading after the New York Times reported that investigators are probing links to organized crime.
Woodford Character
Law-enforcement agencies are trying to find out what happened to at least $4.9 billion they say remains unaccounted for and how much of that money went to companies with links to organized crime, according to the newspaper, which cited a memo circulated at a recent meeting of officials from the Securities and Exchange Surveillance Commission, Tokyo Prosecutors Office and the Tokyo Metropolitan Police Department.
"Any objection for Woodford coming back is getting weaker and weaker and weaker as this thing gets stinkier," said Josh Shores, a London-based principal for Southeastern Asset Management Inc., Olympus's biggest shareholder. Woodford's track record in operations was highly regarded, he said. "Now we know his character is highly regarded."
The executive management associated with the company's past accounting irregularities should go before any lasting damage is done to Olympus's businesses, Shores said.
Woodford is due to return to Tokyo next week to meet prosecutors.
Okayama University Hospital decided to cancel an endoscope order for Olympus, Dr. Yoshiro Kawahara said, criticizing corporate governance at the 92-year-old company. Olympus is the world's biggest maker of endoscopes.
Endoscopes in Hospital
"My impression is Olympus turned 180 degrees," Kawahara said in a phone interview yesterday. "It's a terrible company to me now."
Okayama University Hospital has nine endoscopes priced at as much as 10 million yen ($130,000) apiece, the 46-year-old doctor said. Eight of them are made by Olympus, and one is made by Hoya Corp.'s Pentax, he said.
Baillie Gifford & Co. and Harris Associates LP are among investors petitioning for Woodford's return. Southeastern Asset, which owns about 5 percent of Olympus, became the company's biggest investor after Nippon Life Insurance Co. reported on Nov. 15 it had sold 9.1 million shares, data compiled by Bloomberg show.
Olympus President Shuichi Takayama called Miyata's website "noise," according to his note posted on the company's internal website on Nov. 15.