German Landesbanken Ratings Cut by Moody's on Aid Outlook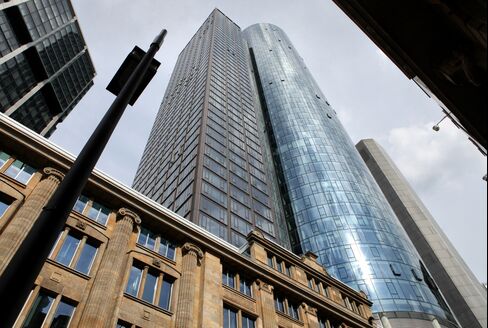 Ten German government-owned banks had their senior debt and deposit ratings cut by Moody's Investors Service because it said "there is now a lower likelihood" that the lenders would get external support.
"Government support for German public-sector banks has become less certain," the ratings company said in an e-mailed statement yesterday. "Restrictions on the provision of support, due to strict conditions set by the European Commission," was the other main reason for the downgrades, Moody's said.
Moody's removed some of the "extraordinary support" factored into the ratings because a new bank resolution regime allows the German government to impose losses on creditors outside of liquidation. Some Landesbanken, including Landesbank Baden-Wuerttemberg, Bayerische Landesbank, HSH Nordbank AG and WestLB AG, needed bailouts from their owners -- federal states and regional savings banks -- following losses during the financial crisis.
"The downgrade could potentially have an impact on the banks' funding, especially from U.S. money-market funds," said Otto Dichtl, a London-based credit analyst for financial companies at Knight Capital Europe Ltd. "More expensive funding may also hinder new business."
Ratings Cut
Six banks were cut by three levels, with Bayerische Landesbank and Deutsche Hypothekenbank AG downgraded to Baa1 from A1. Landesbank Baden-Wuerttemberg, Bremer Landesbank Kreditanstalt Oldenburg-Girozentrale and Norddeutsche Landesbank Girozentrale were all downgraded to A2 from Aa2. Norddeutsche Landesbank Luxembourg SA was cut to A3 from Aa3, Moody's said.
Dekabank Deutsche Girozentrale was downgraded by one level to Aa3 from Aa2, while three banks were downgraded by two levels, Moody's said. Landesbank Hessen-Thueringen was cut to A1 from Aa2, Landesbank Saar was cut to A3 from A1, while HSH Nordbank AG was downgraded to Baa2 from A3.
Moody's confirmed the ratings of Landesbank Berlin Holding AG at A1 and extended its review of WestLB AG's A3 ratings
"Moody's does recognize the high level of commitment of the states of Hamburg and Schleswig-Holstein to HSH Nordbank," Chief Executive Officer Paul Lerbinger said in an e-mailed statement following the rating action. "Unfortunately the demonstrable progress made and described in detail to analysts has not been taken into account in this decision by Moody's."
BayernLB referred to Fitch Ratings, which upgraded the Munich-based bank to C/D from D on July 4 and removed its rating watch negative label.
No Surprise
"The long-term bank rating is once again stable at A+," BayernLB said. "Fitch points, amongst other things, to BayernLB's unchanged strategic significance for the Free State of Bavaria and the high likelihood of the latter providing support."
"Moody's decision doesn't surprise us and we don't expect any significant impact," said NordLB spokesman Jan-Peter Hinrichs. The lender is in advanced talks with its owners on measures to strengthen core capital, he said.
Landesbank Hessen-Thueringen, also known as Helaba, "remains one of the best rated financial institutions in Germany," spokesman Wolfgang Kuss said by telephone today. Spokespeople for Stuttgart-based LBBW, Germany's biggest state-owned lender, and Frankfurt-based Dekabank declined to comment.
Dusseldorf-based WestLB couldn't be immediately reached for comment.
The European Commission, whose approval for some forms of support is required under European Union state aid rules, has set conditions that limit the ability of governments to support banks, it said.
Obstacle
"This has become an obstacle for some Landesbanken to obtain support, particularly for those banks that required support more than once," the ratings company said.
The downgrades, which follow a review started by Moody's on July 1, don't reflect changes in the standalone credit assessments of the banks and aren't linked to "the evolving euro-area sovereign debt crisis," Moody's said.
Moody's said in July it initiated or continued credit rating reviews for 12 German banks on concern assumptions of support for the lenders may be challenged as the political will to shoulder bailout costs weakens.
Before it's here, it's on the Bloomberg Terminal.
LEARN MORE