Merkel Smooching Sarkozy Can't Lift Benetton Shares From Low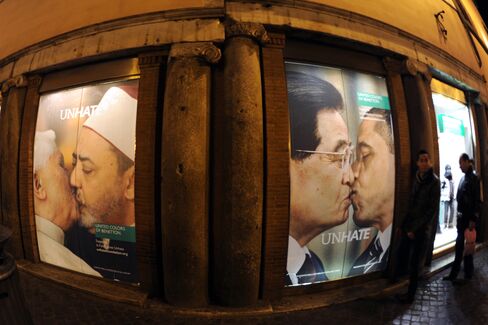 Benetton Group SpA is better at courting controversy than selling clothes.
The company withdrew a doctored image of Pope Benedict XVI kissing an imam from the "Unhate" advertising campaign the same day it was introduced after criticism from the Vatican. Other images from the series appearing online and on billboards feature U.S. President Barack Obama locking lips with Chinese counterpart Hu Jintao and French President Nicolas Sarkozy embracing German Chancellor Angela Merkel.
Translating shock into sales is proving a tougher task as Italy's largest clothing company falls further behind fast-fashion retailers Hennes & Mauritz AB and Inditex SA, owner of the Zara chain. Annual sales are expected to be 2.06 billion euros ($2.8 billion), according to 12 analysts surveyed by Bloomberg, less than the 2.1 billion euros in 2001. Benetton, which has lost two-thirds of its market value in the same period, fell 17 percent this week to the lowest since its initial public offering in July 1986.
"Gimmicks or ads alone won't do," said Luca Solca, global head of European research at CA Chevreux. "Benetton should focus on improving its retail fundamentals instead -- lead time, product ideas, value for money."
At Arteixo, Spain-based Inditex, which rarely advertises, sales have more than quadrupled in the past decade while H&M's revenue has doubled. Benetton's profit fell 33 percent to 31 million euros in the third quarter as revenue dropped 5.1 percent, the Ponzano, Italy-based company said Nov. 14.
Deja Vu
"It is disappointing to see such an opportunity wasted for so many years," said Solca, who described the advertising campaign as "deja vu."
Benetton ended its 18-year relationship with Italian photographer Oliviero Toscani in 2000, the same year Sears, Roebuck & Co. said it would halt sales of Benetton USA apparel to protest against the "We on Death Row" ad campaign, which featured U.S. inmates awaiting execution. In the 1980s, the "United Colors of Benetton" campaign included a priest kissing a nun and a white baby nursing at a black woman's breast.
All-Time Low
Benetton shares finished their worst week since March 2005 unchanged at 3.24 euros in Milan. The stock has fallen 34 percent this year, giving the company a market value of 592 million euros, while Inditex has gained 16 percent and H&M has dropped 7.5 percent.
The Vatican said it has authorized lawyers to take action to prevent the circulation of the photomontage of the pope.
"We cannot but express a resolute protest at the entirely unacceptable use of a manipulated image of the Holy Father, used as part of a publicity campaign which has commercial ends," the Rev. Federico Lombardi, director of the Holy See press office, said in a statement.
No one has asked for images to be withdrawn, a Benetton official said yesterday, without elaborating. The company said in a statement it was "disappointed" the image has offended "the feelings of the faithful."
The Obama administration declined to comment on whether it had contacted Benetton regarding its advertising campaign.
"The White House has a longstanding policy disapproving of the use of the president's name and likeness for commercial purposes," spokesman Eric Schultz said in an e-mailed statement yesterday.
Merkel "hasn't reacted to this and I doubt that she'll do so," government spokesman Georg Streiter told reporters today in Berlin. The unauthorized use of images of world leaders in apparently embarrassing situations lacks respect, French Agriculture Minister Bruno Le Maire said yesterday in an interview on Europe 1 radio.
While the campaign is unlikely to revive sales on its own, it won't damage Benetton, said Armando Branchini, the founder of Milan-based luxury consultancy InterCorporate. "It shows that Benetton is starting to pull out its nails, it's aggressive and sure of what it is doing."