King's Alarm Stokes Stimulus Suspense as Debt Turmoil Rages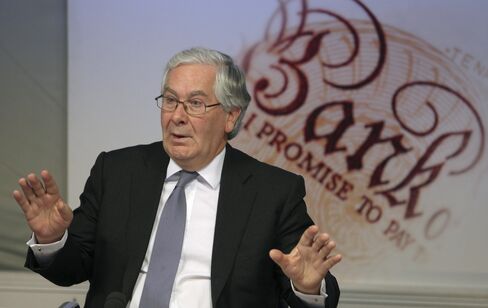 Bank of England Governor Mervyn King's alarm over the danger posed by Europe's debt crisis suggests officials may be ready to add more stimulus as soon as next month to shield Britain from further turmoil.
King added his voice yesterday to growing global frustration with Europe's inability to tame its crisis, saying failure to deal with it would lead to "significant adverse consequences." The Bank of England cut its growth and inflation forecasts, a month after raising its bond-purchase target by 75 billion pounds ($118 billion) to aid the recovery.
"We're on the knife-edge of another recession," said Richard Barwell, an economist at Royal Bank of Scotland Group Plc in London and a former Bank of England official. "They're increasingly coming to the conclusion that there's more weakness in the U.K. than they thought. We originally forecast another 50 billion pounds in February. They could easily bring that forward."
U.S. President Barack Obama said yesterday that financial-market turmoil will continue until European leaders persuade investors they have a convincing plan. As Europe dithers on a solution and the crisis darkens prospects for global growth, King warned there are limits to what central banks can do to stem its knock-on effects and said there is "no meaningful way" to quantify a worst-case scenario.
Market Strains
The current round of bond purchases through so-called quantitative easing is due to end in early February. Jamie Dannhauser, an economist at Lombard Street Research in London said a move before then is possible. Michael Saunders, chief European economist at Citigroup Inc. in London, also said the central bank may not wait to increase the target.
It "may be announced at the December or January meetings - - especially if data are weak and financial markets remain strained," Saunders said.
The Bank of England's nine policy makers voted unanimously to increase QE in October. They left the target unchanged on Nov. 10, and minutes to be published on Nov. 23. will show whether any officials voted for more stimulus at that meeting.
The central bank sees inflation, which was 5 percent in October, at about 1.5 percent in two years, according to forecasts published yesterday in its quarterly Inflation Report.
U.K. bonds were little changed today, with the yield on the 10-year gilt at 2.15 percent as of 8:03 a.m. in London. The yield fell to 2.11 percent yesterday, the lowest since at least 1992, when Bloomberg began collecting the data. The pound rose 0.1 percent against the dollar to $1.5744.
'Fine Tuning'
Nomura International Plc changed its QE forecast after the new projections were published. It sees the central bank expanding stimulus by 50 billion pounds in February and 25 billion pounds in May. It previously predicted one 25 billion-pound increase in February.
King still indicated that his preference might be to wait until the current round ends before deciding whether to do more, saying this isn't the time for "fine tuning" policy.
"In normal circumstances, it would be a mistake to do it," he said. "If there was ever a time when you might be tempted to do fine tuning, this isn't one of them."
Howard Archer, an economist at IHS Global Insight in London, said while there's a chance of an early expansion of QE, policy makers may favor holding off until February, when the bank will also publish new growth and inflation forecasts.
"In a worst-case scenario, they obviously could decide that they need to step up a faster rate," he said. "But unless there's a marked downturn, I think they will keep to the pace they are going. They have form in preferring Inflation Report months to move."
Before it's here, it's on the Bloomberg Terminal.
LEARN MORE