Italy's Monti Faces Final Confidence Vote on New Government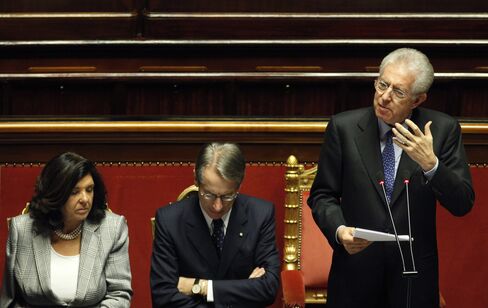 Nov. 18 (Bloomberg) -- Italian Prime Minister Mario Monti faces a final confidence vote in his new government today after vowing to attack the euro-region's second-biggest debt and spur growth in its third-largest economy.
"I know that the economic, social and political crisis is due to the serious malfunction of the financial situation and the markets, but I believe that the first thing to do, and I say this particularly to the Italians, is to stop being so comfortable with saying that others are responsible," he told lawmakers today in Rome.
The Chamber of Deputies is expected to finish casting ballots about 4 p.m., and Monti should win at least 560 votes out of 630. The Senate yesterday voted 281 to 25 to support him. Monti said today he hoped his government would last until elections scheduled in 2013, though that depended on parties backing his technocratic government.
The government will first focus on implementing austerity measures passed by former Prime Minister Silvio Berlusconi's administration that aimed to balance the budget in 2013, he said. It will then take additional steps that may include reinstating property taxes, overhauling the tax system, changing pension rules, trimming the size of the government and modifying labor laws, Monti said.
Bonds Gain
Italian bonds gained for a third day with the yield on the 10-year note declining 20 basis points to 6.64 percent, the lowest in more than two weeks. When Monti was sworn in on Nov. 16, the 10-year yield topped the 7 percent threshold that led Greece, Portugal and Ireland to seek European Union aid.
Monti defended his government from criticism from some lawmakers that he represented the interest of bankers and other "strong powers," saying it was offensive. During his time as European Union Competition Commissioner, when he took on Microsoft Corp. and General Electric Co., Monti said the Economist magazine dubbed him the "Saddam Hussein of business."
The new Italian prime minister will meet with French President Nicolas Sarkozy and German Chancellor Angela Merkel next week. He is also due to travel to Brussels for talks with European Union President Herman Van Rompuy.
Fitch Warning
Monti is under pressure to take quick action to show he is serious about taming the debt as the country's borrowing costs remain near euro-era records. Fitch Ratings said in a statement yesterday that Italy's credit rating could be cut to a low investment grade if the nation loses market access. Still, the new government may "prove itself to be credible in pursuing fiscal and structural economic reform," Fitch said.
Italy's main political parties had agreed to back Monti's technocratic government in the confidence votes, though the breadth of his new program will test that support going forward. Monti already faces opposition from the Northern League, Berlusconi's key coalition ally. The party, whose 25 senators voted against Monti in the confidence ballot, didn't show up for its consultations with Monti on Nov. 14.
Monti's government should end as soon it completes the implementation of the austerity measures adopted by Berlusconi's government, Fabrizio Cicchitto, the chief whip for Berlusconi's People of Liberty party, told Sky TG24 television today.
Finance Minister
The premier signaled his commitment to playing a central role in driving economic policy by keeping the portfolio of finance minister for himself. He also named Corrado Passera, former chief executive officer of Intesa Sanpaolo SpA, as his economic development minister.
The government will also consider an overhaul of the tax system to make it "more favorable to growth", Monti said. Payroll taxes discourage employers from hiring, while Italy's lack of a levy on primary residences is "a peculiarity, if not an anomaly" in Europe, he said.
"Italy needs to change the way its economy works to grow," said Lorenzo Bini Smaghi, a European Central Bank Executive Board member. "In order to make the debt sustainable you need to make the adjustments on the fiscal side but also on growth."
Italy should commit to "ambitious" targets to reduce its debt, "but we won't be credible if we don't start to grow," the premier said.
Monti also said another priority is combating tax evasion and black-market labor, adding that he will consider lowering tax rates for women to encourage them to join the workforce.
"Monti's Senate address is the best speech I have ever heard from an Italian prime minister-designate," Riccardo Barbieri, London-based chief European economist at Mizuho International Plc, said in an e-mail. "Italian market participants must be trying to contain their excitement and reminding themselves that this is only happening because we are on the edge of the abyss."
To contact the reporter on this story: Lorenzo Totaro in Rome at ltotaro@bloomberg.net
To contact the editors responsible for this story: Fergal O'Brien at fobrien@bloomberg.net; John Fraher at jfraher@bloomberg.net