Harvard's Greenblatt Receives $10,000 National Book Award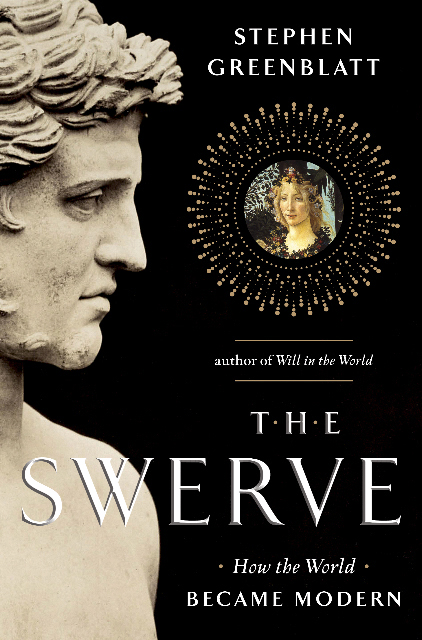 Nov. 17 (Bloomberg) -- Stephen Greenblatt won the National Book Award for Nonfiction in New York last night for "The Swerve: How the World Became Modern" (Norton), the history of an ancient Roman book, Lucretius's "On the Nature of Things," and how its rediscovery fueled the Renaissance.
"I find myself fighting back tears," said Greenblatt, a humanities professor at Harvard. "My book is about the power of books to cross boundaries, to speak to you impossibly across space, time and distance. To have someone long dead seem to be in the room with you and speaking into your ear."
In her review of "The Swerve," Bloomberg's Manuela Hoelterhoff called it a "luminously written book filled with provocative observations," noting that "Greenblatt devotes an entertaining section to the challenges besetting monks who wore out their bottoms in the scriptorium as they groaned over poor-quality parchment and fought off boredom."
The fiction award went to Jesmyn Ward for "Salvage the Bones" (Bloomsbury), the story of a pregnant 15-year-old in Mississippi and her family.
"I was in my early 20s and my brother had just died," Ward said about when she started writing. "I wanted to do something with my time here that would have meaning."
The black-tie ceremony, at Cipriani on Wall Street, was a benefit for the National Book Foundation, which promotes writing and literacy. The host was actor John Lithgow, who joked, "Am I crazy to envision Philip Roth hosting the Oscars?"
Winners receive a bronze statue and $10,000, while nominees receive a bronze medal and $1,000.
Young People
The winner of the award for Young People's Literature was Thanhha Lai, author of "Inside Out and Back Again" (Harper). The National Book Foundation stirred controversy when it mistakenly announced that Lauren Myracle's "Shine" (Amulet) had been nominated in the Young People's Literature category. The judges had meant to include "Chime" by Franny Billingsley (Dial), but there was a miscommunication.
After initially deciding to keep both books on the shortlist, the foundation asked Myracle to withdraw her novel from consideration.
The foundation stood for "the integrity of the judging process," said Marc Aronson, chairman of the panel for the young people's award.
Nikky Finney won the poetry award with "Head Off & Split" (Triquarterly).
'Occupying Wall Street'
"I thought I should point out, since no one else has, that we are occupying Wall Street," poet Ann Lauterbach said while presenting the medal for Distinguished Contribution to American Letters to John Ashbery.
The Literarian Award for Outstanding Service to the American Literary Community was given to Mitchell Kaplan, owner of the small Books & Books chain based in South Florida and co-founder of the Miami Book Fair International.
T* The other finalists were:
Fiction: Andrew Krivak, "The Sojourn" (Bellevue Literary Press); Tea Obreht, "The Tiger's Wife" (Random House); Julie Otsuka, "The Buddha in the Attic" (Knopf); Edith Pearlman, "Binocular Vision" (Lookout Books)
Nonfiction: Deborah Baker, "The Convert: A Tale of Exile and Extremism" (Graywolf); Mary Gabriel, "Love and Capital: Karl and Jenny Marx and the Birth of a Revolution" (Little, Brown); Manning Marable, "Malcolm X: A Life of Reinvention" (Viking); Lauren Redniss, "Radioactive: Marie & Pierre Curie: A Tale of Love and Fallout" (It Books).
Poetry: Yusef Komunyakaa, "The Chameleon Couch" (Farrar, Straus & Giroux); Carl Phillips, "Double Shadow" (Farrar, Straus & Giroux); Adrienne Rich, "Tonight No Poetry Will Serve: Poems 2007-2010" (Norton); Bruce Smith, "Devotions" (University of Chicago).
Young People's Literature: Debby Dahl Edwardson, "My Name Is Not Easy" (Marshall Cavendish); Albert Marrin, "Flesh & Blood So Cheap: The Triangle Fire and Its Legacy" (Knopf); Gary D. Schmidt, "Okay for Now" (Clarion)
To contact the writer of this review: Laurie Muchnick in New York at lmuchnick@bloomberg.net.
To contact the editor responsible for this story: Manuela Hoelterhoff in New York at mhoelterhoff@bloomberg.net.