France Risks Renewed German Clash With Push for ECB Backstop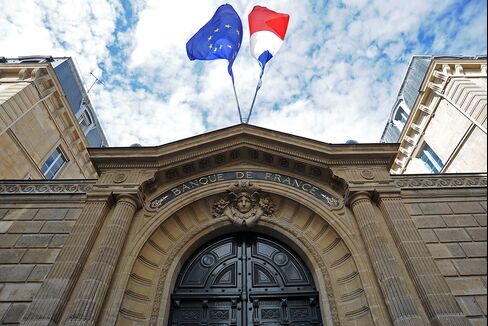 French Finance Minister Francois Baroin risked renewing a clash with Germany over using the European Central Bank as a backstop, saying that ECB support for Europe's rescue fund is the best way to counter the debt crisis.
Baroin's comments underscore French unease as the debt crisis moves to the euro region's second-largest economy. The extra yield demanded by investors to hold French 10-year bonds over German bunds widened to a euro-era high today.
"We consider that the best way to avoid contagion is to have a solid firewall" by giving the fund a bank license, Baroin said in a speech in Paris late yesterday. "We haven't won the argument. We won't make it a casus belli, but naturally we continue to think it would be the best way to bring stability to Europe."
As global leaders step up calls on Europe to find a fix to the crisis now entering its third year, the French stance is again running into resistance from German Chancellor Angela Merkel's government, which opposes enlisting further support from the ECB.
"If politicians believe the ECB can solve the problem of the euro's weakness, then they're trying to convince themselves of something that won't happen," Merkel said in a speech in Berlin today.
The Frankfurt-based ECB itself has also resisted calls to provide more support. Mario Draghi, the Italian who took over as president of the central bank this month, said Nov. 3 that backstopping government borrowing lies outside the ECB's remit.
French Spread
The clash is intensifying as France, the second-biggest backer of the European Financial Stability Facility after Germany, is dragged more deeply into the crisis that began more than two years ago in Greece and has in the past week led to the ousting of Italy's Silvio Berlusconi.
The premium France pays over Germany to borrow for 10 years jumped to 200 basis points today, the highest since 1990. Yields on Dutch, Finnish and Austrian debt also increased this week. Spain sold 3.56 billion euros ($4.8 billion) of a new 10-year benchmark at an average yield of almost 7 percent, the most since the euro's creation, as demand for the securities dropped.
Panic Spreading
"Nothing spreads like fear," Holger Schmieding, chief economist at Joh. Berenberg Gossler & Co. in London, said in a note. "If the European Central Bank does not intervene forcefully to stop the rot, the panic could spread even further and eventually put the very existence of the euro and the ECB at risk."
France's 10-year government bonds now yield about 3.7 percent, compared with 2.2 percent for U.K. gilts and 2 percent for U.S. Treasuries. Both the U.K. and the U.S. governments are benefiting from bond purchases of the Bank of England and the Federal Reserve and Baroin cited those programs as examples that Europe should follow.
President Barack Obama said financial-market turmoil will continue until European leaders persuade investors they have a convincing plan. Bank of England Governor Mervyn King and the U.K. Treasury said Europe's woes are the biggest threat to the British economy.
"I'm deeply concerned, have been deeply concerned -- I suspect will be deeply concerned tomorrow and next week and the week after that," Obama said yesterday during a visit to Canberra.
Rescue Efforts
The current market rout comes three weeks after European leaders completed an all-night summit to bolster their rescue efforts. They agreed to recapitalize banks and force bondholders to take a 50 percent writedown on Greek debt in what they called a comprehensive approach intended to end the crisis.
That effort is unlikely to be enough and requires further support from the ECB, according to Citigroup Chief Economist Willem Buiter.
"The only remaining show in town is the ECB," Buiter said yesterday on Bloomberg Television's "Surveillance Midday" with Tom Keene. "They may have to hold their noses, but they will have to do it," he said. "The notion that they can't do this because of their price mandate is nonsense."
French President Nicolas Sarkozy had earlier backed down over the role the ECB should play in fire fighting, acknowledging Germany's inter-war experience of hyperinflation, to help obtain the Oct. 27 accord among European leaders. "Germany has historic, almost sociological concern about central bank intervention," Baroin said in Paris.
Buiter, a former member of the Bank of England's monetary policy committee, suggested that Germany should look beyond that experience. "We're not asking for Weimar," he said.
Before it's here, it's on the Bloomberg Terminal.
LEARN MORE