EU Rules May Soak Up $93 Billion of Utility Cash: Energy Markets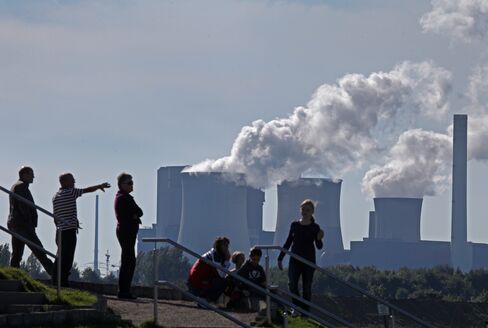 Companies from RWE AG to Vattenfall AB may have to find an extra 69 billion euros ($93 billion) to meet unprecedented European Union regulations designed to crack down on speculation in the region's energy markets.
A proposal made last month by the EU may for the first time require utilities and other firms with commodity assets to set aside funds to clear, or safeguard, their power, fuel and carbon-permit trades against default. Those companies don't currently need to clear so-called over-the-counter, or OTC, trades which, in power, account for 73 percent of Europe's electricity market.
The cost of these financial rules would come on top of $1.9 trillion of capital investment that's needed to expand and upgrade EU power plants through 2035, the International Energy Agency said in a Nov. 9 report. The additional burden of climate-protection rules has already cut 200 billion euros from power-company share values since January 2009, according to Citigroup Inc. Stockholm-based Vattenfall says the new financial rules may cost it more than 1 billion euros.
"I can see that the new collateral requirements and costs associated with over-the-counter trades will be high," said Jacqui Hatfield, a London-based partner and head of financial services at law firm Reed Smith LLP, which has advised on $21 billion of renewable-energy transactions in the past five years.
Clearing Trades
The European Commission, the bloc's regulator, proposed Oct. 20 to extend its Markets in Financial Instruments Directive, or Mifid, to include commodity companies. The rule suggests utilities will probably need by 2015 to clear at least a portion of their energy trades, especially those carried out with companies, banks or hedge funds that are not physical energy customers. That may deter some companies from trading energy, Stephen Asplin, managing director of the Vattenfall Energy Trading, said in a phone interview.
"We are not targeting utilities," Chantal Hughes, a commission internal market and services spokeswoman, said by e-mail. The commission seeks to make sure companies operating in financial markets are better regulated, she said.
The regulator will detail precisely who will be covered after the regulatory changes are agreed and before they come into effect, she said.
Capital Set-Aside
The measures, together with rules on OTC clearing proposed last year, may require 2.4 billion euros in capital to be set aside in the Netherlands alone, according to an Oct. 27 study by Amsterdam-based SEO Economic Research commissioned by utilities. That calculation includes the additional expense of finding replacement funds for projects, a so-called opportunity cost, and assumes some hedging transactions won't need to be cleared on exchanges.
Extrapolating SEO's estimate to the whole of the bloc would imply potential costs to all European utilities of 69 billion euros, according to Bloomberg estimates. The Netherlands generates 3.5 percent of the EU's power.
SEO's cost forecasts for the Netherlands ranged from 1.9 billion euros to 5.4 billion euros, depending on what type of trades were included and how many clearing houses require collateral.
Eurelectric, the Brussels utility lobby group, said while its members expect energy trades relating directly to the volume of physical power production will be exempted from the most onerous rules, it's not clear whether additional hedging trades will be.
'Continually Adjusts'
EON AG, Germany's biggest utility, generated 200 terawatt-hours of power in the nine months through September, while it traded 1,500 terawatt-hours in the same period, more than seven times as much.
The "major part" of EON's trading activities and volumes are related to so-called asset optimization and hedging, Jamee Majid, a spokesman for the Dusseldorf-based company's trading unit said by e-mail. The remainder is so-called proprietary trading, which is investing its own money in buying and selling of energy contracts for profit, he said. EON's proprietary energy trading broke even in the first nine months of this year, compared with a loss of 66 million euros ($89 million) in the year-earlier period.
"EON builds up a hedge position, and continually adjusts this to reflect market price movements and asset availability," Majid said. "The output from a plant may be hedged and bought back a number of times before actual delivery of the electricity to achieve the best possible price for the power."
If Stockholm-based Vattenfall can't sell electricity on OTC markets, "but entirely had to go through clearing houses, then we are definitely running into hundreds of millions of additional capital requirements," Vattenfall's Asplin said in a phone interview. "This could probably add up to a single-digit billion euro amount" for Vattenfall, he said.
Lower Liquidity
Power generators argue that most of their trading should be exempted from the new financial rules because those transactions are related directly to making electricity and do not constitute a risk to wider markets, said Marco Foresti, an adviser on energy markets for Eurelectric, the Brussels-based utility industry lobby group.
The Amsterdam-based European Federation of Energy Traders, a lobby group, has set up a task force on financial regulation headed by Karl-Peter Horstmann, head of markets regulation at a unit of RWE AG, Germany's second biggest utility. Barbara Minderjahn, a company spokeswoman, declined to comment.
Raw-Materials Speculation
The EU on Oct. 20 proposed the new regulations in an effort to reduce market volatility, increase regulatory oversight and promote competition. In addition to the clearing requirement, specific measures include requiring trading venues to either limit the number of commodity derivative contracts that traders can enter into, or make "alternative arrangements" with the same effect.
The new Mifid draft was presented by the European Commission and needs backing from the European Parliament and national governments to become binding, a process that may take a year or longer.
While the inclusion of commodity trading into Mifid and limiting the scope of existing exemptions is essential for greater transparency and protection against systemic risks, the EU recognizes the importance of exceptions for some companies that need hedging tools, such us utilities, according to the impact assessment accompanying the EU draft proposal.
Price Movements
The proposal comes after U.S. regulators voted Oct. 18 to curb trading in oil, wheat, gold and other commodities after a boom in raw-materials speculation, record-high prices and years of debate and delay. The Dodd-Frank financial overhaul, enacted last year, gave the Commodity Futures Trading Commission the authority to limit trading in over-the-counter commodity swaps as well as exchange-traded futures. The rule will limit the number of contracts a single firm can hold.
The EU clearing proposals will leave less money for energy projects and may limit trading volumes in power, natural gas and carbon markets, Amsterdam-based Asplin said. "All the financial legislation, by our standpoint, goes in the direction of lower liquidity," he said.
"If liquidity goes down, then market spreads will go up. I think that by extension, that means the consumer will pay a higher price," he said.
657 Billion Euros
The draft Mifid directive offers exemption from compliance duties on the condition that the trading activity is ancillary to the entity's main business and that it isn't part of a financial group. If these two conditions are fulfilled, exemption will be available to companies providing investment services to the group they are part of. For commodity derivatives and emission allowances and their derivatives, the exemption will be available to clients of the main business.
OTC trading in Europe's electricity market accounted for 73 percent of transactions last year, down from 82 percent in 2009, according to London-based consultant Prospex Research Ltd. Meanwhile, yearly German futures on the European Energy Exchange AG in Leipzig, Germany, rose 19 percent last year.
Trading in OTC power, natural gas and coal markets was worth 657 billion euros in the year through July 31 2010, according to the latest annual survey of the U.K.'s Financial Services Authority.
Rules for utilities and commodity traders should be lighter than for banks as it would be inappropriate to apply the same Capital Requirements Directive rules to commodity firms as banks, said Benoit Gourisse, director of European policy at the International Swaps and Derivatives Association Inc., a New York-based industry group that sets traded-contract templates.
EON said questions remain over the definition of some key terms in the proposed directive, such as definitions of financial instruments and ancillary services, the Dusseldorf-based company said Oct. 21.
"Energy companies falling under the scope of Mifid would not be able to pay up for these significant collateral costs which, in turn, would risk liquidity in the whole market, including exchanges," Katrin Berken, a spokeswoman for the Leipzig, Germany-based European Energy Exchange, said by e-mail.
Before it's here, it's on the Bloomberg Terminal.
LEARN MORE