Cuomo's Wins May Be Tough to Top as Wall Street Adds to Deficit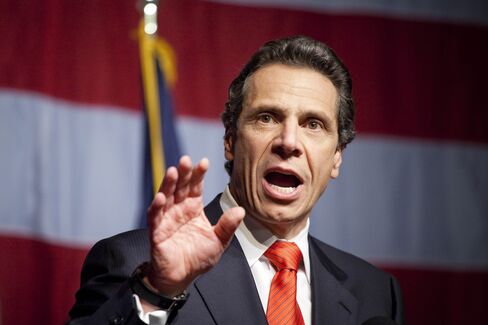 New York Governor Andrew Cuomo spent his first year in office with record approval ratings as he closed a $10 billion budget deficit, won $450 million in union concessions and pushed through a law making same-sex marriage legal in the nation's third-most-populous state.
The next 12 months may not be so easy.
A new budget gap is projected to reach as much as $3.5 billion in fiscal 2013 as revenue from Wall Street, which accounted for 24 percent of wages paid last year, falls below forecasts. Protests against income inequality have targeted Cuomo for his opposition to a so-called millionaire's tax. And almost 20 percent of towns plan to override his 2 percent property-tax cap, another hallmark of his first year in Albany.
"He had great achievements that were extraordinary," said Gerald Benjamin, a political-science professor at the State University of New York, New Paltz. "But he has clear challenges going forward."
Seventy-two percent of state voters approve of the job performance by Cuomo, a 53-year-old Democrat, according to a Siena College poll released this week. A September poll by Quinnipiac University found Cuomo's approval rating at 66 percent, matching the high for a New York governor set in July 2002 by Republican George Pataki.
Widening Deficit
Cuomo now must figure out how to maintain that popularity in the face of shrinking revenue and looming budget cuts. Comptroller Thomas DiNapoli said last month that the finance industry is likely to shed 10,000 jobs by the end of 2012 and companies will give out smaller bonuses as Europe's debt crisis bogs down the U.S. economy.
The 2013 deficit is expected to grow to between $3 billion and $3.5 billion from $2 billion estimated in March, Cuomo's Budget Division said Nov. 14. The current year's budget shortfall is projected to be $350 million, which Cuomo said may cause him to call lawmakers back for a special session. The state's fiscal year begins April 1.
New York's debt has underperformed securities of California and Illinois, two other states led by first-term Democrats. New York's general-obligation bonds, rated Aa2 by Moody's Investors Service, have returned 7.57 percent this year, compared with California's 9.58 percent and Illinois's 9.88 percent, according to Barclays Capital Index as of yesterday. California and Illinois are rated A1, two levels below New York and worse than all other states.
Illinois's and California's economic health also outperformed New York's in the 12 months through June 30, according to the Bloomberg Economic Evaluation of States Index.
Millionaire's Tax
Cuomo doesn't support raising taxes on the wealthy to close budget gaps, saying it will cause high earners to flee to states with lower rates. In March, he declined to back a measure introduced by Assembly Speaker Sheldon Silver to extend a surcharge on individuals who earn more than $200,000 annually. The tax, which will expire Dec. 31, would have raised $1 billion in the fourth quarter of the current fiscal year, according to DiNapoli.
Silver, a Democrat, has introduced an additional tax on those who earn more than $1 million. A Siena poll released last month found that 72 percent of New York voters favored the idea.
"It's not about the political pressure one way or the other," Cuomo said at an October press conference in Albany. "I try to keep it simple on this job. You do what you think is right and you make the best judgment you can."
'Governor 1 Percent'
That position earned Cuomo the nickname "Governor 1 Percent" by Occupy Wall Street protesters and a splinter group in Albany that set up dozens of tents in a city-owned park across the street from the Capitol. The moniker is a reference to economist Joseph Stiglitz's research that found 1 percent of the population controls 40 percent of U.S. wealth.
Under New York law, the governor receives an annual salary of $179,000. Upon taking office, Cuomo announced that he and senior members of his administration would take 5 percent pay cuts.
Cuomo declined to be interviewed for this article, said his spokesman, Josh Vlasto.
"Cutting back on costs in some ways is good, but I'm not really happy with him getting rid of the current millionaire's tax," said Bill Leslie, a 34-year-old Occupy Albany protester. "I understand he said no new taxes, but that's an existing tax."
Cuomo pushed the property-tax cap through the Legislature in June with the goal of slowing the rising costs for taxpayers. New York has the fifth-highest per-capita property levy in the U.S. at $2,009 a year, according to a report by the Tax Foundation, a nonpartisan Washington-based research group that used 2008 data to compile the rankings.
'Heavy Burden'
"These ever-increasing property taxes are putting a heavy burden on New Yorkers," Cuomo said in an eight-minute video released Nov. 7. "Families are having trouble paying the mortgage. They're cutting back at the grocery store and they are being forced to choose between saving for college and retirement, or paying the tax bill."
Of 714 municipalities that filed plans with the comptroller's office as of Nov. 14, 129 indicated they plan to override the tax cap, Kate Gurnett, a DiNapoli spokeswoman, said in an e-mail. About 10,000 are required to file. Municipalities can go over the cap if 60 percent of a legislative body votes to do so. School districts must get 60 percent of the electorate.
One Hand Tied
The cap may cause borrowing costs for municipalities and schools to rise if it triggers ratings cuts or lowered outlooks. That's what happened in New Jersey after Governor Chris Christie instituted a 2 percent property-tax cap last year. In July, Moody's, citing the tax cap, placed six cities under review for a possible downgrade, including Trenton, the capital. It cut the rating of the borough of Ho-Ho-Kus for the same reason.
"States and municipalities across the country are likely headed into difficult fiscal times for the next decade, and you don't necessarily want to send issuers into that environment with one hand tied behind their backs," said Matt Fabian, managing director of the Concord, Massachusetts-based Municipal Market Advisors. Cuomo's cap "will likely affect ratings and capital costs in the long-term."
Standard & Poor's cited the property-tax cap when it lowered the rating for Amityville, a Long Island village, and changed to negative the rating outlook on the 11,000-resident, mid-Hudson Valley town of Red Hook.
It's "too soon to say" if the cap will be responsible for widespread downgrades, DiNapoli said during an Oct. 18 interview in his Albany office.
"A number of municipalities are feeling fiscal and budgetary stress from a host of factors, of which the tax cap may be a piece," he said.
Like Christie, Cuomo has made the tax cap a signature of his administration's first year.
"If it succeeds, he'll continue to receive accolades," said Benjamin, the SUNY professor. "If it fails, he's on the line."
Before it's here, it's on the Bloomberg Terminal.
LEARN MORE