Buy Emin for $71, Dylan Rasps, Madhouse Hamlet: London Weekend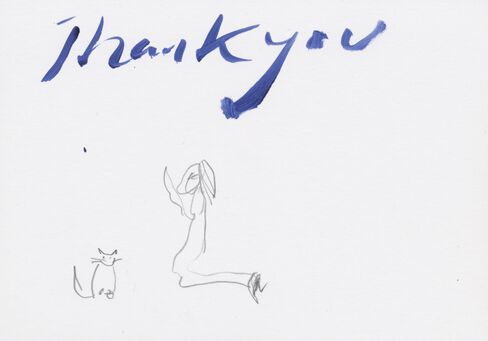 Nov. 17 (Bloomberg) -- Theatergoers are sent to the madhouse for a new London production of "Hamlet."
The auditorium's entrance has been converted into an eerie strip-lit corridor with drug cabinets and security alarms.
Michael Sheen (who was Tony Blair in "The Queen") plays the Prince of Denmark and is consistently good -- even on the night a cellphone rang just before his "To Be or Not to Be." Polonius is a psychiatrist recording notes to a Dictaphone: "Though this be madness, yet there is method in't."
At the Young Vic through Jan. 21, 2012. Information: http://www.youngvic.org or +44-20-7922-2922.
Saturday
Spend 45 pounds ($71) on an artwork and you may get lucky: It could end up being by Anish Kapoor, Yoko Ono or Tracey Emin.
Artists and designers are donating a record 2,900 postcard-sized works to the annual student show at the Royal College of Art, which you can visit starting this weekend. Items are displayed anonymously, and sold on Nov. 26 -- for 45 pounds each -- to buyers hoping to bag a big name.
The show ends Nov. 25. Royal College of Art, Kensington Gore, London SW7 2EU. Information: http://www.rca.ac.uk.
Saturday Night
Bob Dylan is back in Britain to rasp his way though his huge repertoire.
Fans will be waiting to see whether the unpredictable 70-year-old selects classics such as "The Times They Are A-Changin'" or rarer numbers such as "Ballad of Hollis Brown." The star is known for switching songs from night to night, mangling the words or changing tempo without warning. His veteran backing band holds the show together.
Bob Dylan, Nov. 19-21, Hammersmith Apollo, Queen Caroline Street, W6 9QH. Information: +44-844-844-4748; http://www.hammersmithapollo.net.
Mahdi is a popular Iranian restaurant a short walk from the Apollo. It's open until 11:30 p.m. on Saturdays. Information: +44-20-8563-7007. (No website.)
Sunday
It's every collector's dream: a painting bought for 45 pounds in 1958 and worth an estimated $200 million today.
"Christ as Salvator Mundi," now attributed to Leonardo da Vinci, is on display at the National Gallery. Christ points two graceful fingers skyward, and holds a glass orb.
The Leonardo show offers bigger thrills. A brooding brunette, thought to be the Duke of Milan's wife ("La Belle Ferronniere"), hangs beside his teenage mistress ("The Lady With an Ermine"). Two "Virgin of the Rocks" paintings (the Louvre's and the National Gallery's) come face-to-face, something Leonardo himself is unlikely to have seen.
"Leonardo da Vinci: Painter at the Court of Milan" isn't to be missed and ends Feb. 5, 2012. You may still buy tickets in person on the day. Information: http://www.nationalgallery.org.uk or +44-7747-2885.
National Dining Rooms exists so you can eat well on site. Overlooking Trafalgar Square, the venue serves seasonal British dishes, and has a cafe area too. It's run by Oliver Peyton, the restaurateur who caters the Wallace Collection and other London museums. Information: http://bit.ly/tqFdWl or +44-20-7747-2525.
(Farah Nayeri writes for Muse, the arts and leisure section of Bloomberg News. The opinions expressed are her own.)
To contact the writer on the story: Farah Nayeri in London at farahn@bloomberg.net
To contact the editor responsible for this story: Manuela Hoelterhoff at mhoelterhoff@bloomberg.net.