Amazon.com Readying Smartphone for Next Year, Citigroup Says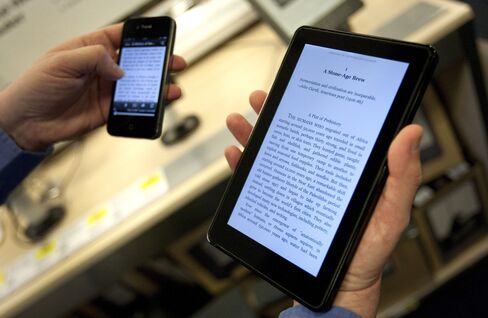 Amazon.com Inc., seeking to build on its expansion into e-readers and tablets, is working on a smartphone that will go on sale in the fourth quarter of next year, according to Citigroup Inc.
The phone will be a mid-range device that uses a processor from Texas Instruments Inc. and connectivity chips from Qualcomm Inc., said Mark Mahaney, a San Francisco-based analyst at Citigroup, citing research by Asian colleagues. The total list of components won't exceed $100, he said.
Amazon's Kindle is the best-selling e-book reader, and its new tablet computer, the $199 Kindle Fire, is going up against Apple Inc.'s iPad this holiday season. That has set the stage for Amazon to push into mobile phones, Mahaney said. The idea would be to use the device to sell more digital media, such as books and music, rather than making money on the phone itself.
"With the clear success of the Kindle e-reader over the past three years, and Kindle Fire possibly succeeding in the low-priced tablet market, we view this as the next logical step for Amazon," Mahaney said in a report. "We continue to believe Amazon has now set its eyes on the mobile (and tablet) media and product consumption frontier."
The device may retail for less than other phones because Amazon doesn't need to make money on it, he said. The company may sell it to carriers for $170 -- the cost of production and licensing the product -- or maybe even less, Mahaney said. The phone will be manufactured by Hon Hai Precision Industry Co., which makes other devices for Amazon, he said.
Drew Herdener, a spokesman for Seattle-based Amazon, didn't respond to a request for comment. Heather Ailara, a spokeswoman for Dallas-based Texas Instruments, and Emily Kilpatrick, a representative of Qualcomm in San Diego, declined to comment.
Amazon shares fell 3.5 percent to $204.52 at the close in New York. The stock has climbed 14 percent this year.
Before it's here, it's on the Bloomberg Terminal.
LEARN MORE