Zoomlion Sees 'Drastically' Slower China Excavator Demand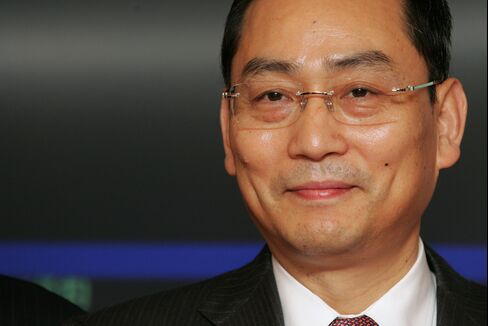 Zoomlion Heavy Industry Science & Technology Co. said slower expansion in China's demand for cranes and excavators will carry on next year because of waning economic growth and cutbacks in railway building.
"Demand for construction machinery has shrunk drastically and growth will no doubt continue to slow next year," Chairman and Chief Executive Officer Zhan Chunxin said in a Nov. 15 interview in Hong Kong. Meeting a 50 billion yuan ($7.9 billion) sales target for this year will also be "challenging," he said.
China's second-biggest maker of construction equipment fell 7 percent in Hong Kong trading as the forecast added to signs of cooling in the nation's economy and in spending on new factories and houses. The Changsha-based company plans to offset the slowdown, and competition from Sany Heavy Industry Co. and Caterpillar Inc. by opening plants in Japan, Brazil and India.
"There's no doubt China's infrastructure investment will slow in 2012," said Banny Lam, Hong Kong-based economist at CCB International Securities Ltd., a unit of China's second-largest lender. "The overall economy will also cool because of weaker export demand."
Zoomlion closed at HK$8.54 in Hong Kong trading, the lowest since Oct. 4. Its declined 43 percent from the price it sold shares at in December 2010. Lonking Holdings Ltd., which also makes construction equipment, fell 2.1 percent. Sany Heavy, China's biggest construction-equipment maker, declined 0.5 percent in Shanghai.
Sany, XCMG
Sany Heavy, controlled by Liang Wengen, China's richest man, and XCMG Construction Machinery Co. both delayed plans for share sales in Hong Kong this year as China's building boom wanes. The government has slashed construction of railways since a fatal July train crash. Real-estate investment rose 31.1 percent in the first 10 months, compared with 36.5 percent a year earlier.
Zoomlion is looking at possible acquisitions of machinery-makers in the U.S., Europe and Japan as it works to boost the proportion of sales generated overseas to 35 percent within five years, Zhan said, without elaborating on possible targets. The company earned 5 percent of sales abroad last year.
"International expansion is vital for us to achieve sustainable growth," Zhan said. "The market in China is still attractive, but it's just too crowded."
Zoomlion's nine-month sales climbed 39 percent to 33.2 billion yuan, according to an Oct. 31 statement to the Hong Kong stock exchange.
India, Japan
In India, the company and a partner plan to start building a factory for making concrete machinery in southwest Mumbai early next year, Zhan said. Zoomlion will also begin work on the plant in Brazil in the first half of 2012, he said. The factory, at a site as big as 1 million square meters, will make equipment for concrete, earth-moving and pile foundations.
In Japan, Zoomlion will build a factory after winning an order in the country for 30 truck-mounted concrete pumps, it said in September.
Before it's here, it's on the Bloomberg Terminal.
LEARN MORE