Spain Cuts GDP Forecast, Says too Early to Know Regions' Deficit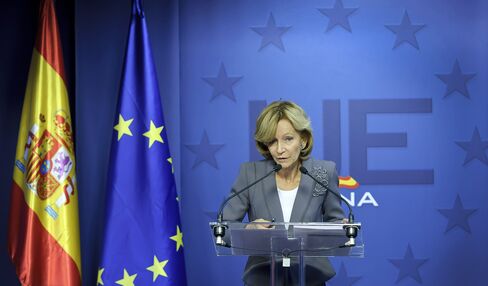 Spanish Finance Minister Elena Salgado said the economy will grow about 0.8 percent this year, less than the government's target, and it's too early to know if the regions will meet their deficit goal this year.
The new forecast is below the 1.3 percent government target that Salgado had said since August would be hard to meet, and is in line with the estimate of 0.7 percent published by the European Commission last week.
Salgado said that while the central government will meet its budget-deficit target, it's not clear whether the regional governments will do so, casting doubt on the overall budget-deficit goal of 6 percent of gross domestic product.
"I maintain 6 percent as the priority," Salgado said in an interview with Cope, when asked if the goal would be met. "We don't have the regions' third-quarter budget data yet."
Spain's economy stagnated in the third quarter, data showed yesterday, as the unemployment rate approached 23 percent. The yield on Spain's 10-year bond surged to 6.4 percent, the highest since August before the European Central Bank started propping up the nation's bond market with debt purchases.
Spain's ruling Socialists are set to lose a general election on Nov. 20, opinion polls show. Mariano Rajoy of the opposition People's Party, the favorite to win a majority in the vote, has pledged not to stray from the deficit goal of 4.4 percent of GDP next year "under any circumstances."
Before it's here, it's on the Bloomberg Terminal.
LEARN MORE