SES to Keep Margins Above 80%, May Make Purchases in Asia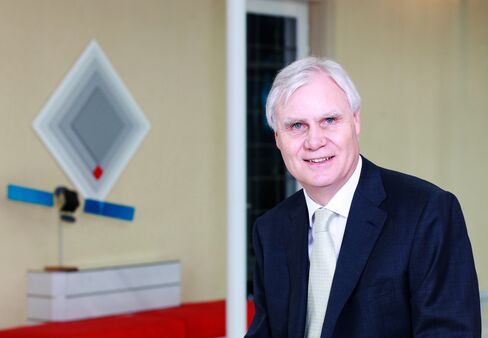 SES, the world's largest publicly traded satellite operator, forecast profit margins from its main infrastructure business will stay at more than 80 percent and plans to make acquisitions in Asia.
Margins from sale of transponders will remain in a range of 82 percent to 83 percent as demand for satellite-based services increases, Chief Executive Officer Romain Bausch said in an interview in Barcelona. Luxembourg-based SES is considering buying Greece's Hellas Sat SA to bolster eastern European coverage and Asian companies that own between one and three satellites, he said.
SES also plans to reduce the number of satellites it has over the U.S. in the next several years to address a glut of capacity and will move some to markets where demand is stronger such as Latin America and Asia, Bausch said yesterday at a conference organized by Morgan Stanley.
"The response to soft demand is obviously to adjust the supply," Bausch said. "Prices will not increase, and will at best remain stable," he said, without specifying which markets.
Satellite companies have traditionally had some the highest profit margins among technology companies after building infrastructure with government subsidies. Now, a surge in the number of satellites in orbit and increasing popularity of lower-margin services such as broadband and on-demand videos are threatening to pull down profitability.
High Margins
SES's profit margin, measured by earnings before interest, taxes, depreciation and amortization as a percentage of revenue, reached 74.2 percent in the first nine months. The margin for the infrastructure business was 82.9 percent and 14.9 percent for services in the period.
Shares of SES slipped 6 cents, or 0.3 percent, to 17.88 euros as of 9:24 a.m. in Paris, valuing the company at 7.1 billion euros. The stock is up less than 1 percent this year.
The operator, like rival Eutelsat Communications SA, has decided not to replace some satellites. Bausch sees a glut in sub-Saharan Africa as well through 2014 that will prevent the company from increasing prices. Demand will eventually rise to meet the amount of capacity, he added.
SES is reducing capital spending and has invested in research to cut costs of putting satellites in space. SES will add a satellite in Asia and one in Latin America by 2015 or 2016 at the cost 250 million euros ($337 million) each, the CEO said. If the market is growing well, SES might double that number, he added.
Before it's here, it's on the Bloomberg Terminal.
LEARN MORE