Olympus Surging as Investors Cover Shorts, Bet Listing Safe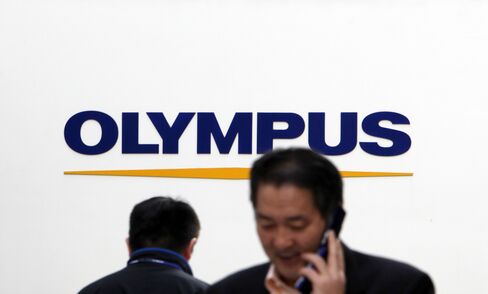 Nov. 17 (Bloomberg) -- Olympus Corp. jumped for a fourth day, set for the longest streak of advances since an accounting scandal erupted in October, as investors cover bearish wagers and bet its Tokyo Stock Exchange listing will be retained.
The optical-equipment maker rose even as the company may face criminal prosecution in Japan and as investors repurchased shares after short sales reached a record. The company is on a watchlist for possible delisting by the exchange after missing a deadline for reporting earnings. Olympus advanced 13 percent to 835 yen at the 11 a.m. Tokyo trading break, paring its losses in the last month to 66 percent.
"Not many people will dare to buy the shares with the risk of delisting, but some investors in short positions were buying back the shares," said Kiyoshi Ishigane, a senior strategist in Tokyo at Mitsubishi UFJ Asset Management Co., which oversees the equivalent of $84 billion. "Some people who believe the company won't be delisted are buying the shares."
More than 470 billion yen ($6.1 billion) has been wiped from Olympus's market value since mid-October, when the company ousted President Michael C. Woodford after he questioned payments to agents in a 2008 acquisition. Three executives helped conceal decades of losses by paying inflated fees to takeover advisers, the company admitted on Nov. 8.
Japan's securities watchdog is still considering seeking criminal charges against Olympus and its executives, two people with knowledge of the matter said yesterday. U.K. prosecutors have started a formal probe into the company's accounting, a person familiar with the case said.
Olympus is being sued in the U.S. by an investor who bought its American depositary receipts.
Delisting Watchlist
The company has until Dec. 14 to file its earnings or face possible delisting, Kazuhiko Yoshimatsu, head of media relations at the Tokyo exchange's corporate strategy division, said in an interview yesterday. Olympus plans to report after receiving an independent committee report into its accounts in early December.
Reuters, citing a source it didn't identify, reported Nov. 13 that Japan's securities watchdog may recommend a fine be imposed on Olympus for false financial reports, which could prevent its delisting.
Olympus shares did not change hands during ordinary trade on Nov. 14 and Nov. 15 as orders to buy overwhelmed those to sell. Trades were completed after the normal close under Tokyo Stock Exchange rules. The stock has risen by the daily limit imposed by the Tokyo exchange for the last three sessions.
Record Shorts
The number of shares transacted on Nov. 15 was the fourth-lowest figure in the last five years, while the number of equities that changed hands on Nov. 14 was the second-least since September, according to data compiled by Bloomberg.
Almost 90 percent of Olympus shares that are available to be borrowed are out on loans, according Data Explorers, a London-based research firm. Short selling is when traders borrow shares and sell them with the hope of repurchasing the securities later at a lower price, pocketing the difference.
Borrowed stock, an indication of shorting, reached 13 percent of the total outstanding on Nov. 8, the highest level since at least 2006, according to Data Explorers. Bearish wagers have since fallen to 11 percent, based on data as of Nov. 14.
The number of shares in Japanese margin accounts that profit when the stock retreats, known as short positions, fell to its lowest level since Nov. 8 yesterday, according to data from Japan Securities Finance Co., a provider of loans and lending services. Long positions, which bet on advances, climbed 11 percent yesterday. The ratio of short positions to long fell to 2.1 yesterday from 3 on Nov. 8.
'Impossible to Borrow'
The average ratio of long positions to short positions over the past five days jumped to 1.3, the highest since December Olympus is "now pretty much impossible to borrow," wrote Will Duff Gordon, a senior research analyst at Data Explorers, in a research report on Nov. 16. "Olympus still makes high quality electronic goods and, with over 90 percent of the supply on loan in both the Tokyo and ADR listing, a short squeeze could force a rebound in its share price."
The Tokyo exchange has a two-tier watchlist for companies facing possible delisting. The endoscope maker is on the TSE's so-called confirmation list, where the bourse watches to see if a company complies with basic listing rules, such as filing quarterly reports.
Two-Tier Watchlist
The second level, the examination list, is where the TSE actively investigates a company's behavior, Kazuyuki Miyaji, a manager in the TSE's disclosure division, said yesterday. The bourse might add companies to this list if other regulators, such as the Securities and Exchange Surveillance Commission or Financial Services Agency allege wrongdoing at a company.
"For Olympus, if it doesn't file its earnings by the 14th it will be delisted," said the TSE's Yoshimatsu. "If it does file it on time it will probably change to examination status."
Sanctions handed down by other regulators or criminal charges being laid might lead to a delisting, TSE's Yoshimatsu said. The bourse is the only organization with the power to decide on delistings, he said. In extraordinary circumstances, the minister for financial services may force a decision.
TSE may consider alternatives to delisting in an effort to prevent investors being unduly punished for the misdeeds of management, said Yoshimatsu. The bourse can grant firms a so-called grace period where they are given a chance to turn themselves around and address violations of listing rules.
'Nuclear Option'
"Delisting is the nuclear option," said Jamie Allen, Hong Kong-based secretary general of the Asian Corporate Governance Association in an interview. "Olympus isn't out of the woods yet. Clearly the shareholders don't want the company to be delisted. But then there is an element in the community that feel that Olympus has done something very bad -- that it's engaged in illegal behavior, possibly criminal behavior -- therefore it doesn't deserve to remain listed."
The company, Woodford, ex-chairman Tsuyoshi Kikukawa and current president Shuichi Takayama caused the company to engage in fraud, resulting in investor losses, according to a lawsuit filed Nov. 14 in federal court in Pennsylvania.
The scandal shows the need for increased transparency among Japanese companies, Shinsuke Amiya, a former vice-chairman at Merrill Lynch & Co.'s Japan unit and member of the ruling party's new taskforce on corporate governance that begins meeting on Nov. 18 said.
'Remove the Dishonor'
"Olympus was clearly violating rules and in a sense deceived investors," Democratic Party of Japan lawmaker Amiya said in an Nov. 15 interview in Tokyo. "There was no oversight by the board of directors, company auditors or auditing firms. We must remove the dishonor that Japanese corporate disclosure is unreliable."
The SESC would ask the Tokyo District Public Prosecutor's Office to file charges if it determines that Olympus or its executives violated laws including misstating financial reports and fraudulent accounting, the people with knowledge of the matter said, declining to be identified because the information is confidential.
"Some people think it's OK to buy the shares at the current price even if it delists, because the value won't fall to zero as long as the company itself survives," said Mitsubishi UFJ's Ishigane.
To contact the reporters on this story: Kana Nishizawa in Hong Kong at knishizawa5@bloomberg.net; Lynn Thomasson in Hong Kong at lthomasson@bloomberg.net
To contact the editor responsible for this story: Nick Gentle at ngentle2@bloomberg.net