London Protesters Given 24 Hours by City to Quit St. Paul's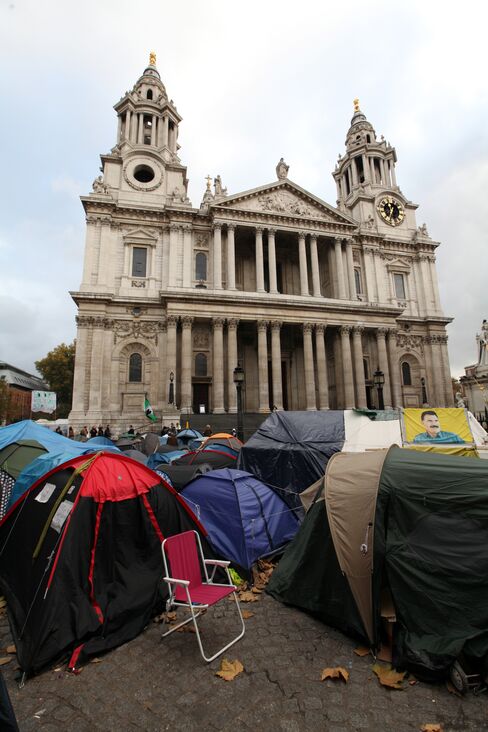 Nov. 16 (Bloomberg) -- The City of London Corporation, which oversees the U.K.'s main financial district, issued eviction notices to anti-capitalist protesters camped outside St. Paul's Cathedral.
The City authorities served a legal notice demanding the protesters move their tents and equipment away from the public highway within 24 hours, John Park, a corporation spokesman, said in an e-mail today. The move followed a decision yesterday to clear demonstrators from the area, he said.
"We are getting reports about vulnerable people, cases of late-night drinking and other worrying trends, so it's time to act," the corporation's policy chairman, Stuart Fraser, said in an e-mailed statement yesterday, "From now on, we will have to have any talks in parallel with court action -- not instead." If protesters do not comply with the eviction order, proceedings will be issued in the High Court, he said.
More than 200 tents have clustered around St. Paul's Cathedral for a month, after Occupy London protesters were denied access to land surrounding the London Stock Exchange, a minute's walk from the church. The City of London Corporation's decision follows similar action in New York, Oakland, California and Portland, Oregon.
The corporation and St. Paul's Cathedral suspended legal action aimed at evicting the demonstrators on Nov. 1. The corporation said yesterday it could not reach an agreement with protesters on how to reduce the number of tents and set a departure date.
'Reasonable Offer'
"So, sadly, now they have rejected a reasonable offer to let them stay until the New Year, it's got to be the courts," Fraser said.
Demonstrators were "disappointed" that the corporation "decided to cut off the process of dialogue at their end and go down the legal route," according to a statement posted on the Occupy London Stock Exchange website yesterday, "We have a great legal team on board and are not in the least concerned about the road ahead."
New York police in riot gear entered Zuccotti Park in Lower Manhattan yesterday to remove Occupy Wall Street demonstrators who had been camping there for more than eight weeks to protest income inequality. The protesters lost a bid in the New York State Supreme Court to overturn the eviction.
To contact the reporter on this story: Namitha Jagadeesh in London at njagadeesh@bloomberg.net
To contact the editor responsible for this story: Colin Keatinge at ckeatinge@bloomberg.net