Killer $2 Million Monkeys, Rauch's Fallen Angel, Gursky: Hot Art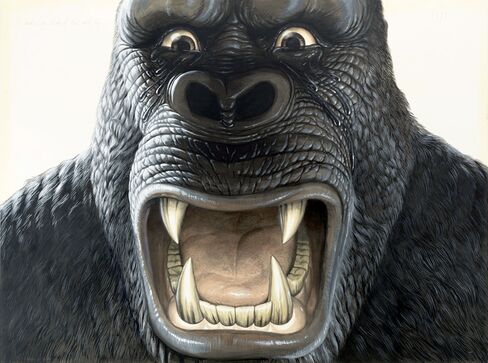 A trio of giant King Kong portraits greets visitors at Paul Kasmin Gallery in Manhattan's Chelsea district.
At once cartoonish and intimidating, they hang on three walls in the darkened first room, creating a sense of being captive, of the beast observing the caged human.
Artist Walton Ford based the 9-by-12-foot watercolors on the 1933 film "King Kong" and three emotional stages in the animal's relationship with Fay Wray.
The first is disbelief, as Kong's eyes well up with tears. The central image is rage, as he bares his huge teeth. In the third, he looks almost thoughtful, accepting his fate while the blood of bullet wounds drips from his mouth.
Ford's precise, feathery touch -- in watercolor, gouache, ink and pencil -- counters the bulkiness of the works, which are painted on paper and mounted on aluminum panels.
In the second room, an unlucky parrot loses its head to another killer monkey in a group of six watercolors that trace the action from dawn to dusk and from capture to execution.
Prices for each King Kong are in the $2 million range, the gallery said. The show runs through Dec. 23 at 293 Tenth Ave.; +1-212-563-4474; ttp://www.paulkasmingallery.com
Fallen Angel
Falcons and rhinos, mysterious narratives, exquisite color transitions and a complex treatment of space that includes comic-strip-like collage -- there's a feast for the eyes in Neo Rauch's 12 new paintings and one sculpture at David Zwirner gallery.
Mixing realism and surrealism, Leipzig-based Rauch populated one dark 10-by-16-foot canvas with a collapsed angel, sporting brown wings and slippers; a man holding a barbed-wire wreath from which two pieces of raw meat dangle; a woman in a short turquoise slip, dancing on a stool; a bulldog ready to pounce; an unattached hand in turquoise garb, holding a plate of dog poop.
In another painting, it's springtime. Forsythia explodes yellow against the blue-gray of the sky. In the forefront, people are digging out missile-like structures. A group of men carefully examines one of them. Nearby, three women are tossing forsythia wreaths onto another structure's protruding horns.
Prices range from $220,000 to $1.25 million. The show runs through Dec. 17 at 533 W. 19th St.; +1-212-727-2070; http://www.davidzwirner.com
Polluted River
In his solo debut at Gagosian gallery in New York, photographer Andreas Gursky turns his camera on the patterns formed by the Chao Phraya River flowing through Bangkok.
At first glance, these austere ink-jet prints appear almost painterly and completely abstract. Black or dark-blue surfaces ripple with light and bursts of yellow, pink or blue.
Up close you can discern familiar if random objects -- a rubber tire, a pink flower, a condom -- representing the pollution of the urban waterway.
The show also includes works from Gursky's "Oceans" series that were shown in the gallery's Los Angeles branch last year. Based on high-definition satellite shots of oceans and land masses, these works also explore the marriage between photographic precision and abstraction.
The gallery, which now represents the artist exclusively in the U.S., declined to specify prices. Gursky's landscape "Rhein II" fetched $4.3 million at Christie's in New York last week, setting a record for a photograph sold at auction. The show runs through Dec. 17 at 522 W. 21st St.; +1-212-741-1717; http://www.gagosian.com
(Katya Kazakina is a reporter for Muse, the arts and leisure section of Bloomberg News. The opinions expressed are her own.)
Before it's here, it's on the Bloomberg Terminal.
LEARN MORE