Italy Gains in Michelin Guide With New Three-Star Restaurant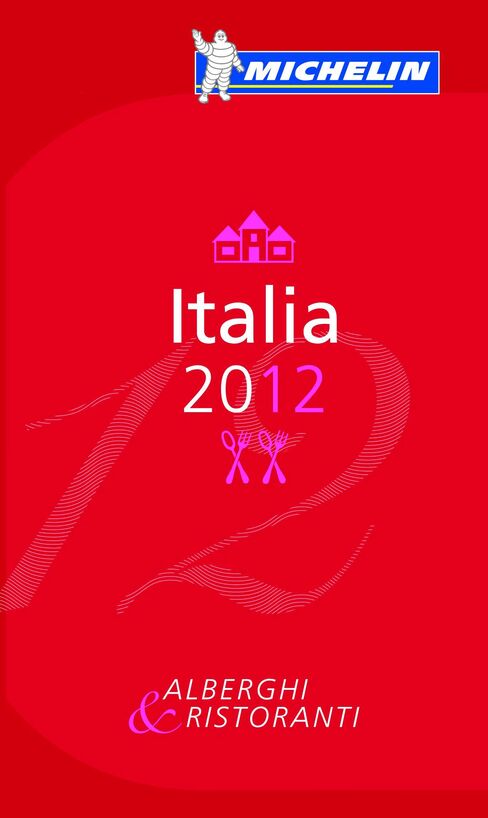 Italy has a new Michelin three-star restaurant today with the promotion of Osteria Francescana, Massimo Bottura's establishment in Modena, while four other restaurants gain their second stars.
They are: Principe Cerami, Hotel San Domenico Palace, Taormina; L'Olivo, Hotel Capri Palace, Capri; Quattro Passi in Massa Lubrense, Naples; and Oliver Glowig, in Rome. No fewer than 33 are awarded their first stars, taking that total to 250.
Among Italy's regions, Lombardy still has the most stars, with a total of 56 starred venues, Michelin said today in an e-mailed release. Piedmont ranks second, with Campania and Emilia Romagna coming an equal third. Tuscany is the most dynamic region, with six new starred restaurants and six new Bib Gourmands, representing value for money.
Italy now has a total of seven restaurants with three stars and 38 with two. Three stars mean exceptional cuisine, worth a special journey; two are for excellent cooking, worth a detour; one denotes a very good restaurant in its category.
Michelin & Cie. is the world's second-biggest tiremaker, after Bridgestone Corp. It produced its first guide in August 1900, distributed free of charge (until 1920) and intended for chauffeurs. The guide contained practical information, including street maps and tips on using and repairing tires.
The restaurants that have gained this time are:
Three Stars:
Osteria Francescana, MODENA

Two stars:
Principe Cerami, Hotel San Domenico Palace, TAORMINA
L'Olivo, Hotel Capri Palace, CAPRI
Quattro Passi, MASSALUBRENSE
Oliver Glowig, ROME

One star:
La Clusaz, GIGNOD
Magione Papale, L'AQUILA
Loro, TRESCORE BALNEARIO
I Portici, Hotel i Portici, BOLOGNA
Cielo, OSTUNI
Da Nadia, CASTREZZATO
Alpenroyal Gourmet, Grand Hotel Alpenroyal, SELVA DI VAL GARDENA
Johannes Stube, NOVA LEVANTE
La Siriola, Hotel Ciasa Salares, ALTA BADIA
Il Centro, PRIOCCA D'ALBA
La Rei, Hotel Il Boscareto Resort, SERRALUNGA D'ALBA
Coria, CALTAGIRONE
Il Palagio, Hotel Four Seasons, FLORENCE
Ora d'Aria, FLORENCE
Acquacotta, Hotel Terme di Saturnia, SATURNIA
Dattilo, STRONGOLI
La Magnolia, FORTE DEI MARMI
Bellevue, Hotel Metropole, TAORMINA
Al Pont de Ferr, MILAN
Alice, MILAN
Unico, MILAN
Sud, QUARTO
Pascia, INVORIO
La Palta, BORGONOVO VAL TIDONE
La Bandiera, CIVITELLA CASANOVA
Lunasia, Hotel Green Park Resort, TIRRENIA
Atman, PESCIA
Pascucci al Porticciolo, FIUMICINO
La Sponda, Hotel Le Sirenuse, POSITANO
Locanda Severino, CAGGIANO
Al Ferarut, RIVIGNANO
Quadri, VENICE
L'Approdo, Hotel Cala del Porto, VIBO VALENTIA
(Richard Vines is the chief food critic for Muse, the arts and leisure section of Bloomberg News. He is U.K. and Ireland chairman of the World's 50 Best Restaurants awards. Opinions expressed are his own.)