Fiat 500 Fails Marchionne as Sales Miss Chrysler Showrooms: Cars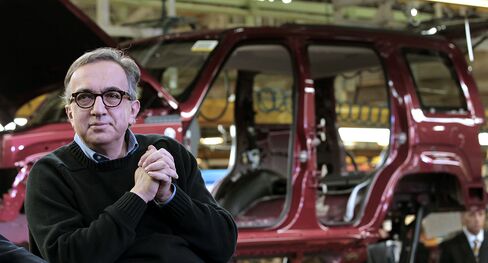 Chrysler Group LLC hired Jennifer Lopez and built new showrooms to reintroduce Americans to the Fiat brand. So far, that has not worked out.
North America sales of the Fiat 500 through October totaled 21,380, short of Chief Executive Officer Sergio Marchionne's forecast of 50,000 deliveries. The rollout was held back by Chrysler's decision to create new stores for Fiat instead of using space within Chrysler dealerships.
Chrysler said it plans to open about 30 more U.S. dealerships to sell the Italian brand by the end of the first quarter next year. There are about 120 now. The slow start meant Fiat missed a chance to take advantage of limited supplies of Toyota Motor Corp. and Honda Motor Co. models after the tsunami in March disrupted the supply of parts from Japan.
"We need to continue to work on distribution," Marchionne told reporters yesterday in Toledo, Ohio. "We've had 50 dealers, 60 dealers trying to sell the car. I think Ferrari has more dealers than that."
While Chrysler executives were working to add dealers, Hyundai Motor Co.'s Elantra, General Motors Co.'s Chevrolet Cruze and Bayerische Motoren Werke's Mini brand -- small cars that compete with the Fiat 500 for customers -- saw sales soar this year.
"The development of the Fiat dealer network was a mistake and now it's failing," Scott Hogle, a former manager for Chrysler in the western U.S., said in an e-mail. Reintroducing a brand while GM and Ford Motor Co. are eliminating lines required "new products and advertising that Chrysler/Fiat is not in a position to provide."
May Pay Off
The strategy may pay off over time, said Jeremy Anwyl, chief executive officer of Edmunds.com, which tracks vehicle sales and pricing.
"They were trying to create some element of uniqueness for the Fiat retail experience," he said. "It might have hurt them in terms of some individual month sales, but from the bigger picture, when you look at over the span of years, it makes more sense."
Chrysler's strategy was to commit separate space for Fiat so the small cars wouldn't get lost in showrooms with much larger vehicles, such as the Jeep Grand Cherokee and Ram pickups. The additional outlets will complement the marketing efforts of Olivier Francois, the brand's worldwide chief, who began a U.S. campaign starring Lopez, the singer and actress, in September.
Francois is overseeing the introduction of the high-performance Abarth version of the 500, unveiled yesterday at the Los Angeles auto show. It will reach showrooms early next year.
'Takes Time'
"The process of launching a new brand with three models, the 500, Cabrio and Abarth, is a process that takes time," he said in a telephone interview in advance of the auto show. "We continue to increase our customer awareness."
While Chrysler, majority owned by Fiat SpA, increased its profit forecast to as much as $600 million this year, excluding expenses for paying off U.S. and Canadian government loans, its global sales aren't growing at the pace set by Marchionne. He has called for Chrysler's sales to grow 32 percent to 2 million while the rate of growth through three quarters was 21 percent.
Chrysler began selling the 500 in March, nearly 30 years after the Italian brand pulled out of the U.S. market. The company had earlier aimed to have 165 outlets in 119 U.S. markets, with the first stores open by February. Gualberto Ranieri, a Chrysler spokesman, said about 130 stores in the U.S. will be open by year's end and Francois said the number will rise to 150 -- "a good level" -- by the end of March.
No 'Blockbuster'
"They've done a great job in building the hype" for the Fiat 500, said Jesse Toprak, an industry analyst with TrueCar.com, a Santa Monica, California-based website that tracks auto sales. "But I don't think that it has been the blockbuster intro."
The Auburn Hills, Michigan-based automaker ran into delays opening retail outlets, such as issues with local government building permits required for construction, Laura Soave, head of the Fiat brand in North America, has said. When he was asked yesterday if Soave would continue in that role, Marchionne replied, "For the time being."
The subcompact market in the U.S. will probably expand to 1.1 million in 2016 from 450,000 in 2010, according to IHS Automotive's estimates. Fiat will try to get more attention in that space by offering special editions, such as a Gucci version that reaches dealers this month, and a battery-powered 500 next year, Francois said.
"There's a lot of potential to grow," he said.
Before it's here, it's on the Bloomberg Terminal.
LEARN MORE