England Coach Johnson Quits After Rugby World Cup Failure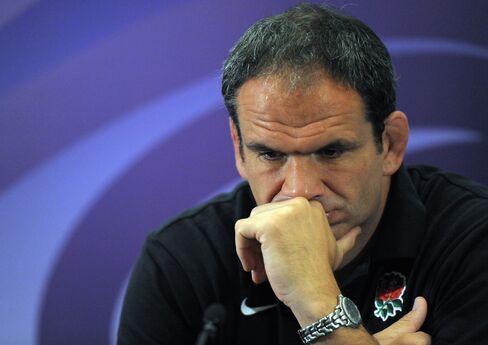 Martin Johnson quit as coach of the England national rugby team following a disappointing World Cup campaign on and off the field.
Johnson was hired in 2008, five years after captaining England to its only World Cup title. He said he wouldn't seek to renew his contract when it expires next month.
"I've given this a huge amount of thought since we returned from the World Cup," Johnson, 41, said at a televised news conference at London's Twickenham Stadium. "It's not a knee-jerk reaction. It's a considered, thoughtful decision."
England won 10 of 13 games in 2011 and captured the 6 Nations championship. It also reached the quarterfinals of the World Cup in New Zealand last month, one step short of its goal.
"When you work closely with somebody, you realize the effort that goes in to it," the Rugby Football Union's Elite Director Rob Andrew said. "From the first day Johnno took the job, he's worked most tirelessly to move the team forward."
England made headlines during the World Cup with a series of events involving players and staff.
Former captain Mike Tindall last week was dropped from the squad and fined 25,000 pounds ($39,430) by the RFU after being videoed in a Queenstown bar with an ex-girlfriend and misleading team officials. At the time of the incident, Johnson defended his former teammate, who is married to the Queen's granddaughter Zara Phillips, and the other players for their night out.
Not Let Down
Players Chris Ashton and James Haskell were also fined over an incident with a member of staff at their hotel, while Manu Tuilagi was fined by the RFU and detained by police after jumping off a ferry. Johnson defended the squad after team members went on a bungee-jumping trip in New Zealand.
Johnson said he didn't feel let down by his team's actions in New Zealand and the perception it gave to people back home.
"We're a team together," he said. "Of course, it didn't help. We didn't want that reputation. It does not accurately reflect what we have there as a group."
England topped its World Cup pool by winning all four of its matches before losing 19-12 to France in the quarterfinals.
"We won 10 of 13 games this year," Johnson said. "I would have given those up to win a quarterfinal and get to the latter stage of the World Cup."
Ball Switch
England was also plagued by on-field incidents during the World Cup which brought further scrutiny.
Coaches Dave Alred and Paul Stridgeon were suspended for one match for illegally switching balls used for conversions in a win over Romania. Player Courtney Lawes was suspended for two matches for striking Argentina's Mario Ledesma with his knee, while Delon Armitage was banned for the France game for a dangerous tackle against Scotland.
Johnson had no prior coaching or managerial experience when he was hired to replace Brian Ashton, who led England to a runner-up finish at the 2007 World Cup.
He took over as England began a squad overhaul and won 21 of 38 games in charge. That included winning the 6 Nations title for the first time in eight years in March, missing out on the Grand Slam with a loss to Ireland in the final game.
"Martin has done a terrific job in pretty difficult circumstances," Andrew said. "When you look at where the team was in 2008, there was a huge rebuilding job to be done after the World Cup. Virtually a whole new team has been introduced into international rugby."
Internal Review
The RFU is conducting an internal review of England's World Cup campaign and both Johnson and Andrew said that wasn't a factor in the resignation. Johnson said he didn't want his future to linger as England begins its next World Cup cycle by defending its 6 Nations title starting in February. England will host the next World Cup in 2015.
"It's an all-encompassing job," he said. "Sitting here now are you prepared to jump in for four years? After weighing it, my decision was no, I'm not."
Johnson made 84 appearances as an England player and won 34 of 39 games as captain. He also captained the British and Irish Lions on tours of South Africa in 1997 and Australia in 2001.
Johnson had a successful club playing career in addition to his international success, with back-to-back Heineken Cup triumphs and four straight Premiership titles at Leicester.
He said he was leaving as coach without any regrets.
"I've always had the best interest of England rugby in my decisions," Johnson said.
Former South Africa and Italy coach Nick Mallett, who was the second favorite to replace Johnson behind Jim Mallinder according to U.K. bookmaker William Hill, said he doesn't want the job after the RFU asked about his availability.
"After mulling it over for a few days and discussing the opportunity with close friends and family, I have decided that I will not be making myself available for the position and I have disclosed this to the RFU," Mallett said in a statement issued by his management company Prosport International.