Finance Job Losses Near 200,000 as BNP, Citigroup Cut Staff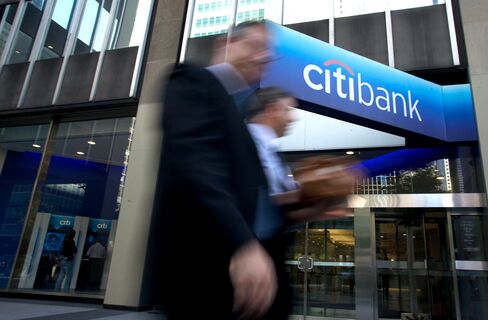 Nov. 16 (Bloomberg) -- Job losses in the global financial services industry this year are close to surpassing 200,000 as Citigroup Inc., France's BNP Paribas SA and Bank of America Corp. eliminate jobs to reduce costs.
Citigroup, the U.S. bank that shook up senior management earlier this month, may cut as many as 3,000 jobs as Chief Executive Officer Vikram Pandit squeezes out costs, said a person familiar with the company's plans. BNP Paribas, France's biggest bank, said today it will trim about 1,400 jobs at its investment-banking unit, with most coming from the lender's capital markets and structured-finance teams. Bank of America also cut part of its equities unit in Europe yesterday.
The reductions add to the 195,000 banks, insurers and asset managers announced this year, and surpass the 174,000 losses in 2009, data compiled by Bloomberg show. Lenders are reducing staff as the European sovereign debt crisis roils markets, crimps revenue from trading stocks and bonds, and deters companies from takeovers or stock offerings. Regulators are also forcing banks to set aside more capital for their riskiest operations, cutting the profitability of fixed-income units.
"I have never seen it as bad," said Jason Kennedy, 41, CEO of Kennedy Group in London and a recruiter for the past 16 years. "The future is also bleak. This will continue for another 14 or 15 months: 2012 is definitely a write-off."
Nomura Cuts
Nomura Holdings Inc. is cutting jobs in London, Hong Kong and Japan this week, a person familiar with the matter said today. Japan's largest brokerage has said it would consider cutting in markets including Japan and Europe as part of a plan to reduce costs after its first quarterly loss in two years.
"We are not providing details," Paul Abrahams, a Nomura spokesman based in London, said. "However, at the time of our second-quarter results, Nomura announced its intention to reduce its costs run rate by $1.2 billion a year and we are in the process of executing that plan as quickly as possible."
Citigroup plans to eliminate about 1 percent of its staff, according to the person, who wasn't authorized to speak publicly about the cuts. The figure is an estimate and may change, the person cautioned. Among the jobs eliminated may be 900 from the division that includes the bank's trading and investment-banking operations, the person said. Citigroup, ranked third by assets among U.S. lenders, employed about 267,000 people at the end of the third quarter.
'Targeted' Reductions
"As part of our ongoing efforts to control expenses, we are making targeted headcount reductions in certain businesses and functions across Citi," Danielle Romero-Apsilos, a spokeswoman for the New York-based lender, said by e-mail.
Citigroup posted a 74 percent increase in third-quarter profit, aided by a $1.9 billion accounting gain that softened the impact of lower trading and investment-banking revenue. The bank said in September it would limit hiring only to "critical" jobs to control costs and boost revenue as new regulations on minimum capital levels take effect.
Pandit, 54, shuffled his top managers on Nov. 4, giving Manuel Medina-Mora added responsibility for global consumer and commercial banking as Mike Corbat became the sole CEO for Europe, the Middle East and Africa. The moves reflect Pandit's strategy of pursuing more revenue in emerging markets in Asia and Latin America amid sluggish U.S. economic growth while offloading unwanted assets in the Citi Holdings unit.
BNP Paribas
Still, Toronto-Dominion Bank, Canada's second-largest lender by assets, said today it will create more than 1,600 U.S. jobs in the next three to five years as it expands its corporate operations in Greenville, South Carolina and adds positions in Lexington. The Toronto-based owner of TD Bank is undergoing a $17.1 million renovation of its three buildings at its campus in Greenville, the regional headquarters for the U.S. bank. TD Bank has about 1,300 employees and 82 stores in South Carolina.
BNP Paribas plans to eliminate 6.5 percent of employees at its investment and corporate-banking unit, which had about 21,400 employees worldwide at the end of September, according to the bank's website. About 373 jobs will go in France, where the lender's trading operations are based, BNP Paribas said.
"Like all banks, BNP Paribas must adapt its business to the new regulatory environment, which impacts in particular the capital-markets and structured-finance activities," Julia Boyce, a Paris-based spokeswoman, said by telephone today.
BNP Paribas said Nov. 3 it expects about 1.2 billion euros ($1.6 billion) in losses from disposals and one-time costs as it speeds up asset cuts to comply with capital rules. The company has pledged to reduce its balance sheet by 10 percent, including cutting $82 billion in corporate- and investment-banking assets.
Union Officials
Union officials met with Alain Papiasse, head of the investment-banking unit, this morning in Paris, said Joel Debeausse, a union representative for the Syndicat National de la Banque et du credit at BNP Paribas. Neither Debeausse nor Boyce, the BNP spokeswoman, gave any more details on the breakdown of the job reductions.
Bank of America, the second-biggest U.S. lender by deposits, cut part of its top-ranked Merrill Lynch & Co. equities division in Europe, said two people familiar with the situation. The cuts yesterday affected specialist sales and generalist sales, said the people, who declined to be identified because the information isn't public. They didn't provide a number of positions affected.
Separately, the lender reduced its sales and trading team in Dubai by 40 percent, to six people from 10, according to people with knowledge of the talks.
UniCredit, MF Global
Bank of America CEO Brian T. Moynihan plans to eliminate 30,000 jobs at the Charlotte, North Carolina-based lender over the next few years to reduce costs by $5 billion annually by the end of 2013.
UniCredit SpA, Italy's biggest lender, this week posted a record loss and closed its western European brokerage as it aims to restore profit to 6.5 billion euros by 2015. The lender also said it plans to eliminate 7,400 jobs in Europe in that time.
MF Global Inc.'s workforce of 1,066 broker-dealer employees was fired on Nov. 14 as the failed brokerage closes its New York office and liquidates in an attempt to return assets to clients.
Credit Suisse Group AG, the second-biggest Swiss bank, disclosed yesterday in a New York State Labor Department filing that it plans to eliminate 268 jobs in New York by March 2012. Those are part of the 2,000 staff reductions announced in July by Credit Suisse, which also said on Nov. 1 that it plans an additional 1,500 job cuts, said a person familiar with the matter. Karen Laureano-Rikardsen, a spokeswoman for the bank in New York, declined to comment.
To contact the reporter on this story: Ambereen Choudhury in London at achoudhury@bloomberg.net; Alexis Xydias in London at axydias@bloomberg.net; Donal Griffin in New York at dgriffin10@bloomberg.net
To contact the editor responsible for this story: Edward Evans at eevans3@bloomberg.net