China Mobile Targets 10 Million 'Wireless City' Data Users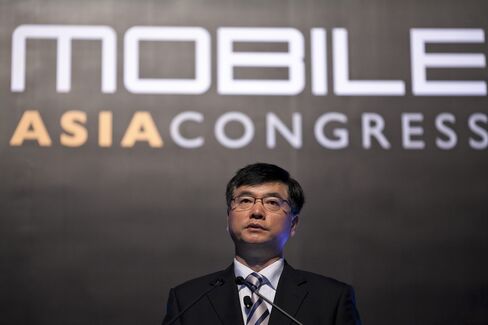 Nov. 16 (Bloomberg) -- China Mobile Ltd., the world's largest mobile-phone company by subscribers, plans to have 10 million users of its new "Wireless City" data plan this year.
Six million users have signed up for the plan, which will be available in 100 cities by the end of this year, offering access to 10,000 applications, Chief Executive Officer Li Yue told a conference in Hong Kong today.
China Mobile is counting on wireless data services to maintain sales growth amid falling voice rates as the government promotes competition among the nation's three carriers. Revenue growth of 7 percent last year was the slowest since Beijing-based China Mobile listed in 1997, as tariffs for voice calls dropped and subscriber growth moderated.
"Mobile data can change people's lives, so we are introducing this one-stop daily information service platform," Li said. The "Wireless City" system uses cloud computing to offer mobile applications including medical record keeping, utility payments and traffic reports, he said.
China Mobile gained 0.1 percent to HK$76.55 at the midday trading break in Hong Kong, after earlier rising as much as 2 percent. The benchmark Hang Seng Index fell 1.9 percent.
Incompatible IPhones
The carrier has been unable to persuade Apple Inc. to make a version of the iPhone to run its home-grown, third-generation network standard, Chairman Wang Jianzhou has said. China Mobile is pinning its hopes on getting Apple to make a version that can run on the fourth-generation network that may start commercial trials next year, according to Wang.
China Mobile got a "positive answer" that Apple will work on making an iPhone for the new TD-LTE network, Wang said in a Sept. 15 interview in Dalian, China.
Li said carriers shouldn't be tied to a particular handset supplier. "Today we're looking at Apple, maybe tomorrow we're looking at somebody else," he said. "Carriers don't need to be tied down to any particular supplier."
China Mobile retains the lead in 3G users over China Unicom (Hong Kong) Ltd., the only phone company in the country offering iPhones with service contracts. China Unicom is the nation's second-biggest mobile-phone carrier by subscribers and China Telecom Corp. is third.
China Mobile has 9.5 million iPhone users of its 2G and wifi networks who can't switch to 3G because of network incompatibility, Wang has said.
The company's shares have declined 0.8 percent this year, compared with an 18 percent slide for the Hang Seng Index.
Tariffs for voice calls dropped 5.1 percent in the first nine months of this year, China's Ministry of Industry and Information Technology said last month.
China Mobile had a total of 633.5 million mobile subscribers at the end of September, the company reported last month. Only 43.2 million, or 6.8 percent, opted for its third-generation network, the carrier said at the time.
Li replaced Wang as China Mobile's chief executive in August 2010.
To contact Bloomberg News staff for this story: Edmond Lococo in Beijing at elococo@bloomberg.net
To contact the editor responsible for this story: Michael Tighe at mtighe4@bloomberg.net