Candy-to-Fuel Demand Cuts Oil Inventory to '75 Low: Commodities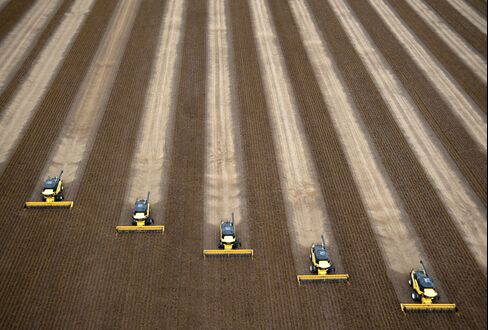 Nov. 17 (Bloomberg) -- Stockpiles of the cooking oils used to make everything from candy bars to biofuels are declining to the lowest in two generations as farmers fail to keep up with demand expanding at five times the pace of the world population.
Inventories of soybean, rapeseed, sunflower and six other oils will drop to less than 29 days of consumption this year, the fewest since 1975, U.S. Department of Agriculture data show. Palm, the most-consumed oil, will rise 8 percent to 3,475 ringgit ($1,100) a metric ton in Malaysian trading by the end of the first quarter, the highest since March, based on the median estimate of 12 analysts and traders surveyed by Bloomberg.
Supplies of oils and fats will be near the "critically low level" seen during the 2008 food crisis, the United Nations said in a report Nov. 3. While the UN's world food index dropped 9 percent from a record in February as grain harvests expanded, a tighter supply of cooking oils is helping to keep the gauge about 20 percent higher than the five-year average.
"This is an early warning that we're giving," said Peter Thoenes, an economist at the UN Food and Agriculture Organization in Rome. "A tightening in the global supply and demand balance seems inevitable. The oil-crop market fundamentals seem to call for continued firmness in prices."
Global diets are changing as wealth increases, boosting demand for processed goods. Retail sales of packaged food will reach $2.12 trillion this year, from $1.66 trillion in 2006, according to London-based Euromonitor International Ltd., a consumer research company. Shoppers will spend about $4.44 billion on cooking fats, from $2.9 billion five years ago, Euromonitor estimates.
Sime Darby
Palm oil rose 11 percent to 3,212 ringgit on the Malaysia Derivatives Exchange since Sept. 30, compared with a 3.2 percent advance in the Standard & Poor's GSCI Agriculture Index of eight commodities. The MSCI All-Country World Index of equities rose 6.8 percent and Treasuries returned less than 0.1 percent, a Bank of America Corp. index shows.
Sime Darby Bhd., the world's biggest publicly traded palm-oil producer, will report record profit in each of the next three years, analyst estimates compiled by Bloomberg show. Nestle SA, the world's biggest food company, told investors Oct. 20 that its raw-material costs would jump as much as 3 billion Swiss francs ($3.3 billion) in 2011.
World stockpiles of coconut, cottonseed, peanut and the six other oils, will drop 3.6 percent to 11.76 million tons in the 2011-2012 season, the lowest since 2007-2008, the USDA estimates. Inventories averaged about 37 days of use in the past two decades, the data show.
Biofuel Demand
Production will rise 3.7 percent this year, compared with 4.6 percent last year and 4.9 percent in 2009-2010, the Washington-based department predicts. Demand will advance 3.9 percent to a record 149.89 million tons in 2011-2012, compared with about 91 million tons in 2001-2002. The world population reached about 7 billion from 6.24 billion over the same period, the U.S. Census Bureau estimates.
Demand for biofuels, derived from crops, means more soybean oil is being used domestically in Argentina, Brazil and the U.S., according to Oil World, a Hamburg-based research company. Global stockpiles of soybean oil will drop 17 percent to 2.4 million tons by the end of this season, the lowest level in 18 years, led by declines in those three nations, the USDA estimates.
The expansion in demand may miss the USDA's forecast as economic growth slows. Cooking-oil consumption rose 3.7 percent in 2008-2009, the least in seven years, as economies contended with the worst recession since World War II, USDA data show.
India, China
India's economy, the world's biggest palm-oil user, will expand 7.5 percent next year, from 7.8 percent in 2011, the International Monetary Fund said in a September report. China's economy, the largest soybean-oil buyer, will advance 9 percent from 9.5 percent, the IMF estimated. Soybean imports by China dropped 5.4 percent in the first 10 months, customs data show.
"Even in this scenario of low economic growth, the world needs additional supplies of crops so prices should remain at attractive levels," Alberto Weisser, chief executive officer of Bunge Ltd., said on a conference call Oct. 27. The White Plains, New York-based company processes and distributes commodities including oilseeds in about 40 countries.
Consumption of cooking oils by China may increase 5 percent to 29.04 million tons this season as India uses 4.9 percent more at 17.1 million tons, the USDA estimates. The global estimates also include olive and palm kernel oil.
The FAO's oils and fats inventories forecast depends in part on South American farmers, Thoenes said. Soybeans are harvested in the first and second quarters in Brazil and Argentina, the two largest producers behind the U.S.
Goldman Prediction
An improving outlook for South American production prompted Goldman Sachs Group Inc. to cut its six-month price forecast for soybeans to $12.50 a bushel from $13 on Nov. 10. That's still higher than the $11.8775 they closed at yesterday.
Soybean yields in Brazil, set to be the biggest exporter this year, may drop to 2.94 tons a hectare (2.47 acres) this season from a record 3.11 tons last year, said Abah Ofon, a commodities analyst at Standard Chartered Plc in Singapore. Production will decline in the U.S., Brazil and China, contributing to a 7 percent contraction in global stockpiles by the end of the season, the USDA estimates.
Extreme weather may disrupt harvests, with growers focusing on La Nina, the climate pattern that brings heavier rainfall in Asia and the Pacific and drier weather in South America. Forecast models suggest La Nina is likely to peak toward the end of 2011 and persist into early 2012, Australia's Bureau of Meteorology said Nov. 9.
Higher Prices
In January, a month after La Nina peaked, Malaysian palm-oil production slumped 20 percent from a year earlier, according to the country's Palm Oil Board. La Nina could "significantly dent yields" in Malaysia and Indonesia, Ofon said in a report Nov. 8, forecasting a second-quarter average of 3,400 ringgit.
Sime Darby, based in Kuala Lumpur, will report profit of 3.82 billion ringgit in its fiscal year ending June, from 3.66 billion, according to the mean of 26 analyst estimates compiled by Bloomberg. Shares of the company, which manages about 1.3 million acres of palm-oil plantations in Malaysia and Indonesia, gained 1.1 percent this year.
"The world is facing a deceleration in the growth of supply while demand is going to grow as normal," said Dorab Mistry, the director at Godrej International Ltd. who correctly predicted in September that palm oil would drop to 2,800 ringgit. "We are looking at higher prices."
To contact the reporters on this story: Ranjeetha Pakiam in Kuala Lumpur at rpakiam@bloomberg.net; Luzi Ann Javier in Singapore at ljavier@bloomberg.net.
To contact the editor responsible for this story: James Poole at jpoole4@bloomberg.net