BOJ Cuts Economic View as Europe Crisis Becomes Growing Risk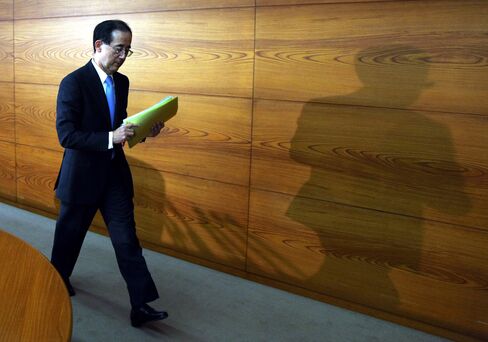 The Bank of Japan cut its economic assessment as Governor Masaaki Shirakawa called the European debt crisis the biggest danger for the nation's export-led recovery.
"Developments in Europe's sovereign-debt problems are the largest risk now," Shirakawa told reporters in Tokyo today after the BOJ left its asset-buying fund unchanged at 20 trillion yen ($260 billion). A few board members have become more concerned the economy's outlook has worsened since October, he said.
Central banks from Australia to Indonesia to Japan have eased policy in recent weeks and Shirakawa said Europe's sovereign woes are already hurting exports from developing economies. The BOJ may bolster stimulus again if the yen resumes its gains after climbing to postwar highs against the dollar last month, according to Nomura Holdings Inc. and Tokai Tokyo Securities Co.
"It's pretty rare for Governor Shirakawa to reveal a gap in the board's views," said Naomi Hasegawa, a senior bond strategist at Mitsubishi UFJ Morgan Stanley in Tokyo. "The BOJ probably sees about a 50 percent chance they will need to provide monetary stimulus in December."
Thirteen of 14 economists surveyed by Bloomberg News expected the bank to stand pat on policy today. The BOJ held the overnight lending rate between zero and 0.1 percent and left unchanged at 35 trillion yen fixed-rate lending program to encourage banks to extend loans in a unanimous decision. It increased its asset-purchase fund by 5 trillion yen on Oct. 27.
'Moderate Pace'
"Japan's economic activity has continued picking up, but at a more moderate pace," the central bank said, downgrading its evaluation from last month. The "economy will face an adverse effect from the slowdown in overseas economies and the appreciation of the yen as well as from the flooding in Thailand " before recovering, it said.
The yen traded at 76.97 versus the dollar as of 5:54 p.m. in Tokyo from 77.07 before the announcement. The Nikkei 225 Stock Average slid to 8,463.16 at the 3 p.m. close, the lowest since Oct. 5. Japanese authorities intervened to stem gains in the currency on Oct. 31 after it rose to a post-World War II of 75.35.
Canadian Finance Minister Jim Flaherty said "concrete actions" would need to be taken on Europe's debt woes, which he said in Tokyo today could "bring the world to the verge of another recession."
'In a Bind'
"The Japanese economy is in a bind because it depends on foreign demand to grow," said Kazuhiko Sano, chief strategist at Tokai Tokyo Securities. "There is a high probability the BOJ will have to provide more stimulus by around March."
The rising yen is hurting the profitability of local automakers, Japan Automobile Manufacturers Association Chairman Toshiyuki Shiga said yesterday. "We urge policy makers to take effective actions to combat the strong yen, including bold monetary policy easing," said Shiga, who is also the chief operating officer of Nissan Motor Co.
Gains in the yen against the dollar and euro slashed Japanese carmakers' profit by 330 billion yen in the first half of this year, the association said.
The world's third-largest economy grew at a 6 percent annual pace in the three months through September, the fastest in six quarters, a government report this week showed. The expansion was fueled by surging exports as the nation recovered from a record earthquake in the northeast region in March. Those shipments are also showing sings of cooling, with exports for the first 20 days of October falling 1.6 percent from a year earlier, the first drop since July.
Growth to Slow
Economic growth will probably slow to 2.1 percent this quarter, according to the average forecast of 42 analysts surveyed by the Economic Planning Association, a government-affiliated body, released last week.
The BOJ may increase asset purchases and consider buying longer-term bonds if a deepening crisis in Europe prompts the yen to rise further as a haven currency, said Naka Matsuzawa, chief investment strategist at Nomura in Tokyo. It may lengthen the maturities of bonds it buy for its asset funds to five years from up to two years now, he said.
The central bank may also consider buying foreign-currency denominated bonds in months ahead to help weaken the yen, said Mari Iwashita, chief market economist at SMBC Nikko Securities Inc. in Tokyo.