Postal Service Sees $14.1 Billion Loss as Mail Volumes Sink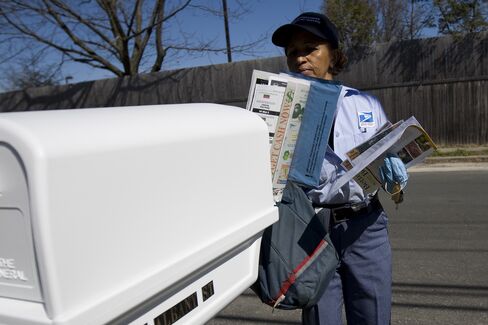 The U.S. Postal Service forecast a record $14.1 billion loss for the 2012 fiscal year as a drop in mail volumes accelerates.
"We continue to see steady declines, unfortunately, in first-class mail, which is our most profitable product," Postmaster General Patrick Donahoe said at a board meeting in Washington today. "We have to build tomorrow's Postal Service based on revenue and volume projections as we look forward. We can't look backward."
The amount of mail delivered by the Postal Service will probably fall about 6 percent in fiscal 2012, exceeding the drop of about 2 percent a year earlier, according to Chief Financial Officer Joe Corbett. Revenue will probably decline to $64 billion in 2012 from $65.7 billion in 2011, he said.
Mail volumes have dropped more than 20 percent in the last five years, hurt by the recession and the increasing use of electronic communications by individuals and businesses. The service, which is supposed to support itself financially, is closing post offices and processing plants, cutting jobs and promoting the mailing of letters and packages.
The service, which today said it may run out of cash by next September, posted a 2011 net loss of $5.1 billion in the year ended Sept. 30 after a $5.5 billion payment was delayed into fiscal 2012. The loss in 2010, when the agency made a benefits payment equal to the deferred one, was $8.5 billion.
The loss forecast for 2012 assumes that the agency won't make any of the $5.6 billion in retiree health payments coming due, Corbett said on a conference call with reporters.
Payment Default?
In September, Congress delayed the benefits payment deadline until Nov. 18. If that remains in place, the Postal Service will default on the payment, Corbett said today. The agency predicted a 2012 loss of $9 billion in September.
The Senate Homeland Security and Governmental Affairs Committee last week approved a bill intended to help the service remain solvent and to lengthen the payment schedule to its retiree health-benefits fund.
Restructuring Talks
The service is discussing restructuring options with potential advisers, according to people with knowledge of the matter. Officials have met in recent weeks with Moelis & Co., Rothschild and Perella Weinberg Partners LP, said the people, who declined to be identified because the talks are private. As of last week, the service hadn't hired any of the firms and was still deciding whether it needs an outside adviser, they said.
Wall Street firms have been employed by U.S. and international governments in a number of turnaround situations in recent years. Rothschild advised the U.S. Treasury Department on General Motors and Chrysler, and Moelis worked with the Dubai government on the $24.9 billion debt restructuring of Dubai World that was completed last year. Perella Weinberg is advising the U.S. government on restructuring Ally Financial Inc., which is majority-owned by Treasury.
Before it's here, it's on the Bloomberg Terminal.
LEARN MORE