Tokyo Stock Exchange Said to Forgo IPO on Path to Osaka Bid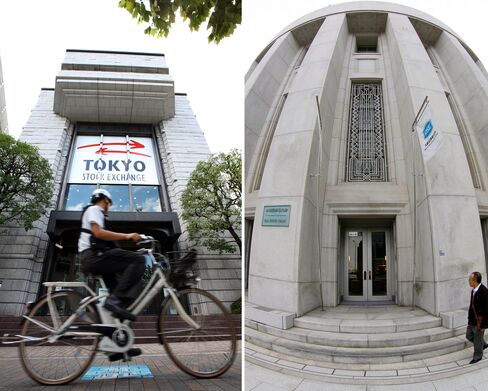 Tokyo Stock Exchange Group Inc. dropped plans to sell shares to the public while it is in talks to buy a controlling stake in Osaka Securities Exchange Co., a person with direct knowledge of the matter said.
The TSE will forgo an initial offering during negotiations to purchase as much as 66.6 percent of its rival by mid-2012, said the person, who declined to be named because the discussions are private. Osaka Securities' shares slipped 0.9 percent to close at 406,500 yen today.
Japan's biggest bourses are discussing a merger after the country lost its place as the world's second-largest equity market to China. A combination would give the 133-year-old Tokyo venue, home to Sony Corp. and Toyota Motor Corp., access to Osaka's derivatives trading system and may create the world's seventh-largest exchange company by share value. More than $30 billion in bourse mergers have been proposed worldwide since October 2010.
"They've got to broaden and go more globally to enhance their businesses," Keith Wirtz, who oversees $14.6 billion including NYSE Euronext stock as chief investment officer at Fifth Third Asset Management in Cincinnati, said in a telephone interview. "I take that as a sign it's a first-order priority and a step in the direction of globalization."
Tokyo's push for an IPO has been an obstacle to a merger that was first publicly discussed in March, according to the person. A share offering would mean that a merger couldn't be completed without Osaka being completely swallowed by Tokyo, an outcome opposed by the smaller bourse's shareholders and some of its listed companies, the person said.
Plans, Denials
TSE President Atsushi Saito said on July 26 that the company was maintaining plans for both an IPO, which was first proposed in 2002, and a merger with Osaka. In August the two companies denied a Yomiuri newspaper report that they were nearing a deal.
The Nikkei newspaper reported on Nov. 7 that the bourses are in the final stages of talks. The Tokyo exchange will offer to buy either 50.01 percent or 66.6 percent of Osaka as early as April, the Nikkei said, without saying how it got the information. Shares of Japan's second-largest bourse rose 13 percent in the week after the report.
"Regarding the possibility of an alliance, of course we're discussing various issues," Michio Yoneda, president and chief executive officer of Osaka Securities, said at a media briefing yesterday. "At this point nothing has been decided." No agreement has been reached, Kazuhiko Yoshimatsu, a spokesman for the TSE said yesterday.
Differing Valuations
The companies are trying to agree on how to divide the combined firm among shareholders, the person with direct knowledge of the talks said. Negotiators have different estimates on the value of the TSE.
Tokyo's highest valuation is more than 300 billion yen ($3.9 billion), based on estimates by financial advisers on the deal, the person said. The market capitalization of the Osaka exchange was 111.4 billion yen as of Nov. 11. A combined market value of $5.35 billion would be about equal with Singapore Exchange Ltd., the world's seventh-biggest exchange company.
Osaka Securities trades at 1.97 times estimated 2012 book value, or assets minus liabilities, data compiled by Bloomberg show. That compares with a median multiple of 3.1 offered in exchange mergers, the data show.
The board of TMX Group Inc. on Oct. 31 endorsed a C$3.73 billion ($3.65 billion) takeover bid by Maple Group Acquisition Corp. that values the owner of the Toronto Stock Exchange at 3.36 times its net assets.
'Japan Not Changing'?
Deutsche Boerse AG, the Frankfurt-based owner of Europe's largest derivatives exchange, is paying 1.4 times book value for NYSE Euronext in an all-stock, $6.8 billion deal that will create the world's largest exchange if regulators allow it to proceed.
If the Japanese "exchanges don't come to an agreement, overseas observers will question the effectiveness of Japanese management," said Sadakazu Osaki, head of research at Nomura Research Institute Ltd.'s Center for Knowledge Exchange & Creation. "It would look like another instance of Japan not being able to change."
Japanese equity markets have been in decline for the last 22 years, with Tokyo's Topix Index sliding 75 percent through yesterday from its December 1989 peak. The total dollar value of the country's listed companies first slipped below China's in January 2008 and the two have switched back and forth in the years since.
As of Nov. 13, Chinese shares were priced at $3.61 trillion, compared with $3.49 trillion for Japan, according to data compiled by Bloomberg.
Jasdaq Listing Retained
Tokyo plans to make a takeover bid no earlier than mid-2012 as the companies seek approval from the competition regulator, the person said. Wataru Kobayashi, a spokesman for the Japan Fair Trade Commission, declined to comment.
The Osaka bourse would remain listed on the Jasdaq exchange, the country's biggest market for start-up companies, after the transaction, the person said. The companies would be merged as early as 2013, at which time a decision will be made about how the company would be listed, according to the person.
TSE President Atsushi Saito would be chief executive officer of the new company and Osaka's Yoneda will be chief operating officer, the person said.
Japan's two biggest exchanges started in 1878 and were fused into a special entity called the Japan Securities Exchange in 1943, a wartime marriage that was dissolved four years later. Osaka's bourse has its origin in a rice exchange that existed from 1652 to 1673 and began the world's first futures transactions.
Ownership Structure
The Tokyo Stock Exchange, which is owned by its members, had 107 stockholders at the end of March 2011, according to its annual report. The biggest is Morgan Stanley MUFG Securities Co., which owns a 4.4 percent stake. SMBC Friend Securities Co. and Goldman Sachs Securities each hold 2.6 percent. Mitsubishi UFJ Morgan Stanley Securities Co. owns 2.4 percent.
Osaka's shareholders include State Street Bank & Trust Co., which holds 11 percent of outstanding shares, according to data compiled by Bloomberg. JPMorgan Chase Bank has a 7.5 percent stake and Fidelity Management & Research, owns 7 percent, the data show.