Temasek Said to Buy China Construction Bank Shares From BofA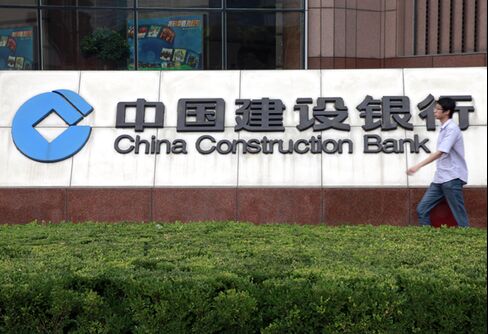 Nov. 16 (Bloomberg) -- Temasek Holdings Pte. bought shares of China Construction Bank Corp., a person with knowledge of the matter said, signaling its increased participation in China's financial sector as U.S. banks retreat.
Temasek bought about a third of the stock that Bank of America Corp. is selling at HK$4.93 apiece, another person with knowledge of the matter said, declining to be identified because the information hasn't been announced. Two Chinese institutions will buy the rest of the 10.4 billion shares Bank of America is selling, the person said.
Foreign investors including Bank of America, Goldman Sachs Group Inc. and Royal Bank of Scotland Group Plc have trimmed more than $25 billion of holdings in Chinese lenders since the beginning of 2009, according to data compiled by Bloomberg. Bank of America said it will sell the stock in private transactions for a profit of about $1.8 billion, leaving it with a 1 percent stake in the Beijing-based lender.
"This is an advantage that Temasek has at this time, especially when European and U.S. banks are trying their best to raise cash," said Eugene Tan, an assistant professor of law at the Singapore Management University. "It suggests a quiet optimism. I get a sense that this deep interest in China at a time when companies and investors are generally wary suggests that Temasek is keen to have a first mover advantage."
$2.2 Billion
Temasek paid about HK$17 billion ($2.2 billion) for the China Construction Bank shares, based on Bloomberg calculations. About 3.76 billion shares were traded yesterday in a private transaction at HK$4.93 each, according to data compiled by Bloomberg.
Stephen Forshaw, a spokesman for Temasek, declined to comment on "market speculation." Mark Tsang, a Bank of America spokesman in Hong Kong, had no comment. Charlotte, North Carolina-based Bank of America said the buyers were a group of investors, without providing names.
This month, Goldman Sachs raised $1.1 billion selling shares of Industrial & Commercial Bank of China Ltd., trimming an investment first made in 2006 after the stock posted its biggest monthly rally in 2 1/2 years.
The three biggest Chinese banks posted their worst quarterly stock performance in the third quarter on concern that local governments may default on loans. The lenders' credit outlook may sour in the absence of a government plan to deal with the issue, Moody's Investors Service said in July, while regulators globally are demanding that banks increase buffers.
Investment Flip-Flop
Temasek bought shares in the Beijing-based lender in September for as much as HK$21.7 billion ($2.8 billion), buying 4.4 billion shares for as much as HK$4.94 each and increasing its stake to 8.1 percent of the Hong Kong-listed shares, according to a filing to the Hong Kong stock exchange that month. About eight weeks earlier, Temasek had sold 1.5 billion shares for HK$6.26 each.
The stock fell 0.5 percent to HK$5.56 as of 10:28 a.m. in Hong Kong.
Temasek, along with Government of Singapore Investment Corp., the city-state's sovereign wealth fund, spent more than $25 billion buying stakes in U.S. and European banks in the past four years as the collapse of the subprime mortgage market led to more than $2 trillion in losses and writedowns worldwide.
Temasek sold its 3.8 percent stake in Bank of America in the first quarter of 2009 and also divested its 2 percent stake in London-based Barclays Plc. The company, which managed S$193 billion ($149 billion) as of March, didn't detail the size of its losses from the investments.
UBS Stumble
GIC, the biggest investor in UBS AG, faced a 6.7 billion-Swiss franc ($7.3 billion) paper loss two months ago after the Zurich-based bank announced a $2.3 billion unauthorized trading loss that led to the resignation of its chief executive officer.
Huijin, a unit of China's sovereign wealth fund, is also interested in buying China Construction Bank stock from Bank of America, Hong Kong Economic Journal reported, citing people it didn't identify. Huijin may form a group with Temasek and other investors to purchase the shares, the newspaper said. A call to Huijin's Beijing media office wasn't immediately answered.
Temasek, Advent International Corp. and at least three other investors are also in talks to buy a controlling stake in STP - Servicos & Tecnologia de Pagamentos SA, a Brazilian electronic-toll-collection company, two people familiar with the negotiations said. STP, based in Osasco, hired Banco BTG Pactual SA to sell an undisclosed stake to fund expansion, said one of the people, who declined to be identified because the transaction is private.
Intime Investment
GIC is also boosting its stake in Intime Department Store Group Co., a retailer in eastern and central China, helping its founder raise HK$747 million. The fund, which manages more than $100 billion of the city's reserves, will raise its stake in Intime to 9.1 percent by buying shares from the company and founder Shen Guojun at HK$9.90 each, according to a filing late yesterday. That's 7.5 percent lower than the closing price on Nov. 14, the day before the stock was suspended.
Intime, based in Beijing, competes against Chinese department-store chain operators Parkson Retail Group Ltd. and Golden Eagle Retail Group Ltd. in an economy that grew 9.1 percent in the third quarter.
GIC also bought 55.1 million shares, or 0.6 percent, in the July initial public offering in Hong Kong of Sun Art Retail Group Ltd., China's largest hypermarket operator.
To contact the reporter on this story: Joyce Koh in Singapore at jkoh38@bloomberg.net
To contact the editor responsible for this story: Philip Lagerkranser at lagerkranser@bloomberg.net